The Dynamic Host Configuration Protocol (DHCP) is a client/server protocol which essentially makes it possible to connect to the internet over Ethernet or WiFi. If you receive an error message "Windows could not start the DHCP client on Local Computer," or if the DHCP Client Service gives an Error 5 Access is Denied message in Windows 11/10, then read this guide to fix the problem.
DHCP Client Service gives Access Denied error
DHCP Client is available as a service and passes configuration information like IP address, Mac address, domain name, etc. to the computer. If this service stops or the OS is not able to access it, the computer will not receive dynamic IP addresses and DNS updates.
1] Check Permissions for DHCP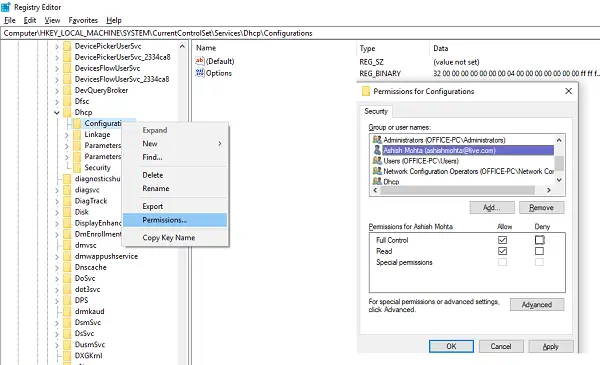 To give full permission to the Registry key, click the Start button, then type regedit in the Search box.
Right-click regedit.exe, then click Run as administrator. If prompted, enter your user name and password and click OK.
Browse to the following key:
HKEY_LOCAL_MACHINE\SYSTEM\CurrentControlSet\Services\Dhcp\Configurations
Right-click on the Configurations key, and click Permissions.
Under Group or user names, select your account.
Under the Allow column in Permissions, make sure the Full Control and Read boxes are checked.
Click Apply, then click OK.
In case your name is not there, click on Add Button. Then type your username on the computer, and add it. Then apply for the Permissions.
Next, navigate to the following key:
HKEY_LOCAL_MACHINE\SYSTEM\CurrentControlSet\Services\Dhcp
Right-click on the DHCP key, then click Permissions, then click Advanced. Under the Name column, click the one that states MpsSvc, then click Edit.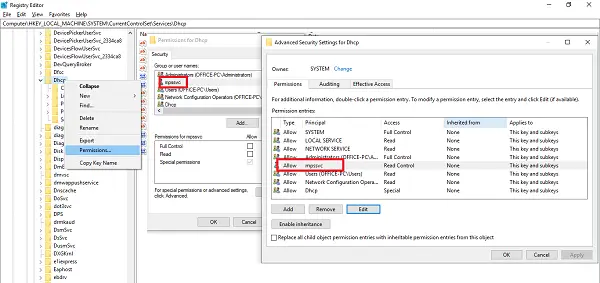 Under the Allow column, make sure the Query value, Create value, Enumerate Subkeys, Notify, Read Control boxes are checked. You may have to click on show advanced permissions to reveal full permission list.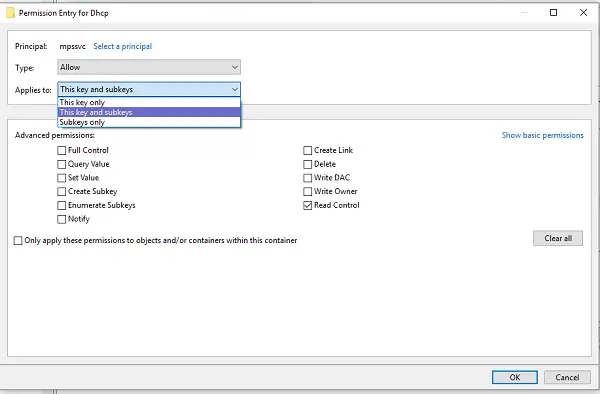 Click OK to close the window, then click Apply, then click OK.
If MpsSvc is not in the list, click on Add, and then search for "NT SERVICE\mpssvc." Add this, and apply for above-stated permissions.
2] Restart DHCP Service
Once all the permissions are applied, here is one last check you should perform. Open services.msc and locate DHCP Client service, and check if it is in running state. Click on Stop, and then start it again. Also, make sure that its Startup type is set to Automatic. Many other networking services depend on it, and if this fails so will others.
Let us know if these tips helped you to resolve your problem
Related read: Windows could not start Service. Access Is Denied.