If you are like most regular computer users who keep on customizing their desktop, try some wallpaper clocks for Windows 10/8/7. These specially designed simplistic wallpapers display a real-time working clock, directly on your desktop, with beautiful and attractive designs as your desktop background. Dexclock is one of the better programs which can set a live wallpaper.
Wallpaper clocks for Windows PC
Dexclock is a simple piece of software that lands and gets installed in your system in no time and creates an icon in your system tray. The tool provides four clock wallpapers by default namely – A Cheshire Kitten, Kiwi Kiwi, Letter Eater and Squares1. You can select any one of them just by double-clicking on the Dexclock icon in the system tray.
Like most of the clock applications, Dexclock also offers settings options like time format of 12/24 hr and the position of the clock on your screen. If you are looking for some more customization options or flexibility, Dexclock is certainly not your choice.
The best thing about Dexclock is that it has an extensive collection of beautified wallpaper clock available for free download. Just download the wallpaper clock of your choice and add it in your Clock folder. If you search for them on the Internet, you will be able to find them.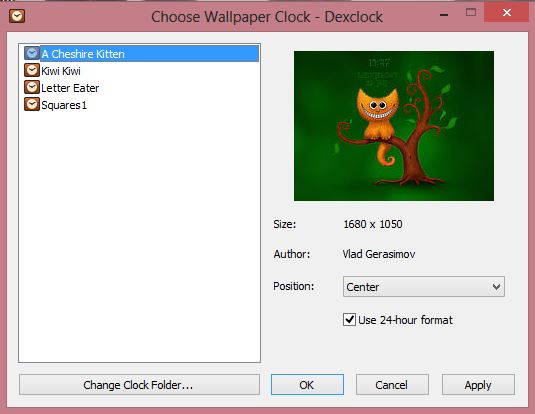 Apart from English, Dexclock supports several languages like French, Greek, Indonesian, Chinese, Russian, Hungarian, Japanese and Turkish languages. Dexclock, in a nutshell, is an excellent tool for those who want a quick and simple makeover of their desktop.
Dexclock free download
Download Dexclock here. It works on all running versions of Windows including Windows 10, Windows 8, Windows 7, Windows Vista and Windows XP.
Do remember to be careful while installing this program or the additional wallpaper clocks, since they may offer to install a few unwanted third-party components. You can uncheck these offers.
TIP: Go here if you are looking for Live Wallpapers for Windows PC.