There used to be this nice web app that let you destroy any website using some really cool special effects. Unfortunately, they faced certain problems due to which they had to take down the web app. But they have now released a NetDisaster desktop application with which you can destroy or shoot down your own Windows desktop. The effects are many and range from meteor showers, floods, bloody gun, chainsaw, to worms & dinosaurs.
Destroy your Windows desktop
The free tool is fun to use. It offers you several 'disasters' you can choose from – From Floods, Meteors, UFO, and so on.
Enable the sound effects to get the best out of them.
Chose your disaster, the sound, and other options and go ahead! You can control the disasters using your mouse.
You can also make a cow walk across your desktop dropping dung!
Go ahead and have some fun! Download the portable app from netdisaster.com.
Nuke The Windows Club
If you are in the mood to nuke this website (sad). We give you that option too!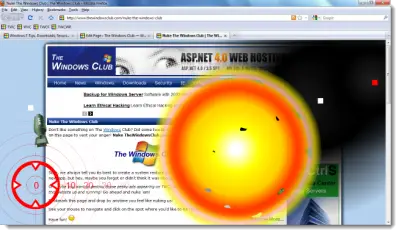 Don't like something we wrote on TheWindowsClub?Or maybe you just had a bad day and want to vent your frustration!
It works just fine in Firefox, Chrome & Opera. Internet Explorer users may need to use the compatibility view.