Having a LinkedIn account is very important if you want to associate yourself with people who are in your field of work. From our point of view, it's not a bad tool, but not everyone might feel that way. If you feel the need to get rid of your account, then we have the remedy to get the job done.
Deleting or deactivating your LinkedIn account is super easy. But please, before you do so, make sure this is truly what you want to accomplish, for when your account is gone, you will lose everything and all contacts. This means you will have to begin from scratch should the need arise to return.
Can I deactivate my LinkedIn account temporarily?
Yes, LinkedIn lets you temporarily deactivate or hibernate your account. Once it is done, your profile won't be visible to anyone, it will also not appear in the searches of this platform, and messages, posts, and comments will remain there but you'll be identified as A LinkedIn member only. You can also reactivate your account after 24 hours.
How to permanently delete LinkedIn account
Deleting your LinkedIn account is not advised, as you can always deactivate it. But if you really want to permanently delete your LinkedIn account, then here's how you can do it:
Open LinkedIn Webpage
Click on the Me tab
Go to Settings and Privacy
Select Account Management
Click on Closing your LinkedIn account
Follow the instructions.
OK, so the first step here, is to visit the homepage of LinkedIn. If you are not automatically logged in, then inject your username and password to and hit the Enter button on your keyboard to proceed.
After logging in, you should now come across your feed. Now, at the top right corner, click on the Me tab, which is basically the profile icon.
Under the Me tab, you should be seeing a section called Settings & Privacy; please click on it. From there, navigate to the tab that says Account.
To get rid of your account, you have several options to choose from. You can choose to either close, merge or hibernate the account.
OK, so to completely close your account, then, you must select Closing your LinkedIn account under Account Management. It's not as simple as clicking Next because the tool requires the user to provide a reason for closing the account. You see, forcing users to give a reason should never be an option, and as such, this is the only bad aspect of deleting your LinkedIn account.
That's it for deleting your LinkedIn account. Easy to accomplish with just a slight hiccup along the way.
Temporarily deactivate the LinkedIn account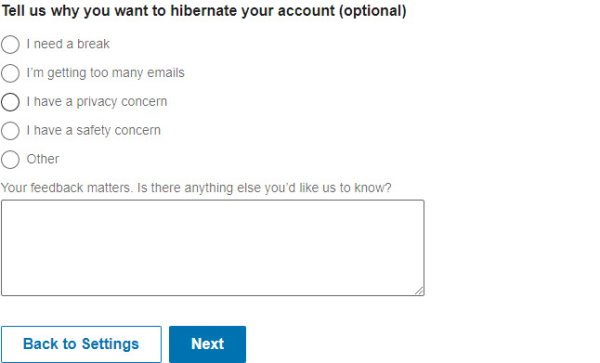 If you want to temporarily deactivate your LinkedIn account, then:
From the Account Settings page
Click on Hibernate your LinkedIn account
And then follow the instructions from there.
You have the choice to choose why you're hibernating the account. Thankfully, this is just a choice and not forced.
How to Remove or Hide LinkedIn connections?
To delete or remove a LinkedIn connection, follow these steps-
Open the official LinkedIn website and sign in to your account.
Click the My Network button on the top menu bar.
Switch to the Connections tab.
Select the person you want to remove.
Click the three-dotted icon.
Select the Remove connection option.
Confirm the deletion by clicking the Remove button.
Hope this helps.