OpenDocument Presentations are the presentation files with the .odp extension created with Apache OpenOffice Impress application. Now, if you are one of those wondering how you can convert an ODP file to a playable video file in OpenOffice, this article is your stop. Although you don't have any direct option in OpenOffice to do so, I am going to share a trick in order to convert an ODP presentation to a video file.
You can convert OpenDocument presentation to video in Apache OpenOffice Impress software. But, as it doesn't provide any native function to perform the conversion, you will have to use an extension. Let's check out the extension and conversion steps in detail.
Convert OpenDocument Presentation to Video
The basic steps to convert ODP to video include:
Download and install Apache OpenOffice.
Add an additional extension to OpenOffice.
Open and convert ODP to video in OpenOffice Impress.
Let's elaborate on these steps!
Firstly, download Apache OpenOffice and install it on your PC.
Now, the extension that you need to export OpenDocument presentations to video is called Impress video converter. Using this extension, you can convert OpenDocument Presentation to an AVI video file. This extension can be downloaded from openoffice.org. After downloading this video presentation converter extension for OpenOffice, you can add it to the software by following below steps:
Launch OpenOffice Impress and go to the Tools menu and click on the Extension Manager option.
Next, click on the Add button and provide the path to the .oxt extension file that you downloaded.
Finally, press the Accept option and this presentation to video converter extension will be added to OpenOffice Impress.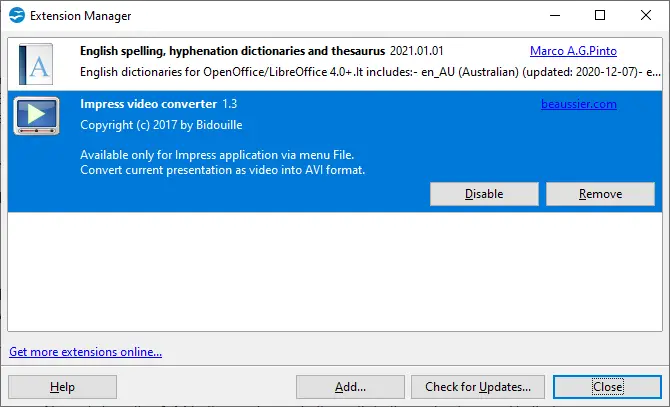 When done installing the extension in OpenOffice, restart the OpenOffice Impress application. Simply click on the File > Open option and import an ODP presentation file to it. You can edit the presentation if you want as it provides a lot of nice presentation designing features.
After that, go to the File menu and you will see a new option called Export as Video added to it. Click on this option and it will prompt an Export as AVI dialog window.
You now need to enter the number of seconds for the duration of each presentation slide in the output video and provide the output file location and name.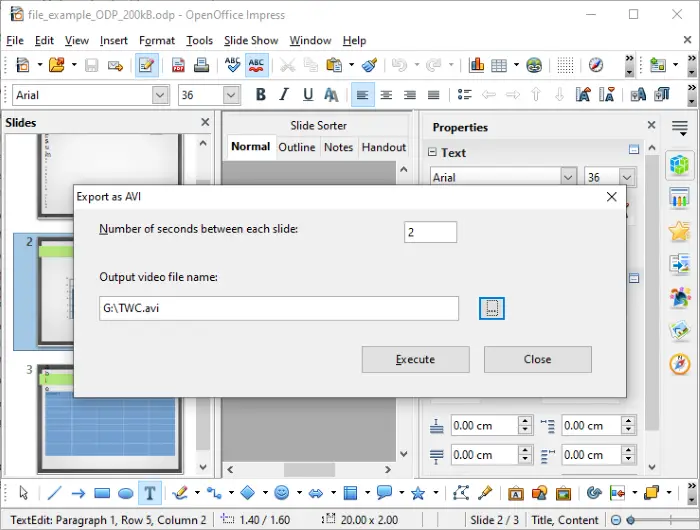 Lastly, tap on the Execute button and it will convert the imported ODP file to AVI video. You can now play, present, and share the OpenDocument presentation video as required.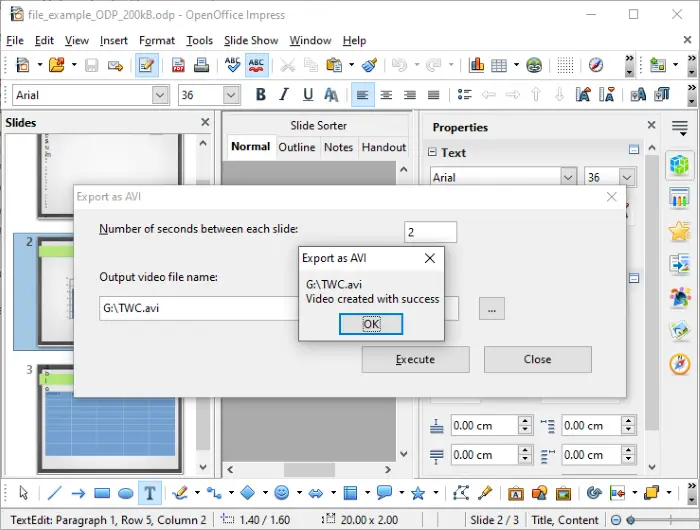 Hopefully, this tutorial was helpful for you to find a solution to convert an ODP presentation to a video file in OpenOffice. In a similar manner, you can also convert Microsoft PowerPoint presentations (PPT, PPTX) to videos in OpenOffice using the same extension.
Related read: How to convert PowerPoint presentation to video.