It is an uncommon request to want to convert a fully colored PDF into a black and white/grayscale one, but doing so can make your file size incredibly smaller. If you do face this challenge, there are a couple of ways in which it can be done quickly with some free online tools. Today, we will be looking at some of the preferred ways in which you can convert a colored PDF to Black & White in Windows 11/10.
Convert fully colored PDFs to Black & White in Windows 11/10
There are four ways in which a colored PDF can be saved in a grayscale tone, one is via a web browser and the rest require you to use an online tool. Let's look at each one of them in detail:
Convert PDF to black & white using Chrome or Edge
Convert PDF to black & white using Online2PDF
Convert PDF to black & white using Sejda.com
Convert PDF to black & white using Adobe Acrobat
1] Convert PDF to black & white using Chrome or Edge
The primary way, and the one that doesn't require using an online tool, is with a help of a web browser. For this purpose, you can use either Chrome or Microsoft Edge:
Open the PDF file that you want to convert to black and white in your browser
Once its loaded, press the Ctrl + 'P' key combination to open the Print command box
From the color dropdown here, select Black and White and select the Print option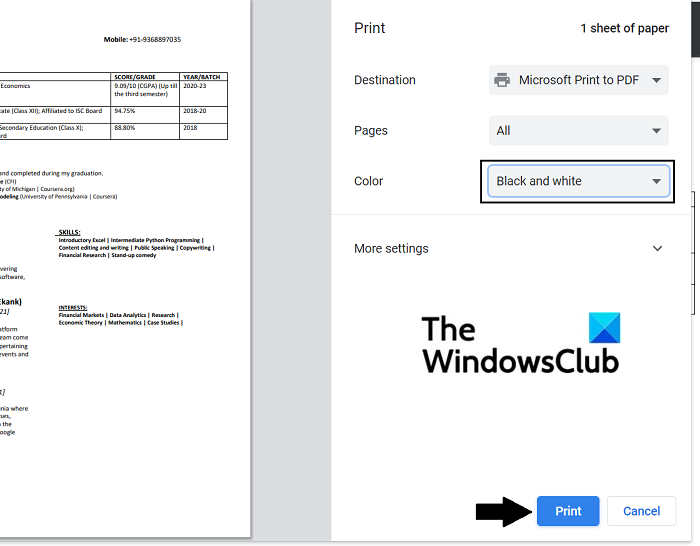 You'll now be given the option to save this Black and White PDF file. Select the destination of your choice and click on Save. You will now have a black and white copy of the same PDF file. You can replicate this process if you're using a MacOS device too.
2] Convert PDF to black & white using Online2PDF
There are several online tools that provide the same service as a web browser, one of them being Online2PDF.com. Here's what you have to do:
Visit the Colored PDF to black-and-white page at Online2PDF.com
Here, click on the Select file button and upload the PDF you want to convert to black and white
You'll then be presented with a number of options: Compression, View, Protection
Under the Compression tab you'll find an option named 'Color / black and white'
Select 'Black-and-white (grey scale) and click on Convert
Depending on how big the original file is, the conversion will take a proportional time and once done, it'll automatically download the grayscale file on your computer.
3] Convert PDF to black & white using Sejda.com
Another online tool, which works much like Online2PDF, is Sejda. Here's how you can use that to convert your PDF files to a black & white color.
Visit the Convert PDF to Grayscale page at Sejda.com
Upload your PDF from the Upload PDF Files button (these can be imported from Dropbox, Google Drive, or a web address)
Once uploaded, you can click on More options to modify the PDF's text, or straight away click on Convert PDF to grayscale
Once the processing is done, you get an option to either download your file locally or print it out.
4] Convert PDF to black & white using Adobe Acrobat
Here's how this process can be replicated using Adobe Acrobat.
Open the document you want to change the color of in Adobe Acrobat. Go to the Tools menu and select the Print Production icon
Further, select 'Preflight' and scroll down till you can find the Convert colors option
Click on it and you'll see all the possible color changes you can make to your PDF
Locate 'Convert to Grayscale' and select it to export your PDF into a new black and white version
How do I change printer settings in Windows 10?
The process for changing printer settings in a Windows computer is a very straightforward process. Simply search for Devices in the Start menu search option and click on Device and Printers. Now, right-click the Printer icon and select Printing Preferences. Make the changes you want in the printer settings and save the changes by clicking on Ok.
How do I turn off grayscale in Windows 11?
Same as it is with PDFs, you can change your Windows PC to have a grayscale color tone/theme as well. In order to enable or disable grayscale on your Windows 11 computer, open your Windows Settings with the Win + 'I' key combination > Select the Accessibility tab from the options to the left of the screen > select the color filters option > if you want grayscale to be turned off, toggle the Color filters option off. Similarly, if you want to use your PC in a grayscale theme, toggle the option on. If you do choose to turn on grayscale, you can apply selective color combination filters to your PC like red-green, blue-yellow, etc.
We hope this post sufficiently answered all your doubts about converting your PDF files to a black-and-white color code in Windows.