We know that iOS and Windows are competitors and do not gel with each other. The result is that you cannot run your Windows applications on the iOS platform. iOS owns a whopping mobile OS market share of 50-odd% while Windows OS is the dominant player in the PC category with 90-odd% market share.
Therefore, there is a possibility that you end up owning both of the above devices and have to look at ways of how you can make them talk to each other. Smooth integration between your iOS device and Windows PC is essential if you want to manage your Windows 11/10 PC data even while you are away.
Connect iPhone to Windows 11/10 PC
One such application that helps you connect your iOS device to Windows PC is Microsoft Remote Desktop for iOS. We have seen how to connect an Android phone to Windows PC – now let us see how to connect iPhone or any iOS device to Windows.
Features of Microsoft Remote Desktop for iOS
Microsoft Remote Desktop is a free application easily available for download on iTunes
Through this app, you can access remote resources through your Remote Desktop Gateway
It allows for rich multi-touch experience with the remote desktop protocol (RDP) and RemoteFX supporting Windows gestures
It offers a secure connection to your data and applications
Simple management of all remote connections from the Connection Center
It supports seamless audio and video streaming
Using this app, you can easily connect external monitors or projectors for presentations
Using Microsoft Remote Desktop for iOS
To set up Remote Desktop for iOS on your Windows PC follow below three easy workarounds:
Configure your iOS device
Configure your Windows PC
Create a Remote Desktop connection on your iOS device and connect
Let us go through all one by one.
1. Configure your iOS device
To get started with Remote Desktop on your iOS device, follow the below steps,
Go to iTunes, download the Remote Desktop client and install
You will be prompted to add a Remote Desktop or a Remote resource.
Here, you need to make sure that you have configured your Windows 10 PC rightly for the Desktop linking to be successful. The next section details the same on how you can configure your Windows 10 PC for remote access via your iOS device.
2. Configure your Windows 11/10 PC
Your Windows PC should be configured correctly so that you can successfully add your desktop on your iOS device.
Before you try and connect your Windows PC from the iOS device, the PC must be turned on, and it must have a network connection. Remote Desktop must be enabled, you must have network access to the remote computer (this could be through the Internet), and you must have permission to connect.
For permission to connect, you must be on the list of users. Hence, always check the name of the computer you're connecting to and to make sure Remote Desktop connections are allowed through its firewall.
Enabling Remote Desktop for iOS
The simplest way to allow access to your PC from a remote device is using the Remote Desktop options under Settings. Since this functionality was added in the Windows 10 Fall Creators update (1709), a separate downloadable app is also available, that provides similar functionality for earlier versions of Windows.
Just follow the following steps,
1. On the device, you want to connect to, select Start and then click the Settings icon on the left.
2. Select the System group followed by the Remote Desktop
3. Use the slider to enable Remote Desktop.
4. It is also recommended to keep the PC awake and discoverable to facilitate connections. Click Show settings to enable.
5. As needed, add users who can connect remotely by clicking Select users that can remotely access this PC.
5a. Members of the Administrators group automatically have access.
In case you have an earlier version of Windows 11/10 or Windows 8/7, then download and run the Microsoft Remote Desktop Assistant. This assistant updates your system settings to enable remote access, ensuring that your computer is awake for connections, and checks that your firewall allows Remote Desktop connections.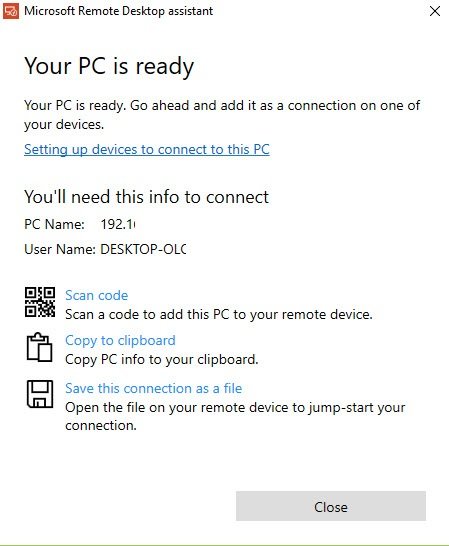 3. Create a remote desktop connection on your iOS device and connect
To create a Remote Desktop connection:
1.  In the Connection Center tap +, and then select Desktop.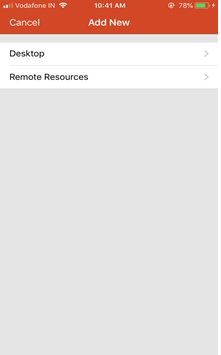 2.  Enter the following information for the computer you want to connect to: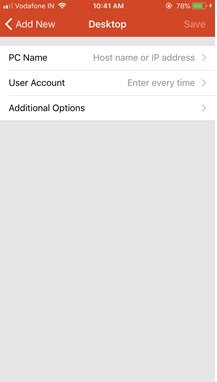 PC name – the name of the computer. This can be a Windows computer name, an Internet domain name, or an IP address. You can also append port information to the PC name (for example, MyDesktop:3389 or 0.0.1:3389).
User name – The username to use to access the remote PC. You can use the following formats: user_name, domain\user_name, or [email protected]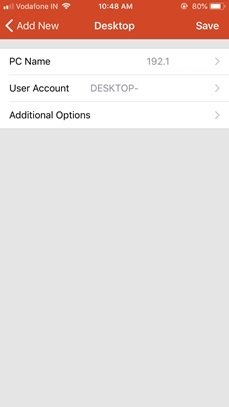 Password – Everytime you try and connect to your Windows 10 PC you will be prompted to enter the password. This is the same password that you use to unlock your Windows 10 PC.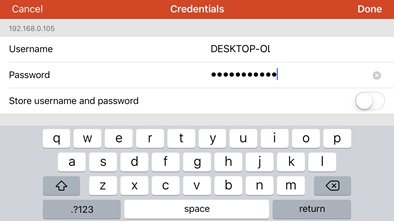 3.  Select Save, and you are good to connect.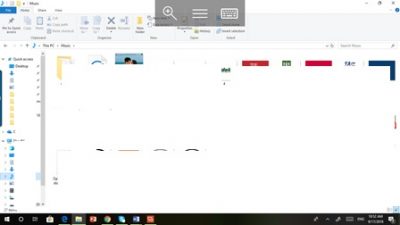 Once connected, and thanks to the touch capabilities of Windows 10, you can browse freely with touch gestures on the screen. Still, by opening up the settings menu from the top tab, you can drag the cursor with a swipe.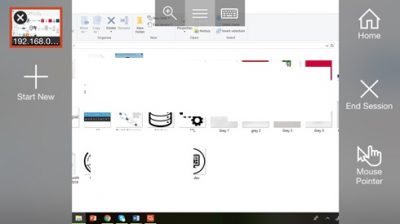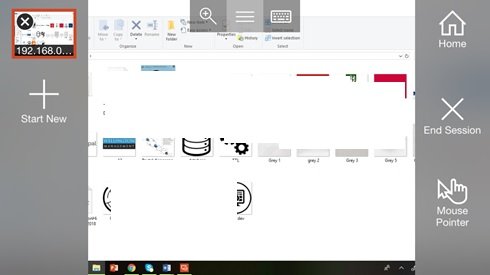 You can explore more features about Microsoft Remote Desktop for iOS like Admin mode, Swap mouse buttons and more.
You can download Microsoft Remote Desktop for iOS from apple.com.
Related: How to enable & use Microsoft Remote Desktop from Mac.