When you right-click on the Windows 10/8/7 taskbar icons, you also see a Jump List which displays the recently accessed files, tasks, webpages, items of that program.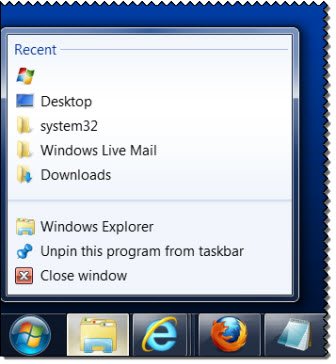 By default, Windows displays 10 items in the Jump List. If you wish, you can always change this number via the Control Panel > Taskbar and Start Menu item > Start Menu tab > Customize > Configure the value of the number of recent items to display in Jump Lists.
Clear Taskbar icons Jump List history
Normally if you wish to clear this jump list history, you can do the following.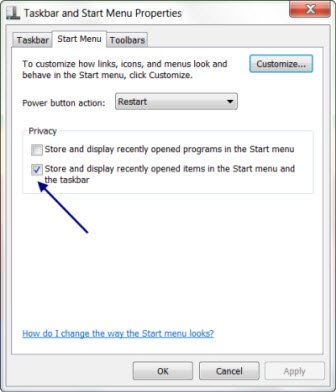 Right-click on the start button and select Properties to open the Taskbar and Start Menu Properties. Under the Start Menu tab, uncheck Store and display recently opened items in the start menu and the taskbar to disable it. Click Apply. Now check it back again to re-enable jump lists. Click Apply/OK.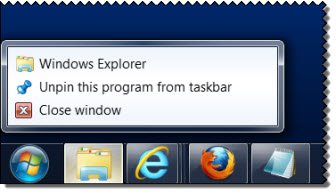 This will clear your jump list history and keep it clean.
Jump List history is stored in the following location:
C:\Users\Username\AppData\Roaming\Microsoft\Windows\Recent\AutomaticDestinations
Here you will see a few '-ms' files. If you want to clear all jump list history, go ahead and delete all. But if you want to delete only a particular jump list, open these files in a text editor and see for something which may identify, to which taskbar icon it belongs.
I selected one randomly and opened it in Notepad. It turned out to be for SnagIt. So if I want to delete SnagIt's jump list history, this is the file I would have to delete.
Sometimes if a particular Jump List like that of say, the Explorer may get corrupted and may stop working, in case you can follow this step to re-build the Jump List.
If you don't use or like them, you can always disable  Jump Lists via Taskbar Properties or Group Policy Editor. G
o here if you find that your Jump List is missing or disappeared permanently in Windows 10.