When it comes to customization Windows 11 has gotten even better. The Menus are easily accessible, and there are more options. Since Start Menu is one of the biggest highlights, here is how you can change the Windows 11 Start Menu and Taskbar Colors.
How to Change Windows 11 Start Menu and Taskbar Colors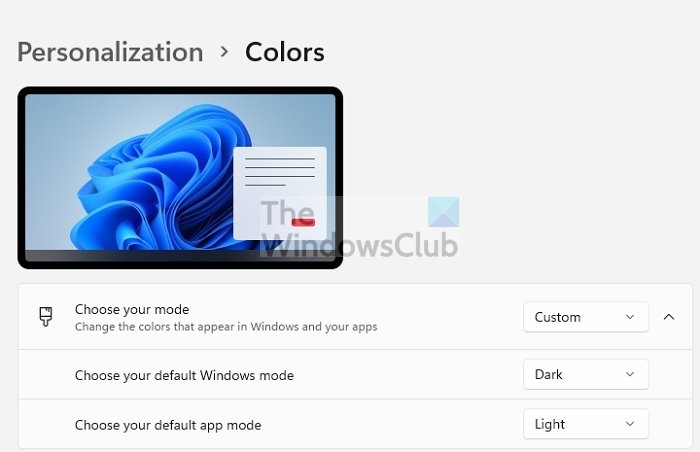 Open Windows Settings using Windows key + I.
When on the Settings Page, click on Personalization from the list on the left.
On the right, click on the Colors option.
Change Choose your Mode to Custom and Choose your default Windows mode to Dark.
Next, under Accent color, click on the Dropdown and change it to Manual instead of Automatic.
Toggle on the Show accent color on Start and Taskbar
Under Accent color, you can choose any color which you want to apply to the Start menu and Taskbar Colors
To customize further, click on the View colors button
This opens the color picker. Here you can select an accent color of your choice, and also see the preview.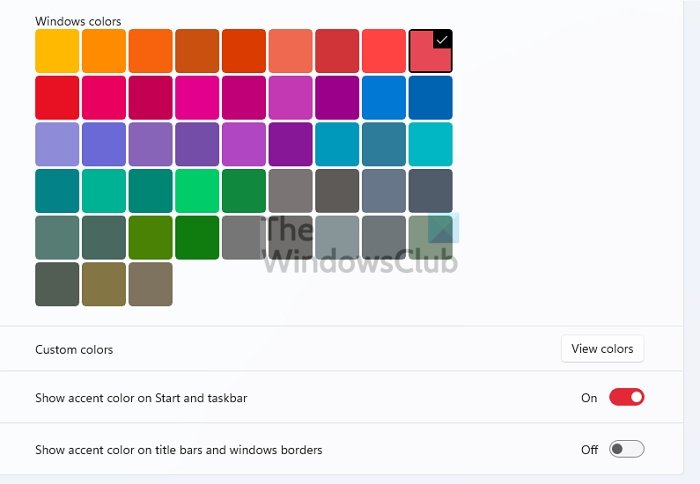 It is interesting to note that if you choose Light mode as Windows default mode, you will not be able to select a particular color. Instead, it will be applied automatically by Windows. If you choose to enable Dark mode for apps, the color will also be applied to Apps.
Windows 10 and Windows 11 both have the same ways to change the Start Menu and Taskbar color. While you can change it, it is not something as expected.  For example, you cannot change the color on both when using Light mode. It may have something to do with the design but still annoys. I hope the post was easy to follow, and you were able to change the Windows 11 Start Menu and Taskbar Colors.
Why Can't I Change the Colour of My Taskbar?
It's because you are using Light Mode for Windows. You need to change Windows Mode to Dark and then choose an accent color for Start and Taskbar. It will then automatically change the color for both. You can also use a theme, and it will automatically change the color.
Why Did My Toolbar Change Color Automatically?
If it happens automatically, it's because it is taking the hint from the Desktop wallpaper. Go to Settings > Personalization > Accent Color. Set it manual, and then choose one. It will then show fixed color for the taskbar instead of changing it every time the wallpaper change.
How Do I Change Font Color to Black on Taskbar?
While you cannot change the font color directly, you can check with the preview when at Personalization > Colors > Custom Colors > View colors. Here you can see a preview of the text against the color.
It is important for Windows that it doesn't break the text reading across the system. That is the primary reason why changing the colors of each element of your choice is restricted.