Although OneNote is software that individuals can write their notes or a list into, it is a digital notebook,  but did you know you can change the page's background color into any colors you desired? So if your eyes are hurting you due to the typing on the white page, you can change it into a darker color that is much better for your eyes.
In OneNote, the user can also add Rules to the page. Adding colors to rule lines help the users to distinguish and organize their notes.
What are the Page Background and Rule Line features in OneNote?
Page Background: The page background feature in OneNote's purpose is to change the color of the document or page into the color you want. The OneNote background feature has sixteen colors such as blue, teal, green cyan, and more.
Rule Line: Are lines that are added to the page.
How to change Page Background color in OneNote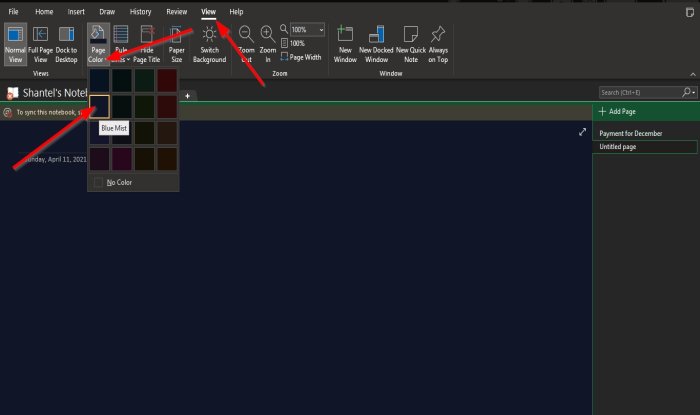 Open OneNote.
Click the View tab.
On the View tab, click Page Background in the Page Setup group.
In the drop-down list, select any of the colors offered.
The color of the page will change.
If you want to return to the original color of the page, click No Color.
Read: How to recover deleted OneNote Notes.
How to add colors to Rule Lines in OneNote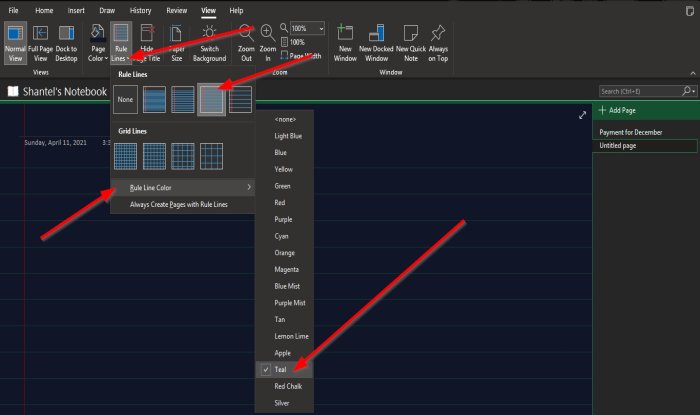 Open OneNote
On the View tab, click the Rule Line button in the Page Setup group.
In the drop-down list, select a Rule Lines.
Then click the Rule Lines button again.
From the drop-down list, hover the cursor on the Rule Line color and select a color that suits you.
If you want to remove the color from the rule lines, click None.
We hope this tutorial helps you understand how to change the page background and rule lines color in OneNote.