In Windows 10 the default scroll value for the Mouse wheel is automatically set to 3. If you want to increase or fine-tune the speed of the mouse scrolling to make things easier for you, it should be configured the way you just like it. Let's see how can you can increase, slow down or change the Mouse Scroll and Cursor Speed in Windows 10.
Change Mouse Scroll Speed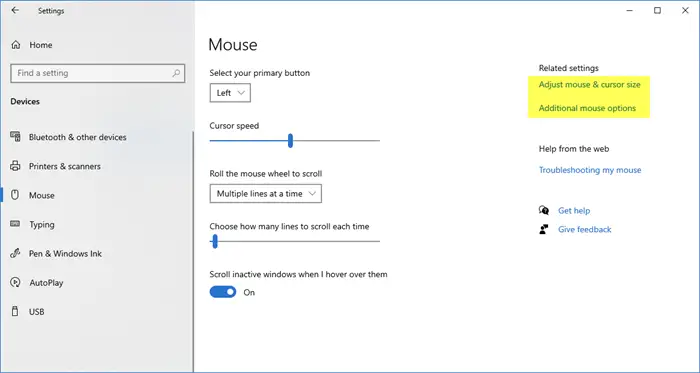 Many advanced mouses and touchpads feature specialized drivers with many additional options that show up under separate tabs in the Mouse Properties window. To configure these settings, you are required to refer to your hardware's user manual. The other basic features of your mouse can be configured by accessing the Settings app.
First things first, click the Start Menu by clicking the Start button in the bottom left corner of the screen.
Next, click on Settings to open the app. When the Settings app shows up, click on Devices.
Select Mouse from the menu on the left to open up the mouse configuration screen.
You should see a slider. You can use it to change the Cursor speed.
You can also use the to set how many lines the scroll wheel should skip at a time for every scroll. Simply hold and drag the slider to the number you want.
By default, the value of the slider is already set at "3". If required, you can fine-tune it to respond at any sensitivity between 1 – 100.
If you want to enter a value of your choice for your scroll wheel's sensitivity open up the link that reads "Additional mouse options".
When the mouse dialog pops up, chose the "Wheel" tab adjacent to the pointer options under Mouse Properties window.
In the box that is displayed, enter the value for the scroll wheel sensitivity you want. In the same box, you'll find the option to link your scroll wheel to the "One page at a time" function.
Read: Should you turn off Enhance Pointer Precision in Windows?
For every scroll you make, the wheel will skip an entire page of content at once, instead of going through it line by line. The same could also be used to adjust the settings for what's known as "horizontal scrolling".