If you want to change the cursor shape for a profile in Windows Terminal on Windows 10, then this post can be helpful. By default, when you access a profile (say PowerShell or Command Prompt) in Windows Terminal, the cursor is visible in Bar (┃) shape. But there are 5 more cursor shapes available that you can use for a specific Windows Terminal profile.
You can use Underscore (_), Vintage (▃), Filled box (█), Double underscore (‗), and Empty box (▯) cursor shapes for available profiles in Windows Terminal. This post will help with that.
Change Windows Terminal cursor shape
Here are the steps to change cursor shape for a profile in Windows Terminal on Windows 10:
Open Windows Terminal app
Access Settings of Windows Terminal
Select a Profile
Access Appearance section
Scroll down the Appearance page
Select a cursor shape
Press the Save button.
At first, open the Windows Terminal app using the Start menu, Search box, or some other ways.
Now access Settings of Windows Terminal. You can do that in two ways:
Using Ctrl+, hotkey
Using the drop-down menu available next to the new tab icon and clicking on the Settings option.
In the Settings window, select a Windows Terminal profile from the left section whose cursor shape you want to change.
If you want, you can also first create a new profile in Windows Terminal and then select it to change its cursor shape.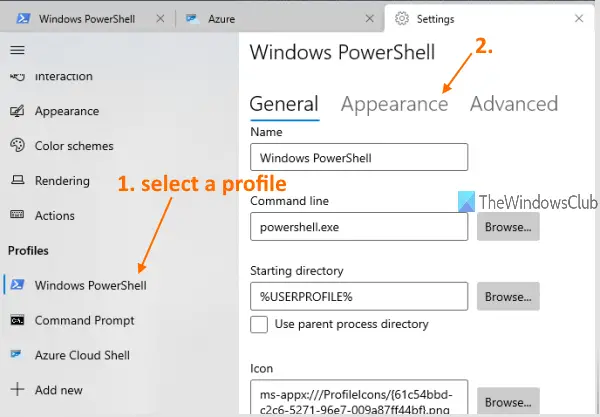 On the right-hand part of the selected profile, access the Appearance section, as highlighted in the above screenshot.
Read: Windows Terminal Tips and Tricks.
Now scroll down the Appearance page and you will see a Cursor section with all the available cursor shapes. Select a cursor shape and press the Save button available on the bottom right part.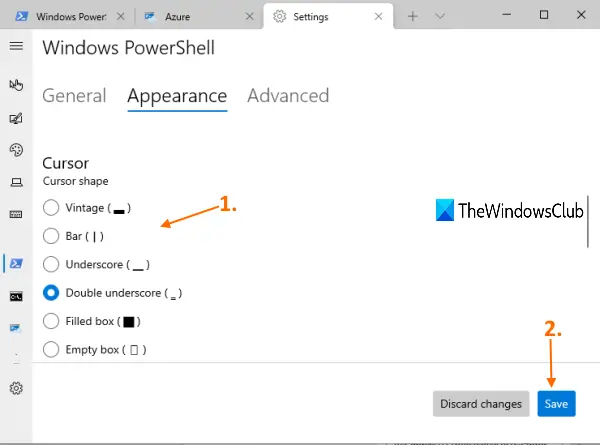 The changes are applied instantly. Just access the profile and you will notice that the cursor shape is changed. You can use the same steps to use some other cursor shape for the same profile or other profiles.
Hope it is helpful.
Read next: