Google's Chrome browser shows a 'Not Secure' label in the address bar of websites not using HTTPS. Apart from this, the browser has added the capability to customize the background of a New Tab page in Google Chrome without using any browser extension or addon. Let's see how it's done!
Change background of New Tab page in Chrome
Thankfully, Chrome offers a wide range of options here, including Art, Cityscapes, Geometric Shapes, Landscapes, etc. You can spend some time and find the one you like best.
Open a new tab in Chrome.
Click the Customize button.
Switch to the Background tab.
Select a layout or theme for the background.
Hit the Done button.
Earlier, there was no default option to do this. A user had to enable – Enable using the Google local NTP and New Tab Page Background Selection preferences This is no more required now as Google lets you do it, directly. To start, follow these instructions.
Launch Google Chrome browser and open a new tab.
At the bottom of the New Tab page, you'll find the Customize button (visible as a pencil icon). Click the icon to open the Customize this page window.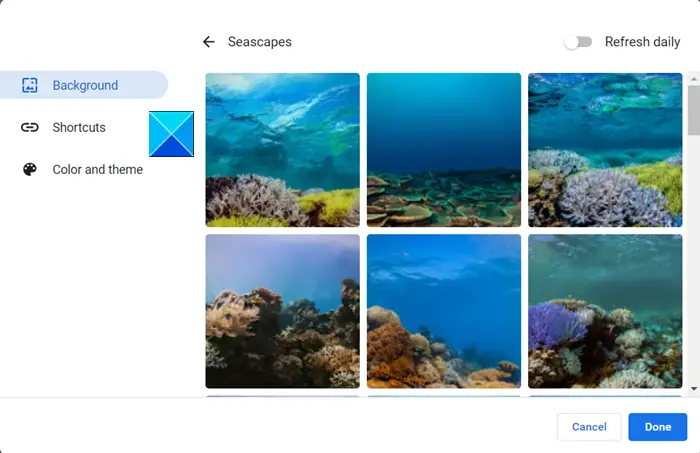 Select a background for the page. A wide range of options are available, including,
Landscapes
Textures
Life
Earth
Art
Cityscapes
Geometric Shapes
Solid Colors
Seascapes
Once selected, hit the Done button. Instantly, your dull and no color background will change to the chosen pattern.
Similarly, if you would like to customize the color and the theme for the page, switch to Color and theme and select the desired color.
When finished, hit the Done button. If you would like the page to refresh daily, toggle the switch for Refresh Daily to On position. Your Chrome Tab will refresh daily to a new background.
Hope that helps!