Discord is a goto VoIP service for many users, especially gamers. But a lot of users are unable to unmute Discord when running it via Browser. This issue is very annoying and users want solutions, and we heard them. So, if you can't unmute Discord browser, then check the solutions mentioned in this article to resolve the issue.
How do I unmute Discord browser?
When you open Discord in a browser, it will ask you whether you want to allow Discord to access your microphone, so, give it the required permission. Then, to mute or unmute it, click on the Mic button that should be present at the bottom of your window.
Why can't I unmute on Discord browser?
You can't unmute Discord because of various reasons, but if everything is fine then permission is the first thing you need to check. Your browser should have permission to access your microphone, also your microphone should be enabled in the first place.
The issue can also occur because of some glitch. With glitch, we mean corrupted files, aka cookies, browsing data, and cache. The data that we have mentioned can be removed and will have no effect on your Discord chats and files.
We are also going to see some other reasons, measures, and other workarounds that you can use to unmute the Discord browser. So, without wasting any time let us hop into it.
Fix Can't unmute Discord browser on Windows PC
If you can't unmute Discord on your Windows computer then check out the following solutions to resolve the issue.
Use Private Mode
Check Site Settings
Allow Microphone from Windows Settings
Check Discord Settings
Use a different microphone
Download Discord Client app
Let us talk about them in detail.
1] Use Private Mode
There is a Private Mode on every browser, it can have a different name such as Incognito or InPrivate, etc. Usually, it can be triggered by Ctrl + Shift + Enter. Usually, this mode is not oblivious of cache and glitches. So, try using Discord in your Private Mode and see if that works. Hopefully, your issue will be resolved with it.
2] Check Site Settings
Before checking your system and browser for permissions, you need to check the settings from the website. All the browsers have a button that looks like a lock. You need to allow the microphone from there. Or better, select Ask. This way, you will be ensuring privacy without forbidding from accessing the microphone. You can also check your Browser Settings and see if Discord's microphone permission is blocked from there. Go to Settings of your Browser, search for Microphone, and check the Block list. If Discord is blocked from there, allow it. Hopefully, these things will resolve the issue for you.
3] Allow Microphone from Windows Settings
After checking the browser for permission, we need to check Windows Settings and allow Microphone from there. What you need to do is follow the given steps to check your settings.
For Windows 10
Open Settings by Win + I.
Go to Privacy > Microphone.
Click on Change and see if the toggle is turned on.
Then, enable Allow desktop apps to access your microphone and make sure that your browser is present in the list.
For Windows 11
Open Settings.
Go to Privacy & security > Microphone.
Enable Microphone access.
Then, enable Let apps access your microphone and check if the browser is there in the list.
If you are enabling the device, hopefully, your issue will be resolved.
4] Check Discord Setting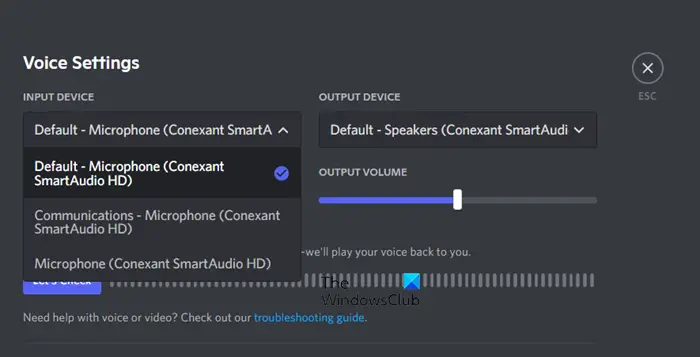 You need to check Discord Settings and make sure that the input device aka your Microphone is selected correctly. What you need to do is follow the given steps and hopefully, it will work for you.
Go to Discord.com and log in to your account.
Then, click on the cog button to go to its Settings.
From APP SETTINGS, click on Voice & Video.
Now, set the INPUT DEVICE to the microphone that you want to choose.
Then refresh the page and hopefully, the issue will be resolved.
5] Use a different microphone
If nothing works, then unfortunately your hardware is at fault. If you are using a headphone or earphones try replacing them with a new one or use some other device. If you are using Bluetooth, and if that's not working, then check out our guide on what to do when Bluetooth audio devices are not working. In case you are using a wired device, try switching to a different port and see if that works.
6] Download Discord Client app
You can also use the Discord Client app as it usually, it doesn't have a mute glitch. You can go to Discord.com and download the app. Then, follow the on-screen instructions to install the app.
Hopefully, these solutions will work for you.
Also check: Fix Discord Mic not working in Windows.