Since the start of Windows 11/10, Microsoft has started revamping the UI step by step. This resulted in the availability of same features at two places. Say, for example, you can uninstall applications from the new Settings Page, and also from the old Program and Features.  The same goes for Settings > View Update History. While the duplication is slowly shortening, it will take a while for them to completely go from the core of Windows.
Settings View Update History & Control Panel Installed Updates vary
What recently surprised me is the difference between installed updates that are available under the old Programs and Features > Installed Updates and the new Settings > Update and Security > View Update History.
Check on the two screenshots below.
Control Panel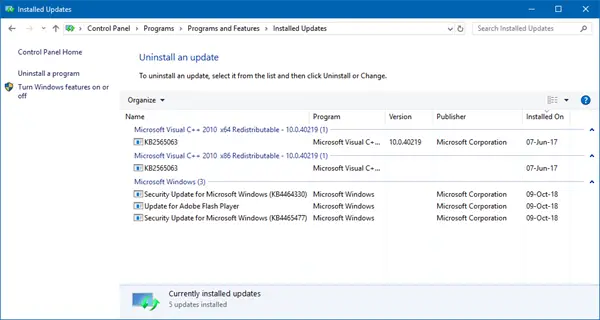 Settings
What you should notice is that KB4465477 is missing from the new Settings while it shows up clearly in the Control Panel. This makes us think can we really trust the View Update History in  Settings? Imagine if someone has to know if the update was installed, he will never find it in the new settings. All he will be doing is troubleshooting. While it's possible that it syncs up later, the delay is not something users will appreciate.
That said, the issue doesn't seem to be new. I found posts about Windows 11/10 now showing installed updates in Microsoft Forum, and it was later fixed by another KB update. Some even reported that the update vanished after appearing in the list which is even mysterious.
What I understand from the list is the API being used in the new Settings app seems to be slow or sometimes not working compared to the previous code.
The Windows old Control Panel is still around because of reasons like this, and it seems it will take more time for Microsoft to iron out those bugs. What do you think?