Bring Your Own Device (BYOD) program has its own advantages and disadvantages. This article, the first in the three article series – talks about the good and bad of BYOD. The other two articles work to create a proper BYOD policy and find out mistakes to avoid while implementing it. Before proceeding to talk about the benefits of BYOD and its negatives, let us check out how the system is implemented.
What is Bring Your Own Device or BYOD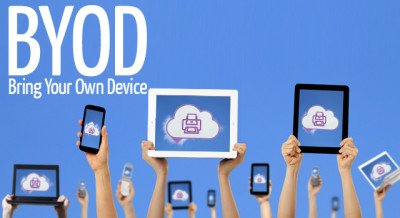 Bring Your Own Device system has been around for a while and is gaining momentum as more and more businesses opt for the system. Under the BYOD structure, employees use mobile devices that allows them to:
Use same device for personal and office use
Work from anywhere
I can classify BYOD into two distinct categories: (a) first one is where companies allow usage of employee owned devices and (b) second one where companies buy mobile devices for the employees. In each case, the implementation will differ slightly. For example, if the company is providing the device, it probably will block installations of things that are distracting: Angry Birds, for example. Also, the company may use secret software to see what you have been doing on the device. Of course, they will allow private use of the devices but that will be a little restricted.
Simply put, BYOD is a system where employees carry a mobile device that they can use to work from anywhere (using the office VPN in most cases).
BYOD Advantages
The first thing that comes to mind when talking about BYOD, is cost savings in different forms. In most cases, we assume you already own a mobile device and your company reconfigures it for business use. If that is the case, the business saves on buying the devices.
As of now, the practice of using employees' existing device is not much implemented. Rather, companies themselves buy the mobile devices, configure it and give them to the employees – in which case, the employees benefit in the following two ways:
They connect to the Internet using the office VPN thereby saving on the Internet costs;
They can work from anywhere using the same device for both business and personal uses. This relieves them from carrying more than one mobile device for personal use. Issues will arise here that might irk employees. We will talk about these issues in the negatives of using BYOD system in businesses.
Since the employees can work from anywhere, the overall productivity increases. Employees who might not make it tooffice due to bad weather or traffic, can work from home or anywhere else. This saves on employees' absence that would otherwise lead to delay in projects. In case an employee needs to leave the office early, they can later cover the pending work. For example, if an employee has an appointment, s/he can leave early, meet the doctor, go home and work from there to complete the day's targets.
BYOD also serves as a selling point. People prefer to work with companies that allow a single mobile device for both business and personal uses. If it is the traditional workplace, people may not be allowed to take their personal devices inside the office. I have seen workplaces where they do not allow even employees' cellphones inside. That, compared to being able to use a single device for both personal and business work, is a big turn off. In other words, companies with a solid BYOD system in place tend to attract better employees.
Read: Bring Your Own Device Setup and Settings in Windows 10.
BYOD Disadvantages
Again, the first one is the cost factor. Unless the company believes in allowing employees' existing devices for business, they will be spending money on buying the equipment. Add to it, the usage of Internet for personal purposes will only increasing the spending. Still, because there are other benefits attached such as mobility and better productivity, most companies are shifting to BYOD systems.
For the employee, the turn-offs could be restrictions placed on the device. I am yet to come across any employee who says organizations prohibit personal installations in BYOD atmosphere. Still, the organization's policy might go to the extent of saying NO to games and certain websites.
Another cause of concern for employees is their privacy. If they use Facebook, Twitter or something similar, the company may be able to know the login credentials. Personally, I do not believe corporate houses will go that far on snooping but the possibilities exist. Another aspect is recording or logging employee actions on the device that may give out information they won't want to share with anyone. An example could be using the device to download a pirated movie.
The most argued concern or the negatives of BYOD system is the security of company's data. Of course, the employees can access only a part of it but that part might still be enough to give out important information to others – knowingly or unconsciously. There should be a proper policy as to what the employees can share with others as well as a good exit policy: to be implemented when the employee leaves the company. A good option would be to transfer all the business data to another computer and shred the data files from the employees' device.
We will work on creating a proper Bring Your Own Device policy in the next article of the series – and have a look at Possible BYOD Mistakes too.. For this article, if you know of more advantages of BYOD or if you can point out more disadvantages of the BYOD system, please share with us.