Microsoft is rolling out an update for Office 365 ProPlus, which will install an extension on Chrome. That extension will change the default search engine to Bing. While it does look aggressive, Microsoft is offering an option to turn off the installation through Microsoft Endpoint Configuration Manager or Microsoft Intune. In this post, we will show how you can block the Microsoft Bing Search installation in Office 365. In case you install it, we have also shown how you can remove it post-installation.
What is Microsoft Search in Bing
If you are not aware of Microsoft Search in Bing, then its enterprise search solution. Customers using Office can leverage this for contextual work-related information using data sources in Office 365. While Bing will also search the internet, but if the query is all about work, then it can pull data from  SharePoint, Microsoft OneDrive for Business, and Exchange.
It uses Microsoft Graph to make the search useful for everyone in the organization. You can find a person, find the location of your desk, locate a document, and so on. More on this on Office Blog
Before we start with the solution, here are some details
As of now, it applies to new and existing Office 365 ProPlus installations in Australia, Canada, France, Germany, India, the United Kingdom, and the United States.
If you already use Bing as the default search engine, it will not get installed.
The extension will be released to the Monthly Channel in late February 2020. Release for the Semi-Annual Channel (Targeted), and Semi-Annual Channel is coming soon.
While it only makes sense for Office customers who would use Office 365 in their organization, but if you feel its forcing, then follow these methods. Microsoft is rolling out this in a phased manner. So you may not see it right away, but future installation or updates will install it.
Block Microsoft Bing Search installation in Office 365
Depending on how you use it in the Enterprise, you can choose to remove it altogether or decide only to change the default search engine.
Temporarily switch to Bing
Exclude from Installation
Change Default Search Engine
Remove the Extension from the computer
The last two of this list is a post-installation scenario.
1] Temporarily switch to Bing
Since you know when it's going to come, IT Admin can take measures to switch to Bing temporarily. Once the installation of Office 365 ProPlus update is complete, turn back to your favorite search engine.
2] Exclude Microsoft Bing Search before Office 365 installation or update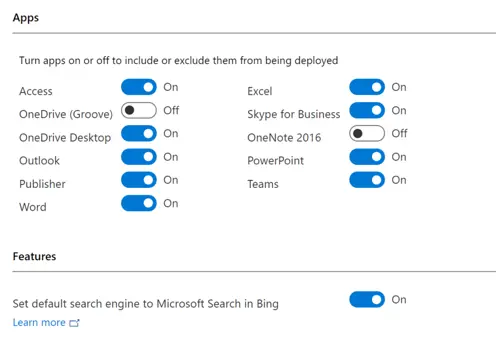 If you use Microsoft Endpoint Configuration Manager or Microsoft Intune, you can exclude the extension from being installed by using the Office Deployment Tool or by using Group Policy. While you can download the XML or Policy from here, this is how it will look in the Configuration Manager. There is a clear option to toggle off the choice, which changes the default search engine to Microsoft Search in Bing.
2] Change Default Search Engine from Bing to Google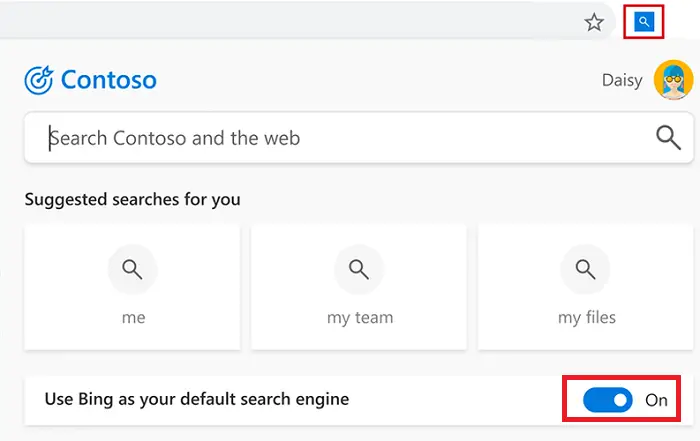 The chances are that you use Microsoft Search in Bing, but not for search.  In that case, you can click on the search icon on the top left of Chrome, and toggle off  Bing as your default search engine. Restart Chrome to apply the change. It will give users the freedom to search the web using Chrome, and when they want to use Bing, they can always use that.
3] Remove the Extension from the computer
Microsoft installs this extension through a software update. So if you are not planning to use Microsoft Search in Bing at all, then its best to remove the extension. Once uninstalled, it will never be installed again in a future update of Office 365 ProPlus. The default search engine will revert to the previous choice.
There are two ways of doing this. Make sure the user account has local administrator rights.
Use Control Panel
Go to Control Panel > Programs > Programs and Features
Locate the DefaultPackPC program, and choose to uninstall it.
You can do the same by going to Windows 10 Settings > Apps > Apps & features.
Using Command Prompt
Open Command Prompt with admin privileges
Type the below-mentioned command and press the Enter key to execute it.
"C:\Program Files (x86)\Microsoft\DefaultPackMSI\MainBootStrap.exe" uninstallAll
If you want to remove it from multiple computers, then you have two options. Either distribute a BAT file or deploy that command to various devices in your organization. You can use a script, Configuration Manager, or some other enterprise software deployment tool.
Microsoft is likely to face a lot of heat for this. The only problem which I see here is that they kept the default option turned on to install Microsoft Search for Bing. The official documentation clearly explains what measures can be taken by IT admin, which they can use to skip the installation. Microsoft should have stayed away from changing the default search engine and would have been fine. If an enterprise needs to use Microsoft Search in Bing for Chrome, they will eventually do it.