Use of a strong password is the minimum you can do to protect your identity online and secure your virtual environment. However, equally important it is, to manage and secure all your passwords under one roof so that you can easily access your passwords on the go. Today, we are going to review Bitwarden, a free and easy way to create, store and access your passwords across devices.
Store & sync passwords using Bitwarden
Many people reuse the same password on multiple sites or make them easy to guess. The reason being – it is difficult to remember multiple difficult passwords! That is why we need a secure password manager which can provide you with a fortified vault to keep your passwords safe. Bitwarden makes it possible for you to store your passwords and sync them across multiple devices. Let's take a look at some fo the prominent features that this app provides.
Protected Environment
Bitwarden provides a fortified environment to keep your passwords safe. Only you have access to your passwords once you lock them inside its encrypted vault. Its encryption standards make it impossible for anyone to access your passwords, even the techies at Bitwarden itself. It stores all your passwords in a crypt secured using eminent algorithms like AES-256 bit encryption, salted hashing, and PBKDF2 SHA-256.
Highly Accessible

It stores your passwords in a secure and encrypted cloud environment which you can easily access using any device. Keeping in mind the accessibility environment for each device, your vault is appropriately optimized for high performance on any device.
It's Open Source
Well, what could be more winning than this! Bitwarden is a 100% open source, giving away the techniques that it uses to store and secure your passwords. If you're also a techie at heart, you can give feedback, review the code and contribute to making Bitwarden even more secure.
How to add a website and store your passwords
Before you can add a website and secure your passwords using Bitwarden, you'd need to create a user account. While creating the account, you need to set a master password which presides over all your stored passwords in the vault. If you forget your master password, there is no way of recovering it. Most you can do is to set a hint that can remind you of your master password. So, it is very important to choose your master password wisely.
Once your account has been created, you can log in directly to your vault and add the website for which you want to save the password. Click New Site on the left navigation bar under My Vault section and enter the details. You can arrange several homogenous sites in a folder as well.
One interesting thing about Bitwarden is its Two-step login procedure. Using this you can authorize the login attempts made on your account by adding an extra layer of security. You'd need to download an app on your Mobile phone and scan the QR code shown on the screen and then enter the verification code you get on the mobile app. The process is pretty simple but it helps fencing your account more securely.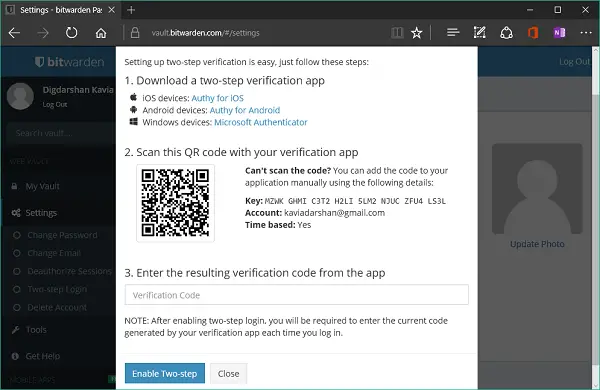 Well, that's pretty much about it. Bitwarden is available as an extension for Chrome. Extensions for Mozilla Firefox and Edge are currently under development and should be available soon. Apart from this, it is also available as an Android app and iOS app. Get them all from its home page.
Can you sync passwords across devices?
Yes, you can undoubtedly synchronize passwords across multiple devices. Whether you have different platforms or the same, you can sync your saved password without any problem. However, you may need to opt for third-party utilities for better convenience. For example, you can Bitwarden to get started with the saved passwords.
How do I sync Google passwords across devices?
Yes, you can synchronize Google passwords across devices. Whether you want to use them on Windows, Mac, Linux, or any other platform, you can sync them across devices. All you need to do is to log in to your Google account. Following that, you can see all your passwords on your new device.
Let us know if you'll be using this password manager tool and share your experience about the same.