You might have already noticed that the home screen of the Bing search engine shows a beautiful image in the background, and it changes every day. If you want to set the daily Bing background as wallpaper on your Android phone, you can make use of Bing Wallpapers app. Microsoft recently launched this application for Android phone users, who want to fetch the background from Bing and set it as the home screen or lock screen background.
Bing Wallpapers app for Android
Many mobile users tend to change wallpaper frequently. Instead of looking for something manually, you can use a wallpaper app like Bing Wallpapers.  In general, it shows many wallpapers for your mobile. Some filters can help you get wallpapers by color schemes as well as the country. The best thing is that you do not need to change it every day since it has the option to make the replacement automatically. A little bit of setup is required for first-time users, and this article shows the exact steps you need to perform.
Set daily Bing background as Android wallpaper automatically
To set Bing daily background as Android wallpaper, follow these steps-
Download the Bing Wallpapers app from Google Play Store.
Open the app on your mobile.
Tap on the menu button.
Select Auto Change Wallpaper
Toggle the Turn on
Tap on the Set wallpaper
Choose the location where you want to set it as the background.
Adjust the Frequency and Network.
You need to download the Bing Wallpapers app from the Google Play Store. It is compatible with Android 8.0 or later versions. After downloading and installing, open it up on your phone. It might ask you to give Storage permission, but that is not mandatory to allow it to access your internal storage.
After that, tap on the menu button, which looks like three horizontal lines and visible on the top-left corner. Here you can find an option called Auto Change Wallpaper.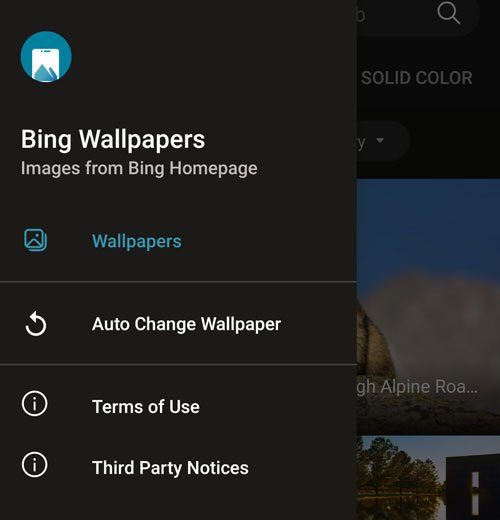 You need to select this option and toggle the Turn on button on the next page.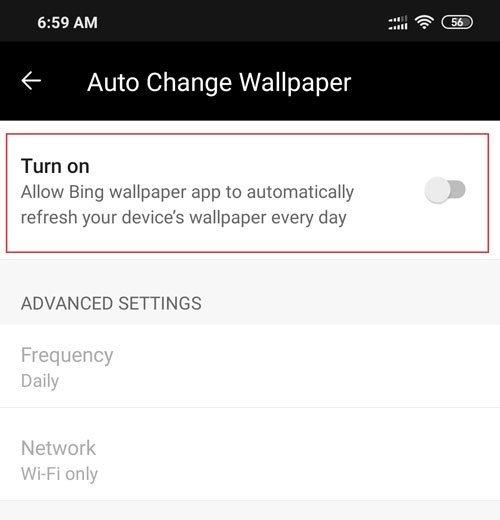 Now, you can see today's Bing background on your screen. You can tap on the Set wallpaper button to set it as the wallpaper.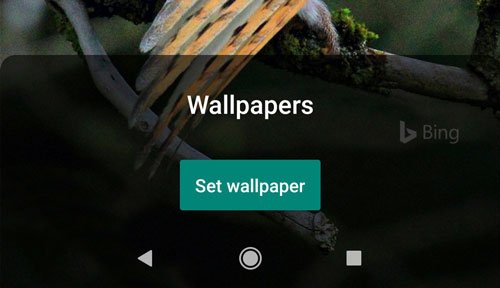 Before that, it is possible to check a preview by making a tick in the Preview checkbox. After that, you can use the Set wallpaper option. Then, it will ask you whether you want to set it as the home screen background or home screen and lock screen background. Do select an option as per your desire.
Now, the wallpaper should be set on your mobile. Following that, you must adjust the Frequency and Network settings. By default, it requires a Wi-Fi connection to change the wallpaper daily.
However, it is possible to change it once in week and month over the cellular network as well. For that, you need to head to the ADVANCED SETTINGS where you can find two options – Frequency and Network. At first, tap on the Frequency and select anything among Daily, Weekly, and Monthly.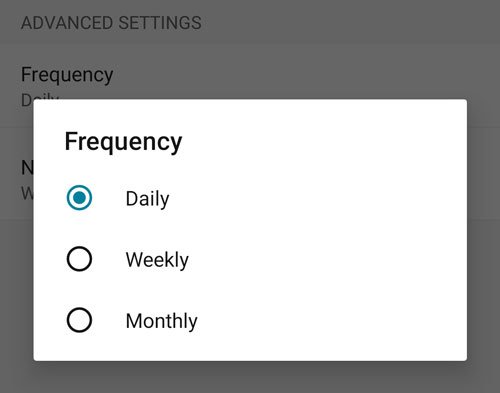 After that, go to the Network option and select All if you want to synchronize wallpapers on cellular data as well.
That's all! If you like, you can download Bing Wallpaper from the official download page. For your information, it is not available across all the countries around the globe, so make use of a VPN or Proxy if you have to.
TIP: You also have a Bing Wallpaper app that will set the daily Bing image on your Windows 10 desktop automatically.