After spending big money on your impressive Virtual Reality (VR) headset, you may not want to purchase games right away. Worry not because there are several free VR games you can play without a Controller.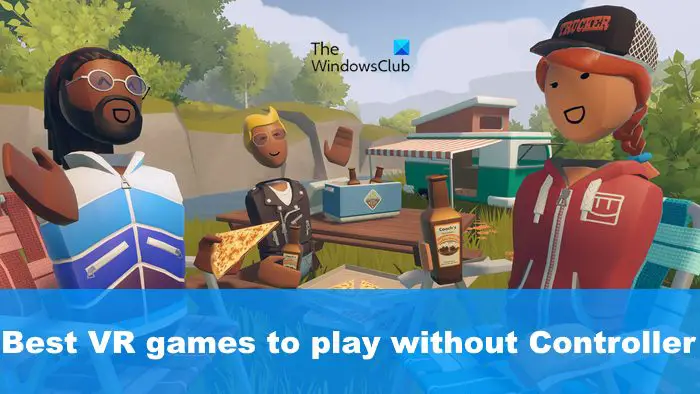 Some of these titles are not the best, but they are good enough for what they bring to the table. Furthermore, some have multiplayer components, so you should be able to have a lot of fun with other players.
Best VR games available on PC and mobile
The best VR games you can play without a controller include the likes of VR Street Jump, Enspace VR, and several others.
End Space VR
VR Roller Coaster
VR Street Jump
Deep Space Battle VR
Pavlov Shack Beta
1] End Space VR
If you want to play a VR game with impressive graphics, then End Space VR is one of the best of the bunch. You can definitely play this game without a traditional controller, simply put the headset on your head and begin the adventure.
The overall goal of End Space VR is to fight your way through an alien invasion while trying to survive. Use the trigger button on your headset to gaze at objects, or to shoot.
What we have here is an immersive game
Visit the Steam page and download End Space VR.
2] Epic Roller Coaster
As children, we adore the rollercoaster experience. As adults, we do not have the time to indulge ourselves in such things anymore. But not to worry, Epic Roller Coaster is an epic free, VR game that is set to blow your mind.
This is one of the best ways to enjoy VR, and also not one of the best ways due to the restrictions. You see, the player gets to enjoy 28 roller coaster VR experiences, and while that's fun, there's no real gameplay here.
Once the vanity wears off, you may not feel the need to return. So, as it stands, Epic Roller Coaster is short-term enjoyment until you can afford to purchase more meaningful games.
Download Epic Roller Coaster from the official website.
3] JUMP
Another game we want to talk about here is one called JUMP. The gameplay is easy to understand as players are tasked to jump from one building to another in Tokyo, Detroit, Seattle, and Philadelphia.
The plan is to make it to the top of the Freedom Tower. If you can do that, then you've effectively mastered the primary concept of the game.
Download JUMP from the Oculus Store.
4] Space Battle VR
Like to play space shooters? Lucky for you, Space Battle VR is one of those shooters, but in VR as the name suggests. The graphics from what we can tell, is quite impressive, so great for those with a powerful computer.
The goal of this game, then, is to fly your space sheet throughout the universe and shoot at enemies whenever they come on screen. As expected, this title does not require the need for a controller, so just take advantage of what your headset has to offer in order to get the most out of the game.
Download Space Battle VR via the Steam Store.
5] Trooper 2
Are you into battle simulation games? If that is the case, then you'll enjoy what Trooper 2 has to offer. It is one of the most enjoyable VR games available right now, and guess what? You do not need the services of a controller to enjoy it.
You'll find this game for Android and Google Cardboard, so that means you'll need a smartphone for it to work properly. So even if you do not have a VR that works with Windows, you can take advantage of what Google Cardboard has to offer.
Download Trooper 2 via the Google Play Store.
READ: Block website requests to access Virtual Reality devices in Firefox
Do you need motion controllers for VR?
VR games can be played in multiple ways, and that includes the use of a motion controller. The thing is, not every title requires a motion controller to work, so if that's the reason you haven't yet invested in a VR headset, then you need not worry.
Can Oculus work without a controller?
Yes, it is possible to play games for Oculus without a controller, but as one might expect, it will depend on the game. Luckily, there are many games available for the platform that supports playing without a controller.