VirtualBox is totally free and open-source software to create Virtual Machines that have become people's favorite for the same reason. To make it easier to work with VirtualBox, there are various unknown shortcut keys. In this article, we will see some of the best VirtualBox keyboard shortcuts to improve your performance with this tool.
Best VirtualBox Keyboard Shortcuts to improve performance
Following are the best Oracle VirtualBox keyboard shortcuts that you must know.
Machine Management
For Control
For Display
Windows Management
Extensions pack management
Storage Management
Log Management
Network Management
Remote cloud management
Let's see some of the shortcuts for managing VMs as mentioned above.
1] Machine Management
Managing the virtual machine is quite necessary if you want to enhance convenience and efficiency, and here are some of the shortcut keys for that:
Alt + M, followed by Alt + R: To remove the current Virtual Machine from the list.
Ctrl + I: To import a Virtual appliance to the current list. Similarly, clicking 'E' instead of 'I' can EXPORT it.
Ctrl + N: For creating a new Virtual Machine. And when you replace 'N' with 'P', your virtual machine will be paused.
2] For Control
There are various shortcut keys for you to make suspending, reloading, and doing such sorts of things and some of them are:
Right Ctrl + P: To suspend the currently running Virtual machine or replace P with R to reload the currently running Virtual machine.
Right Ctrl + S: For opening the Settings Windows while running the Virtual Machine.
Right Ctrl + H: To send a Power off signal to the Virtual Machine.
3] For Display
Shortcuts for display:
Right Ctrl+ C: To turn on the Scaled display in the running Virtual machine.
Right Ctrl + L: To turn on the seamless mode for the running virtual machine.
Right Ctrl + A: To resize the display window to the current resolution of the running Virtual machine.
4] Windows Management
Having shortcuts for managing Windows in VirtualBox is essential for minimizing mouse dependency, accessibility, consistency, quick access in full mode screen, and so on.
Ctrl + Alt + Shift + upper sign or lower sign: To place the desk, either one on top of the other or below.
Ctrl + Q: This terminates the current VirtualBox session.
5] Extensions pack Management
Extension packs are critical for specific functionalities such as Virtual webcam integration and so on. Therefore, having shortcuts for this is really important.
Ctrl + Shift + I: This key enables users to install a new extension pack on the current installation. Replacing 'I' with 'U' uninstalls an existing extension pack.
6] Storage Management
Some storage management shortcuts are:
Ctrl + Shift + F: This will reload the list of Virtual Disks present currently for you to select.
Ctrl + Shift + A: Without wasting time on importing an existing Virtual Disk image, users can import them to the current installation using this shortcut key.
Similarly, if a user replaces 'A' with 'C' then they can select and clone the Virtual Disk image.
7] Log Management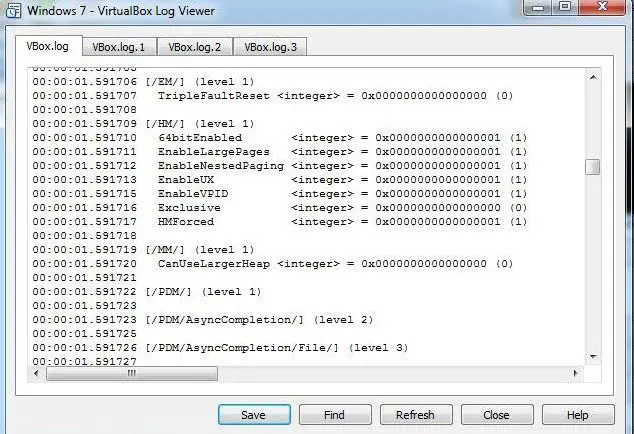 Log management is necessary when it comes to troubleshooting, monitoring, security, and performance optimization. Therefore, mentioned below are some shortcuts to make it easier.
Ctrl + Shift + F: The shortcut enables us to launch the search prompt for active Log Viewer.
Ctrl + Shift + T: Without going for long steps to perform a filtered term search in the current active Log Viewer, this shortcut key helps us to do so in a few seconds.
Ctrl + Shift + D: Finding the available bookmarks is now quite easy with this key.
Ctrl + Shift + P: If you want to access the available display settings for the active Log Viewer you are using, press the keys, and voila, there you go.
8] Network Management
Ctrl + Shift + P, followed by Alt + A: This opens up the controller-specific settings for the virtual network.
 Ctrl + Shift + C: If you want new Virtual Network Controller, this shortcut key is for you.
Ctrl + Shift + P, followed by Alt + D: This opens up the DHCP server settings of the working network controller.
9] Remote Cloud Management
Ctrl + Shift + T: To open the free trial offer for Oracle remote cloud access.
Ctrl + Shift + P: This key allows users to turn on the available settings for a particular remote cloud account.
Ctrl + Shift + A: Well, nothing better than creating a new remote cloud profile in three clicks.
That's it!
Read: How to install macOS in VirtualBox on Windows 11?
How to optimize VirtualBox performance under Windows 10/11?
There are various ways through which we can optimize VirtualBox performance. Some of them include enabling hardware Virtualization in BIOS, allocating sufficient RAM and CPU cores, using SSD storage for VMs, and so on. A user can also install VirtualBox Guest Additions, as well as enable SD and 3D acceleration for maximum performance. While it may not even need to be said, keep VirtualBox, and guest OS updated so that this simple thing may not hit you up with error messages.
How to use more CPU in VirtualBox?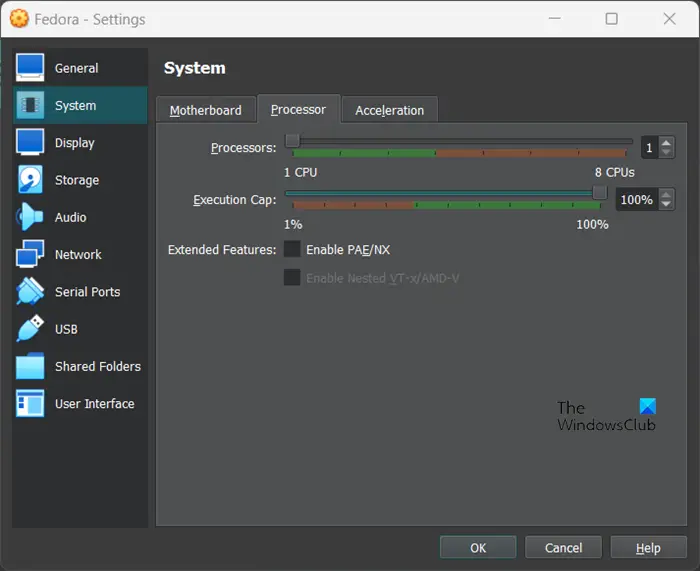 Before allocating more CPU resources to a Virtual machine, make sure that the host system's CPU supports hardware virtualization, and is enabled in the BIOS/UEFI settings. Here's how to do the same:
Firstly, close the virtual machine, and open the VirtualBox on the host system.
Select the Virtual Machine, right-click on it, and select Settings.
Now, click on System > Processor.
You can then add more CPU using the Processor slider.
Hit the OK button, and restart the Virtual machine, it will open up with more CPU cores.
This will do the job for you.