Undoubtedly losing your essential data is always stressful, especially when these are important video files that you have gathered to capture your best memories. To recover your lost or corrupted video files, you can take the help of a video recovery tool. However, when choosing the best video recovery tool, you must consider essential features like multiple scan options, several data loss solutions, preview and restore options, and multiple device compatibility. This post looks at some of Windows's best and top video recovery software and methods. All these are free.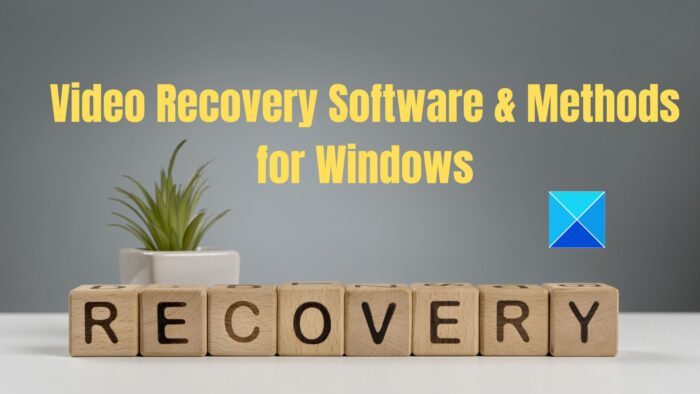 Video Recovery Software & Methods for Windows 11/10
To recover your corrupted or lost video files, it's better to take the help of a reliable tool and a possible working method on your system. Here, we will provide you with the best method and some fantastic video recovery tools to help you recover your damaged or lost video files.
Use File History to Recover Deleted Files
Puran File Recovery
TestDisk
VLC
Ensure you try each method, and then figure out when to use the applications.
1. Use File History to recover deleted files
You can quickly recover deleted files by enabling File History in Windows. Check the detailed guide below for the complete process.
Press Windows+ I keyboard shortcut to open the Windows settings. Next, click on Update & Security and Backup from the left column.
Now it's time to click on the More options link under the Backup using File History. You can click Restore files from a current backup link in the pop-up window to enter the File History backups window.
In the File History backups window, you must double-click the folders to check the files in it to find the exact file or folder you want to restore.
Now you can select the required file or folder you want to restore and click the green Restore button. If you want to restore a previous version of any file, a window will pop up asking if you want to replace the current file in the destination.
If you don't want to overwrite the current version and save the previous version to another location, right-click the green Restore button and select Restore to a preferred path to store the file.
2. Puran File Recovery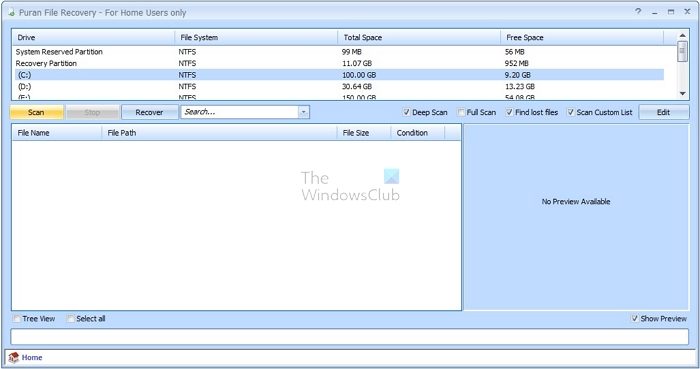 Puran File Recovery is an open-source (Free) program that helps users recover data from damaged media like pen drives, memory cards, and hard disks. This tool comes with a simple, user-friendly interface and can easily restore damaged files quickly. In addition, it can recover any video format files.
As the Puran File recovery tool is straightforward and offers quick results, we will always recommend this tool. The simple and user-friendly interface makes this tool unique and outstanding. Overall, if you are not a technical person and want a recovery tool, then you can use this tool at any time for the best result.   
Compatibility: Windows 64 bits  
Pros:
Simple and user-friendly interface
Recover data from corrupted devices
Faster scanning process
It offers a customized scan list
Cons: 
The deep scan feature is slower to process.
The data recovery rate is lower.
This tool has not launched any updated version since 2016
Files don't appear in real-time during the process.
3. TestDisk
TestDisk is a reliable data recovery tool that comes with different features. The core purpose of this software is not only to recover media files but also to recover the lost partition and reboot the non-booting devices. It is a technical tool and needs technical knowledge and expertise to recover the data. Overall, this is an open-source tool that can be tailored as required.    
We will not recommend this tool to you if you are not a technical person. It is undoubtedly a free and suitable tool for file recovery, but the complete recovery process is challenging to handle and quite tame consuming.
Compatibility: Windows, DOS, Linux, FreeBSD, NetBSD, OpenBSD, SunOS and MacOS X.
Pros:
It is an open-source tool
There are no versions and no limits to data recovery
Rebuild boot sectors
Cons: 
Not the most user friendly
Its time taking because it only works via the command prompt window
Difficult to use.
4. VLC
The VLC media player is a handy tool for repairing videos quickly. The file conversion process feature of the VLC media player can quickly fix and recover corrupted video files. Additionally, anytime you open a video, and the header of the file is corrupt, VLC will fix it automatically.
While it's a quick recovery tool, it has its limitations. If the video header is corrupt, you can quickly fix it. Anything beyond that will take its time. We will not recommend this tool if you are in an emergency and want to repair your video file instantly. The recovery process of the tool takes more steps, is complicated, and time-consuming. It takes a long time to convert videos, but header corrections are quick.
Compatibility: Windows, macOS
Pros:
Free to use
Supports AVI formats
Cons: 
It comes with tedious video repair methods
You must convert the video file format to AVI.
We have recommended the four best third-party video recovery tools, which are reliable and user-friendly. Here we advise you that data backup is crucial for data protection, so focus on saving your data from unwanted data loss.
Why do people lose video?
Now the question is why video loss occurs. The answer is simple! It happens due to several possible reasons like Virus or malware attack, physical damage to the storage device, operating system crash improper disconnection.
How can I recover video data?
You can recover video data by accessing the System and Security> File History> Restore personal files. Now navigate to the location where your video files were stored and go through available backups to check if one of them contains them. Next, select the video files you want to restore by clicking the green Restore button.
How do I recover permanently deleted videos on Windows? 
You can easily recover permanently deleted videos on Windows 10 by pressing the Windows key, entering Windows File Recovery in the search box, and selecting Windows File Recovery. When you will get notified to permit the app to make changes to your device, select yes. Here you will get two primary modes to recover files, regular and extensive choose one and press the start button.