Home Design apps are not just for interior design students. Most of us have somewhat been experimenting with colors and wallpapers online. Especially, if you are looking to remodel your kitchen or home, dabbling with what really fits for you is just a good habit.
Best Home Design apps for Windows 11/10
This is where Microsoft Store has brought to you a collection of boutique home design apps that are geared to solve your interior color set confusions. You can pick and try the color and patterns you are looking for and show it to your interior designer. That is one of the most effective ways to convey your requirements to anybody who is going to design your home.
Live Home 3D
Planner 5D
4Plan
Palette@Home
Modern Luxury Interiors Texas Magazine
Home Décor
Pick Your Home Designs
After all, home is where the heart is, so why not make it exactly the way you want it. So, to help you out in your next home improvement project here are the best home design apps from the Microsoft Store.
1] Live Home 3D
When it comes to detail-oriented intuitively feature packed home design app, Live Home 3D has made it to out the first spot on our list. A successor of Live Interior 3D you get a draft detailed 2D floor on which you can build your structure. You can make smart color decisions and optimize your furniture settings to use the results in real life.
It is absolutely free and you can download it from here.
2] Planner 5D
If you are looking to remodeling or even renovating your home then the Planner 5D has everything you need. The free version gets you 2D and 3D floor plans with 3000+ item catalogs to browse from. You can create realistic designs and carry them with you next you have an appointment with your interior designer.
You get an absolutely free version. Download it from here.
3] 4Plan
You can create your home improvement project right from the 4Plan – Home Design Planner. Create your own floor plan in 2D and 3D. You can also fill in your virtual apartment form furniture form the catalog. Once your unique look is set you can also utilize the results in your real life home improvement projects.
Download it for free from here.
4] Palette@Home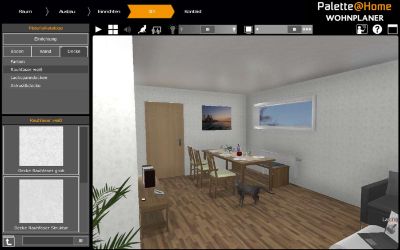 One of the best and easy to use 3D interior designing apps that lets you set up your own themes and also your own patterns. Palette@Home lets you go through the entire interior designing steps from start to finish so you can easily use them for your real-time home designing projects.
Download it for free from here.
5] Modern Luxury Interiors Texas Magazine
The Modern Luxury Interiors Texas Magazine is set for all those people who love excellent photography, modern aesthetic and editorials of modern homes in Texas. With a distinct and wide range of designs to choose from and study, you can use this app as an inspiration for all your upcoming home improvement projects.
Download for free from here.
6] Home Décor
And an excellent e-commerce free store to buy some amazing and exotic collection of home improvement products. They sell at slashed prices and the delivery time is one point. Find anything from curtains to vases, you are set to pick up something from this very chic home décor app.
You get to decide from all the reviews and prices rages and also become a bonafide user there.
It is completely free to download. Get it from the Microsoft Store.
7] Pick Your Home Designs
One of the first things that people do is go through designs palates before they decide on which kind of home improvement patterns would work for them. And, this Pick Your Home Designs is set for all those home improvements DIY's that need inspiration.
So, if you love going through designs that are geared to help you with your home projects then this app is going to fit your bill.
It is totally free to download from here on the Microsoft Store.
When it comes to home improvement projects finding the right fit is not easy. So, having home designs apps are going to make those hard decisions of colors, patterns, and designs for your home much easier. You can just download the above-listed apps for free and use it to your own discretion.
Happy home designing everybody!
Read next: Best free CAD software for Windows.