Creating a quiz is not an easy task, as it requires a lot of time. If you are in a teaching profession, you have to create quizzes for students of different grades frequently. In this article, we have brought some of the best free quiz maker software for teachers. These freeware make the quiz creating process simple and also save your time. They come with a lot of features like inserting images, audio and video files into questions, etc.
Best Free Quiz Maker Software for PC
We have covered the following quiz maker freeware for Windows 11/10 in this article:
QuizFaber
Wondershare Quiz Creator
iSpring Free QuizMaker
Solen Test Maker
Easy Test maker
Let's see what features they offer.
1] QuizFaber
QuizFaber is a fully-featured free quiz maker software for Windows that lets you create the following types of questions:
Multiple Choice
Multiple Answer
True or False
Open Answer
Fill in the Blanks
Matching
Custom
To add a new question, simply click on the green Plus icon on the left panel. You can also insert media to a particular question, including images, video, sound, VLC media player file, Windows media payer file, etc. Apart from that, formatting options are also available in the software. You can make a text bold, Italic, and underlined, and change its font size and style. The software saves a quiz in its own format. But you can export it in multiple formats, including, Excel, Word, XML, PDF, HTML, etc. Print a quiz option is also provided in the software. Moreover, the custom export option is also there using which you can export only the selected questions.
You can also run the quiz on your web browser so that the students can attempt it. After the submission of the test, it displays the detailed analysis like marks obtained, the total number of right and wrong answers, etc. If you want, you can print the quiz result.
2] Wondershare Quiz Creator
Wondershare Quiz Creator is an excellent offline quiz maker freeware that comes with a pool of features. It lets you create many different types of quizzes, including:
True/False
Multiple Choice Questions
Fill in the Blanks
Matching
Sequence, and more
All the quiz-making options are available on the left panel. To begin, double-click on any of the options and enter your question. You can also import multimedia to a particular question, including images, sound, and videos in JPG, JPEG, BMP PNG, GIF, MP3, MP4, AVI, and more formats. The preview option is available for each question.
Wondershare Free QuizMaker also lets you set different points and feedback for each question. By using the formatting options, you can change the font style, size, and color of the text and make it bold, Italic, or underlined.
Using the "Quiz Properties" option, you can set a quiz title, author information, passing percentage, display message at the end of the quiz, etc. You can also publish the quiz on the server of Wondershare Quiz Creator but for this, you have to create an account. It saves the quiz in its own format. If you want to save the quiz in word or excel format, go to "New Quiz > Create a Quiz in Word or Create a Quiz in Excel."
3] iSpring Free QuizMaker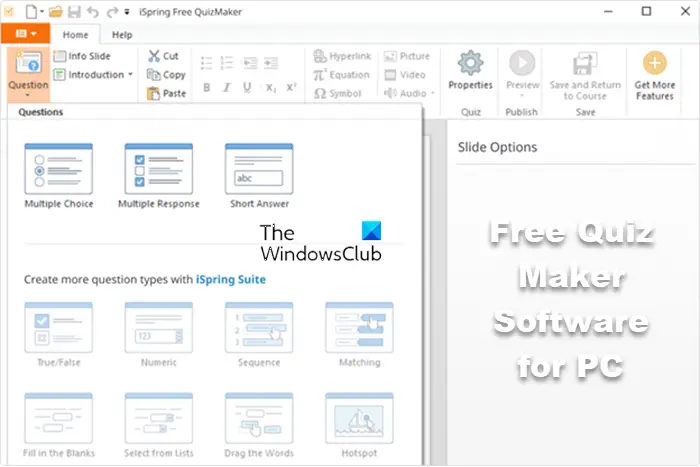 iSpring Free quiz maker is an entirely free tool for creating multimedia quizzes to publish on the Internet. All the quizzes you make will be in HTML5 format, so you can share them easily on your website, blog page, or in your SCORM-compliant LMS.
The software provides you with these three types of interactive quizzes for checking your learners' knowledge:
Multiple-choice
Multiple responses
Short-answer
For each question, the iSpring Free quiz maker enables you to set grades, time limits, customized feedback, branching, and other completion rules. You can also increase learner engagement by enhancing your quizzes with images, audio, and video. These are the file formats that the iSpring Free quiz maker supports:
Image: BMP, GIF, JPG, PNG, TIFF, WDP
Video: AVI, MKV, MP4, MPG, WMV
Sound: MP3, WAV, WMA
With the iSpring Free quiz maker, creating a quiz is fairly easy. To add a question, click on the "Question" button on the top left corner of the software and select the type of question desired. Or you can press Ctrl + M.
Then, fill the chosen type of question with text, answers, and media, and set completion rules. Preview your quiz by clicking the "Preview" button, and you're all set to publish. Click on the "Publish" button and export your quiz to your LMS or blog, or save it on your computer.
4] Solen Test Maker
Solen Test Maker is another simple free quiz maker software for teachers. Its interface is very easy to understand. It lets you create quizzes in two formats:
Multiple Choice format
True False format
After entering each question, you have to click on the "Add Question to Test" button. The software also has a preview box that shows all the questions you added to a particular test. From here, you can edit, remove, and change the serial number of a particular question. To change the serial number, select the question and click on any of the Up or Down keys on the left side. It saves the project in its own format. One demerit of the software is that you cannot export the created test but its "Take a Test" feature lets your students attempt the test on PC and submit it. When they submit, the software displays their result.
To start a test, go to "Test > Take a Test." After that go to "File > Open" and select any of the saved files. Now, click on the "Begin" button.
5] Easy Test Maker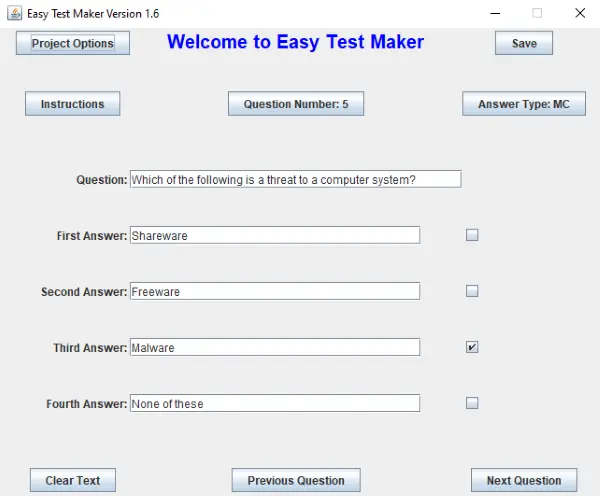 Easy Test Maker is a simple freeware to create tests, using which you can create two types of quizzes for your students:
Objective questions (Multiple Choice Format)
Subjective questions (Written Questions and Answers Format)
Its interface is very easy to understand. It is an executable jar file, therefore, you have to install JAVA on your computer to run it. The software has no limit for adding the number of questions to a particular test. To create a test, first, you have to enter your name. This feature is useful when different teachers use the same software to create the quizzes. You can change the quiz format by clicking the "Answer Type" button. After entering each question, you have to save it by clicking the "Save" button. The "Project Options" button on the top left corner of the software has the following options:
Delete Test
Print Test
Preview Test
Export Test
Preview Answer Key
Print Answer Key
Delete Current Question
The export option lets you save your project in text format. You can preview the test anytime while creating it. The print feature did not work for me.
Which software is your favorite? You can tell us in the comment section.