If you are a teacher, PowerPoint game templates are a great way to help your students revise their concepts in a particular topic or subject. Playing the games on PowerPoint in a class with your students not only increases students' engagement but also improves their skills on a particular topic or subject. In this article, we have listed some best free PowerPoint Game Templates for Teachers that will make learning fun for students.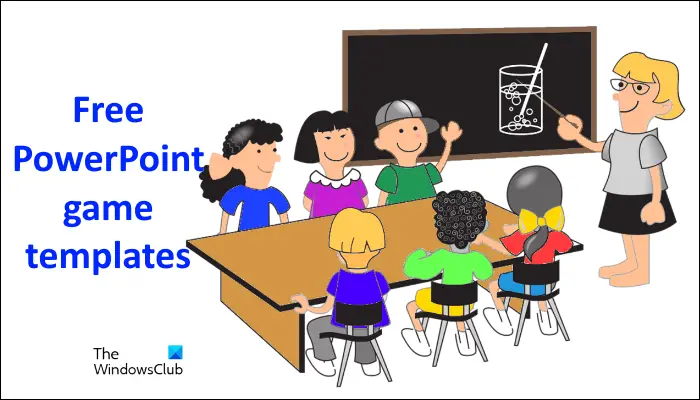 Free PowerPoint Game Templates for Teachers
Following is the list of some best free PowerPoint game templates for teachers. You can customize these templates to make a game for your students.
Who Wants to Be a Millionaire?
Jeoparty
Only Connect
Space Crossword Puzzles for Middle School
Let's see all these PowerPoint templates.
1] Who Wants to Be a Millionaire?
Who Wants to Be a Millionaire? is a popular British television show. If you watch this TV show, you are aware of the game rules. In India, KBC (Kaun Banega Crorepati) is a similar TV show. You can download this free template from rusnakcreative.wixsite.com. After downloading it, open it in Microsoft PowerPoint and edit the slides one by one. You have to type your own questions and answers. It is a macro-enabled template. Therefore, when you open it for the first time, you will see an option to enable macros for this template on the PowerPoint ribbon. Click on that option.
Have a look at some features of this free template:
Authentic sound clips and music from the show.
High-quality graphics.
Three lifelines.
Easy to edit.
2] Jeoparty
The Jeoparty PowerPoint template mimics the American game show, Jeopardy! If you have ever watched this TV show and want to play it with your students, this template is for you. You can play the Jeopardy game by making different teams of your students or individually. This free Jeoparty PowerPoint template is available on slidescarnnival.com. You can edit it in PowerPoint or in Google Slides. After editing the template, save it and start the slideshow to begin the game.
3] Only Connect
Only Connect is one more free PowerPoint game template for teachers. This template is made on the concept of finding a connection among the cards displayed on the screen. For example, the connection between the alphabets "a, e, i, o, and u" is that they are all vowels. Only Connect templates are available in different subjects, including mathematics, general knowledge, science, etc. You can download these templates from the official website. In addition to this, if you want to make the Only Connect game from scratch, you can download the free blank template and edit it in PowerPoint.
Visit fisherhuntz.com to download Only Connect free PowerPoint game templates.
4] Space Crossword Puzzles for Middle School
Space Crossword Puzzles is a free PowerPoint game for middle-class students. It is a simple crossword puzzle game that contains questions related to space. You can present this already-designed presentation to the students or add your own questions to the presentation by editing it.
You can download this free PowerPoint Space Crossword Puzzle template from slidego.com.
Read: How to search for Online Templates and Themes in PowerPoint.
Where can I find the best free PowerPoint templates?
There are many websites that offer free PowerPoint templates. You just need to search online. In this article, we have included some free game templates for PowerPoint suitable for teachers. If you are searching for the same, you can use these templates.
Read next: Best PowerPoint Templates for Teachers.
What games can you create in PowerPoint?
Some games that you can play in PowerPoint are Sudoku, quizzes, memory games, word games, etc. If you know Microsoft PowerPoint, you can design your own game in it. However, pre-designed game templates are also available on the internet.