Windows is a great platform for gamers, or should I say a default platform. There are a ton of Graphically intensive games that you can play on a Windows computer. Amidst all these 3 d, CPU/GPU intensive, big games, there are browser-based online games that you can play without downloading or registering. In this article, we are going to see the best free online games that you can play on your browser without having to download anything.
How to play all games without downloading?
You can play online games in your web browser without downloading them. Simply visit the website and start playing the games. If you are talking about smartphones, you can pay instant games without installing them. Instant games are available in the Google Play Games app which you can install from Google Play Store.
Best Free Online Games with no download required
Following are the best free browser-based online games that do not require download or registration you can start playing immediately.
Slither
FlappyBird
Cut The Rope
Ti Tac Toe
2048
Copter
Sudoku
Pacman
Bullet Force
Dirt Bike
QWOP Walking Game
Dinosaur Game
Bubble Shooter
Squid Game 2
Drag Racing Club
Forge of Empire
Game of Thrones
Time Shooter 2
Strange Pop
UNO
Let us talk about them in detail.
Non downloadable free online games
1] Slither
You may have played Snake games on your phone, but now it's available for PC. It's a great game to kill time, you just need to go to the website, enter a nickname and get on with it. The more your snake eats the longer it will get. So, if you are into Snake games, go to slither.io.
2] FlappyBird
FlappyBird is a simple game that you can play with the help of your mouse. The UI is super easy to acquainted with, all you need to do is to go to the website and click on the screen, your game will begin. In this, you just to make the bird space between two pillars. Sounds easy? Go to flappybird.io and find out yourself.
3] Cut The Rope
Cut The Rope is exactly what the name suggests, you have to cut ropes, a lot of them. You need to cut the rope and make the frog sitting at the bottom of the screen eat food. The game starts easy and will get a bit more intense as you go forward. You can enjoy the game from miniclip.com.
4] Tic Tac Toe
Who hasn't played Tic Tac Toe on the back of their notebook? Well, know! you can play the game with Google. Just go to google.com and search "Tic Tac Toe". Just like that, you can start playing with Google's AI. You can also choose your level of difficulty depending on how expert of a player you are. You can also play against your friends, just select Play against a friend and the AI will be disabled, then both X and O will be controllable by you.
Note: You can also play Tic Tac Toe on playtictactoe.org or on poki.com.
5] 2048
2048 is a fun game for smart people. In this, you have to add the same numbers until you get 2048. So, 2 + 2 = 4, 4 + 4 = 8, and so on. It is a game for smart people and for some who wants to get smarter. It is a new concept that you can play for free without downloading anything. So, go to 2048game.com and enjoy gaming.
6] Copter

Copter, as the name suggests, is somewhat similar to FlappyBird, but a bit difficult. It is a simple game and doesn't ask for a lot of processing power. The only thing you need is a Mouse and fingers to click and cover some distance. Just go to crazygames.com and start playing.
7] Sudoku
I am presuming that you already know what Sudoku is. Now, you can play the game online for free. Just go to the websudoku.com and start playing. The UI is simple and is not at all demanding.
8] Pacman
Pacman is one of the most famous video games in the 80s and 90s. Now, you can enjoy the game without downloading anything on your browser and without having to plug a console in your TV. Pacman can be played from Google.com, just search out Pacman and start playing.
9] Bullet Force
If you are someone who likes playing shooting games then we have one for you. It may not be aesthetically pleasing because there is so much that you can encapsulate in an online game made to be played on a browser, however, they did their best and it's probably one of the best looking games on our list. But it is a fun game that can play in your free time. You can play the game from crazygames.com.
10] Dirt Bike
Who doesn't like riding on a bike and doing off-roading? You can do that online on your browser without downloading anything, isn't that amazing, the experience might get decreased, so does the chances of you getting hurt. So, go to crazygames.com and enjoy Dirt Bike.
11] QWOP Walking Game
How hard can be walking be? Well, this game can change the perspective upside-down. It is one of the most difficult games on our list, you need to just hit QWOP keys to make the player walk, but the timing is what you need to get right. Go to foggy.net and start walking.
12] Dinosaur Game
You may have played this game when you are not connected to the Internet, but now you don't have to turn off your Internet to play this game. Just go to poki.com and start making your Dinosaur jump.
13] Bubble Shooter
Bubble Shooter is one of the most addictive games. It is a simple game, that allows you to burst a bubble by shooting one of similar colours. Most of us tend to have the game downloaded, but not anymore. Just go arkaduim.com and start playing.
14] Squid Game 2
You may have watched or heard of a series called Squid Games. This online game is based on that series. You will get missions similar to the ones that you saw in that series and you have to complete them. If you want to play the game, go to bgames.com.
15] Drag Racing Club
We all like racing games, and here is one for you. Drag Racing Club is a free online game that can be played on any browser. The game is extremely easy, so, depending on who you are, it can either be a boon or a curse. To start playing Drag Racing Club, go to bgames.com.
16] Forge of Empire
If you want to build an empire of your own then this game is for you. You can create your palace, empire, army and whatnot. It is a great experience for some who likes to relive the time of a monarch. Go to forgeofempire.com to start playing.
17] Game of Thrones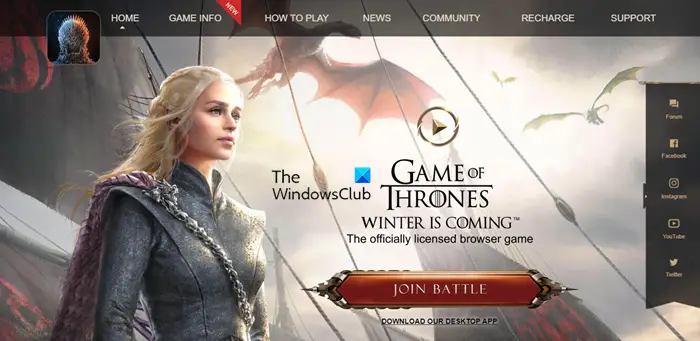 Game of Thrones or GOT is arguably one of the most popular TV series. What most fans don't know is there is an official game that you can play online without downloading anything. So, get your Jon Snow together and go to gotgtarcade.com.
18] Time Shooter 2
Time Shooter 2 is an online game that is fairly simple, you just start the game and start shooting. However, the game is not aesthetically pleasing, but you can't ask for more given that the game is purely browser-based. Go to roundgames.net and start playing.
Read: Best Naruto online games to play.
19] Strange Pop
If you are a fan of Spider-Man, you will like Strange Pop. It is a running game and has the web-shooting capabilities of the Marvel Spider-Man. Keep in mind that it's not an official marvel game, but can be enjoyed from crazygames.com.
20] UNO
Last but not least, we have UNO. It's a popular card game and now can be played online. Go to poki.com and enjoy gaming.
Related read: Best free online games for kids to play without downloading anything.
What are the 6 hidden games on Google?
There are many hidden games on Google that you can play for free. The Dinosaur game is a popular game available in Google Chrome. You can play it when you are offline. Other Google hidden games include Google Snake, Pac-Man Doodle, Champion Island, Google Atari Breakout, Google Space Invaders, etc.
Also Read: