Well, who is unaware of Fax? If you do not then let me introduce you to Fax? Fax or Facsimile Telecopying/ Telefax is a way to transmit scanned printed material telephonically to a number that is attached to other output devices.
Faxes are still used in many offices to send docs and then receive them safely as it is the safest way to send confidential papers. Therefore, it is still used in many large enterprises.
If you are to send your document, you can send it online without the need to spend a huge amount on buying a fax machine as you can have your own fax machine with the help of your Windows computer. So, not only it is safe but pocket-friendly as well.
Free Online Fax Services
In this article, we are showing you 5 of the best free online Fax Service. They are:
eFax free
Windows Fax
PamFax
GotFreeFax
HelloFax
Note: Most of the Fax services we are going to talk about in this article are not complete, in order for you to have a complete two-way communication service you need to upgrade. Therefore, you may need to use two services at once, one for receiving and one for sending.
Let us talk about them in detail.
1] FaxZero
If you are from America, Canada, or some other neighboring nations then FaxZero is the way to go. You can send texts, attach documents, and curate a perfect professional Fax without paying a penny.
However, there are some limitations here. The maximum size of a FAX  is limited to 3 and you can only send a maximum of 5 Fax a day in its free plan. If you want, you have to pay more. But, the free plan is perfect for most people. You can access FaxZero from its official website.
2] Use Windows Fax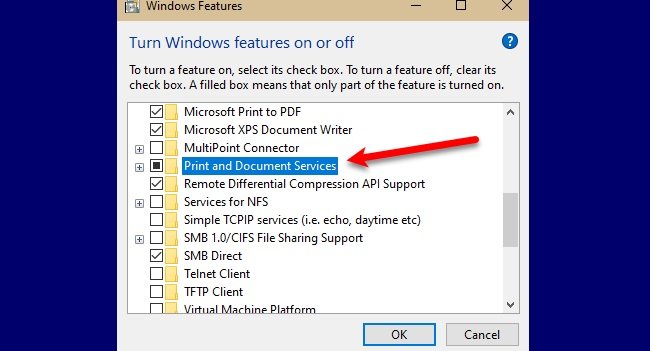 If you are a Windows user then one of the best ways to send a Fax is via Windows Fax. It is a service, built-in in Windows, that allows you to send a Fax from Microsoft Office services such as Excel, Outlook, Word, etc.
To access this feature, you need to enable "Print and Document Services". To do that, follow these steps:
Launch Command Prompt by Win + R, type "command", and hit Enter.
Now, make sure that View by is set to Large icons, open Program, and Features, and click Turn Windows features on or off.
Now, tick Print and Document Services and click Ok.
3] PamFax
Another free online Fax service on our list is PamFax. It is a partially free service that allows you to send 3 free fax pages from a device that has access to the Internet.
After your free trial, you have to choose from 3 options provided to you by PamFax. On-Demand services, the Professional Plan, and the Basic Plan are the options you can select from after your free period ends.
The PamFax On-Demand services start from 11 cents a page whereas the Professional plan will cost you $7.53 a month with 8 cents a page and the basic plan for $5 a month and 11 cents a page. However, you will still be receiving Faxes for free, if you go for the free plan, and that's what allowed this to enter our free list. You can access PamFax from their official website.
4] GotFreeFax
GotFreeFax should be your go-to service if you are not a fan of ads appearing on your screen. Even though it is not as feature-rich as other fax services, it lets you send 2 free faxes of a maximum of 3 pages daily but there is no receiving fax service thus leaving no space for two-way-communication.
It is one of the most straightforward fax services that do not ask you to register and can simply send the fax by entering the name along with the email. If you are not satisfied with 2 free fax of a maximum of 3 pages then you can upgrade plans.
These plans start from 98 cents and can go up to $1.98 and $2.98. The 98 cents plan allows you to send docs of 10 pages, and the page limit exceeds 10 plus with cash. This can be accessed from their official website.
5] HelloFax
And to wrap the list we are presenting you HelloFax. It is one of the most modern fax services that do not make you feel old with its refreshing interface and menus. If you are a neophyte then it also lets you have a 60-sec tutorial.
It is clearly a feature-rich fax service that lets you send your fax internationally across more than 70 countries but when it comes to the free tier, it kind of lets you down as it only lets you transmit fax of a maximum of 5 pages.
After the free trial, it is required for you to spend a fortune on buying a plan for sending faxes. It has a feature set that leaves any other fax service in the list behind as it supports Google Drive, Evernote, DriveOneDrive, Box, Dropbox along with accessing files. You can access HelloFax from their official website.
Hopefully, this has helped you in finding the best Fax Services in the market.