If you are a teacher or student, who often spends time on online classes using Microsoft Teams, these education apps for Microsoft Teams can help you do more within moments. Whether you are a teacher, who teaches students, or a student, who attends various school or college classes – you would find this article handy.
Educational apps for Microsoft Teams
Here are some of the best Microsoft Teams apps for educational purposes.
Math
Wikipedia Search
Code by Vivani
MindMup
Lucidspark
Discovery Education
OpenLearning
Pear Deck
Ment.io.
1] Math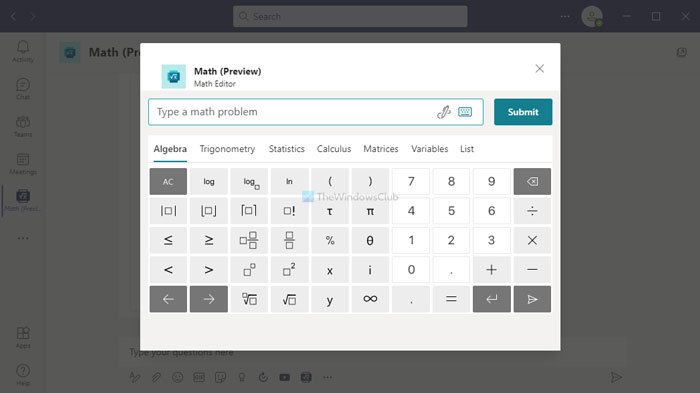 Whether it is a simple algebra or Schrodinger's Equation, it is quite difficult to type it in Microsoft Teams chat. That is why you need an app like Math, which lets you type the equation and send it to your class without any significant problem. It comes with a math input editor, math solver, graph functionality, etc., so that you do not encounter another problem while teaching your mathematics class. Furthermore, as it is possible to add the app to a team, chat, and meeting, you can use Math from anywhere. Download Math from teams.microsoft.com.
2] Wikipedia Search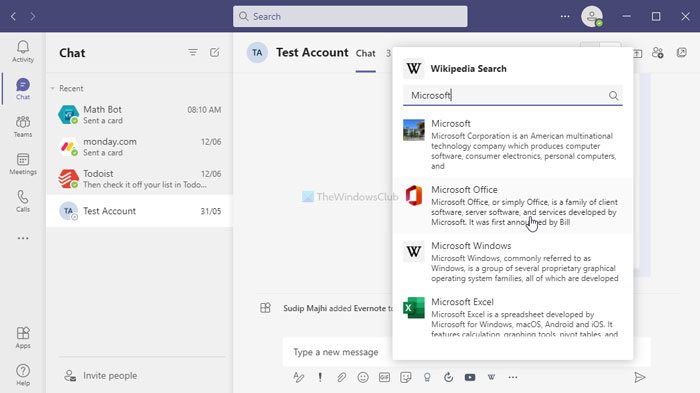 At times, you might want to learn more about a topic, and what's better than a quick Wikipedia search where you can find consolidated information? If you find Wikipedia quite handy, the Wikipedia Search app for Microsoft Teams may help you a lot. As usual, it lets you search for a particular topic without leaving the Microsoft Teams app. Apart from that, it is possible to share a Wikipedia article in a meeting to let others know more about a topic. Download Wikipedia Search from teams.microsoft.com.
Read: Best Project Management apps for Microsoft Teams.
3] Code by Vivani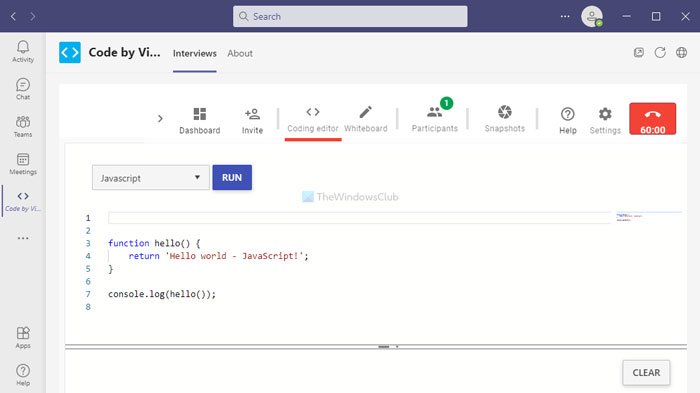 Code by VIvani is useful when you take interviews of coders online. It helps you create a whiteboard with real-life problems that you can ask your interviewees to solve as a part of the recruiting process. You can collaborate with your candidate and allow them to give access to the whiteboard, letting them code without leaving Microsoft Teams app. As it is a web service, you can also copy the whiteboard link and share it with anyone. Download Code by Vivani from teams.microsoft.com.
4] MindMup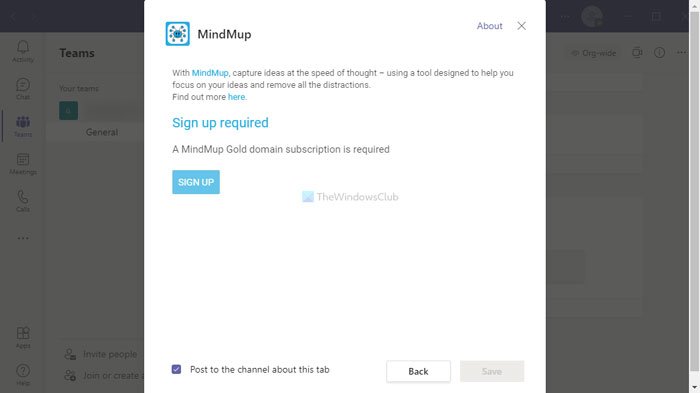 As the name defines, MindMup is a mind-mapping application you can install in Microsoft Teams. It lets you jot down all the ideas and explain them to your teachers or students without leaving Microsoft Teams. Furthermore, as it is possible to integrate this app into a team, you can use it when working with your mates on a school or college project. Download MindMup from teams.microsoft.com.
5] Lucidspark
When you are teaching a class, having a whiteboard is far better than sharing your screen with students. Lucidspark helps you have an integrated whiteboard, allowing you to write down anything you want to. From writing Math equations or Chemical equations, you can write almost anything in the Lucidspark app. It includes an unlimited number of canvases, freestyle drawings, sticky notes, etc. Download Lucidspark from teams.microsoft.com.
6] Discovery Education
There are only a few online educational websites where you can find science, math, coding, etc., together, and Discovery Education is one of the beautiful websites. If you have a subscription to Discovery Education, it is possible to share a course or curate the content from this website to Microsoft Teams. It works flawlessly, and you won't have any embedding issues while using the official app for Microsoft Teams. The last but not the least thing is you must have an active subscription to use this app. Download Discovery Education from teams.microsoft.com.
7] OpenLearning
OpenLearning is an online course website where you can find multiple categories, including arts and design, business, computer and technology, education, engineering, health, etc. If you have an active subscription, you can integrate those courses in Microsoft Teams using this free app. There are mainly two primary things – Short Courses and OpenCreds. The former helps you go through a short course to learn something quickly, and the latter helps you learn a skill in-depth. Download OpenLearning from teams.microsoft.com.
8] Pear Deck
Pear Deck has two benefits – it helps you share your PowerPoint presentation with your teachers or students and has an interactive board to interact with your students and teachers. At times, you might want to share your presentation with others for assessment or so. In those situations, you can use Pear Deck to get the job done. On the other hand, if you are a teacher and want to interact with your students deeply, you can use the same app. You can ask questions via this app, and your students can answer them in real-time. Download Pear Deck from teams.microsoft.com.
9] Ment.io
When you want to give your students some assignments with a due date, you can use the Ment.io app in Microsoft Teams. Not only projects but also you can ask interactive questions to collaborate with your students in an online class. It is possible to ask multiple questions via this app, and your students can answer them within the due date set by you. The user interface of Ment.io is uncluttered, but it is full of options, allowing you to set things up according to your requirements. Download Ment.io from teams.microsoft.com.
Don't forget to check the app permissions before installing these educational apps for Microsoft Teams.