Stick PCs, also known as PC Compute Sticks, have gained significant popularity over the time. And why wouldn't they? After all these tiny stick PCs can turn every HDMI display, you come across into a full-blown desktop computer. That's the reason Stick PCs came into existence. Imagine, instead of carrying a desktop computer or laptop, you just need a Stick PC to revolve any PC monitor or HDTV into a fully functional desktop.
Best Stick PC
You can run most of the applications that you are using as these Stick PCs are available with Windows 8.1, Windows 10, Ubuntu 14 and also comes with more traditional OS such as Android and Linux. The market has few worthy options, and they all cater entirely different needs. There isn't a perfect PC Compute Stick for everyone, but you can find options here that have been chosen on the basis of quality, reliability, and cost-effectiveness. We have researched and analyzed thoroughly and picked best Stick PC you can buy.
1. Lenovo IdeaCentre Stick 300 Stick PC
The idea behind introducing this Stick PC is simple and intriguing: a capable PC Compute Stick running on minimal hardware and an Intel Atom processor. It is small and comes with an HDMI connector on one end that can be connected directly to a monitor or a TV. It comes equipped with an Intel Atom Z3735F quad-core processor having cloaked speed of 1.33GHz.
With a solid processor and 2GB RAM, this stick handles not only the basic tasks but also the extensive tasks at ease. It is an excellent solution for students as carrying the laptop for transporting assignments, presentations and homework isn't a feasible solution every time. Fairly priced at $249, this Stick PC hits the sweet spot and ready to embrace the age of compact technology. It is available on Amazon.
2. Intel PC Compute Stick CS125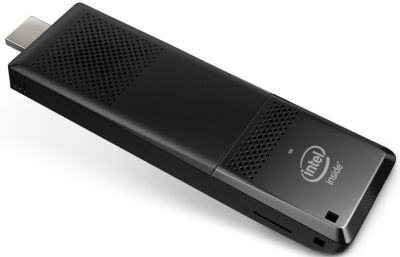 Intel's second generation computer stick might look similar, but it packs enough upgrades. It comes with Windows 10 pre-installed and runs all the Windows apps as you'd expect. Intel's CS125 gives additional 128GB storage on top of 32GB of internal storage and handles almost everyday PC tasks at a breeze despite having 2GB RAM onboard.
The Intel PC Compute Stick's 1.4GHZ Atom X5-Z8300 processor shows some notable performance upgrades over the predecessor. A faster processor, more USB ports, and improved networking make this Stick PC a worthy purchase. It is available on Amazon.
3. ASUS VivoStick TS10-B017D Intel Atom

This is a very capable offering from Asus that can be taken anywhere to experience desktop-like computing. The hardware department packs a 1.4GHz quad-core Intel Atom x5-Z8350 processor paired with 2GB RAM and 32GB internal storage. The solid combination ensures efficient and lag-free multitasking.
You get one USB 3.0 port if connecting through USB ports is preferable to you and a USB 2.0 port as well. However, it falls short on expandable storage but considering features, performance, and aesthetics; the price is still very reasonable for this ultra compact PC Stick. It is available on Amazon.
4. Intel PC Compute Stick CS325
This is the elder sibling of CS125 and proves to be more efficient and better performer if you have a bigger budget. It packs Intel Core m3-6y30, Intel HD Graphics 515, and comes with Windows 10 Home(64-bit) pre-installed. Having a faster CPU, this PC Compute Stick ensures an ideal balance of performance and efficiency to provide a substantial level of productivity.
It not only offers wireless connectivity but also comes with one USB 3.0 port on the device and other two on the power adapter. This STick PC comes with 4GB RAM and there's also a lot of room for installing apps with 64GB flash storage plus a microSD card slot for expansion when needed. It has all the powerful technology that fits nicely into a sleek and small package. It is available on Amazon.
5. ASUS Chromebit CS10 Stick PC
This PC Stick is small enough at 4.8 inches to satisfy all your portable needs. The most appealing feature is the quick and hassle-free usage; just plug-in the CS10 stick PC into the HDMI port of the display and let it explore the possibilities.
Keeping in mind the small form factor, Asus has opted for quad-core SoC that packs in four ARM Cortex-A71 cores speed cloaked at 1.8GHz, and coupled with Mali-T764 GPU for graphics.There's also room for 2GB RAM and 16GB of eMMC flash storage in this tiny PC stick.  Being Google account a hub here, this PC stick lets you access tho whole ecosystem of Chrome OS apps.
It comes with a built-in security feature that ensures your privacy. Accounts can be switched easily as the data is kept separate for individual users. If you've never used Google Drive's apps before, you might find it difficult to get work done without Microsoft Office. Nonetheless. Asus Chromebit CS10 Stick PC does provide almost everything you need. Looking at its attractive price, i.e., $99, this is undoubtedly one of the best budget PC stick out there. It is available on Amazon.
6. Azulle Quantum Access Mini PC Stick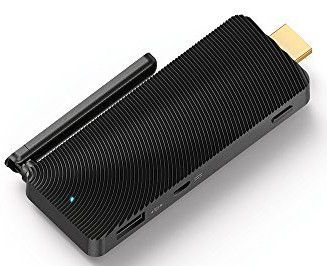 The Azulle Quantum Access Stick runs 32-bit latest full version of Windows 10, therefore lets you access mostly Windows apps. It is powered by a 1.33GHz Intel Atom quad-core processor which is paired with 2GB RAM should be capable of providing optimal performance. Besides 32GB of internal storage, it gives you an option to extend storage using a microSD card.
Backed up by a Gen 7 Intel HD Graphics, it is perfect for streaming content. Undoubtedly, it is bigger, and some people might find it expensive, but it is fully armed with features and fits in both Ethernet and USB ports. It is available on Amazon.
7. W5 Mini PC Windows 10 Computer Stick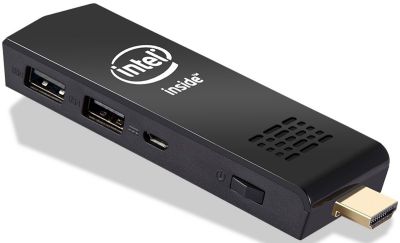 This is another great option for those who are on a hunt for fully featured best Stick PCs. W5 Mini PC Stick runs on Windows 10 Home edition which runs fast and smoothly. The performance of this Compute Stick relies on a powerful 1.83GHz Intel Atom quad-core CPU. Besides this small yet powerful hardware, it packs 2GB RAM and 32GB internal storage which further can be ramped up via a microSD card slot.
It has plenty of connectivity options which can be used to connect wireless devices to get the best portable PC experience. This device has got some great specs for a reasonable price and makes it a worthy buy overall. Buy it at Amazon.
8. Intel Compute Stick CS525 Computer with Intel Core m5
This is the most expensive offering of the lot from Intel and why wouldn't it be; these Stick PCs are a substantial upgrade from the previous Atom versions. Intel's latest 2nd Gen Compute Stick now comes with a Core m5-6Y57 vPro processor, 4GB RAM, and 64GB of eMMC Flash Storage.
Besides wireless connectivity, it has been granted with three USB 3.0 ports and a USB Type C port, making it future ready. With an ultra-fast processor and 4GB RAM, it is capable and fast enough to be used for enterprise computing. If portability and performance is a priority over money then this PC Compute Stick is one of the best pieces of tech happened to modern computing. Go here to buy it.
Considering the specs, features, and price, we have combed the web and brought few best Stick PC options. Nonetheless, if we've missed on any potential entry, let us know in your comments below. Although they are all worth their money, the needs they cater are entirely different.
Read next: Best Windows Mini PCs you can buy.