If you are looking for a solution to add date stamps to multiple photos at once, this article is your stop. Here, I will mention the best free batch photo date stamper software for Windows 11/10. You can use these freeware to add a current date stamp, custom date stamp, or date stamp from images' EXIF tags. These also let you customize the placement of date stamps on photos, font size, font type, text color, and more settings. Let's check out these free software now!
See: Add Date Timestamp to Photos when importing them.
Best Free Batch Photo Date Stamper software for Windows 11/10
These are the batch photo date stamper freeware available for Windows PC:
IrfanView
Photo Date Stamper
reaConverter Lite
Picosmos
Exif wMarker
1] IrfanView
IrfanView is a free image viewer and editor using which you can add date stamps to multiple photos at once. It offers a handy Batch Conversion tool that you can use as a batch photo date stamper. Let's see how.
How to add date stamps to multiple photos in IrfanView
Launch the IrfanView application and then go to its File > Batch Conversion/ Rename option. It will open up a Batch conversion window. Now, add your input photos using its inbuilt file explorer and then select the Use advanced options checkbox. After that, press the Advanced button to open up bulk editing options.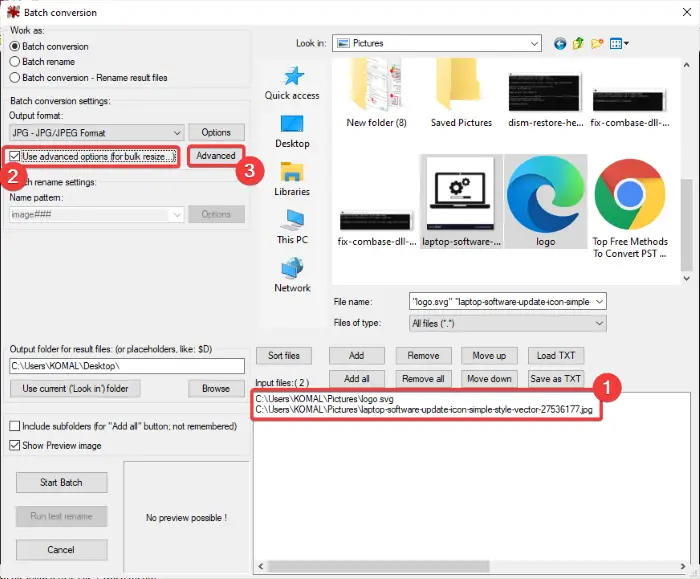 Look for Add overlay text option, select it, and click on the Settings button.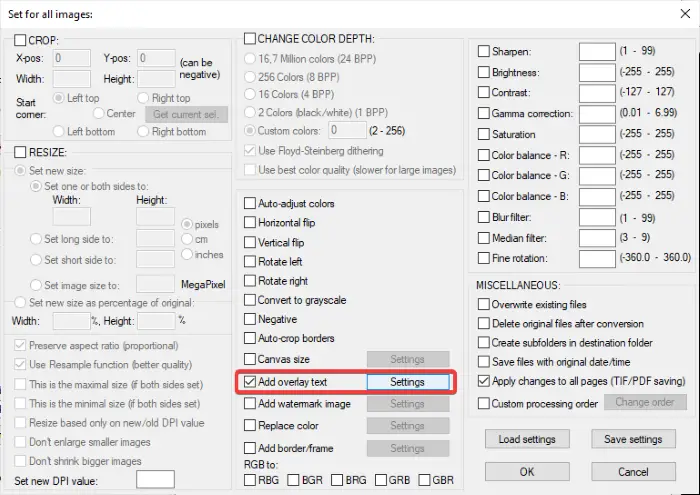 Now, you have different options to add date stamps to photos. You can append the current date and time or insert EXIF date/time. It also lets you manually specify a date.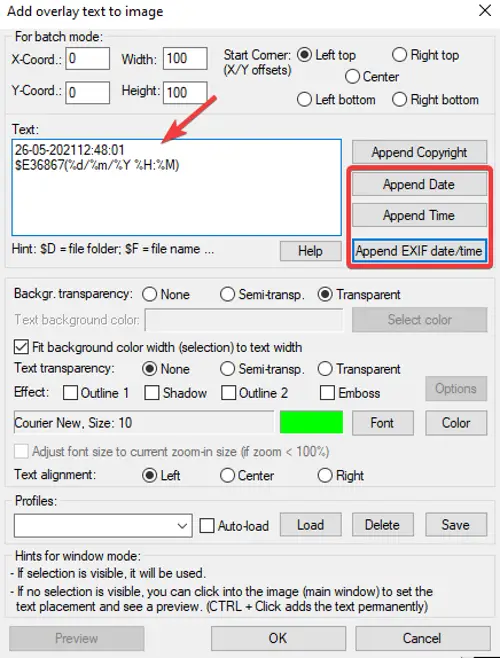 Furthermore, you can customize various settings of a date stamp including font, font color, stamp placement, text transparency, effects, etc. After customizations, press the OK button.
Next, in the main batch conversion window, select an output format from JPG, BMP, GIF, ICO, PDF, TIF, WEBP, etc. After that, provide the output location and click on the Start Batch option to complete the process.
2] Photo Date Stamper
Photo Date Stamper is a dedicated utility to batch add date stamps to photos. It can automatically add date stamps to photos using respective metadata tags. You can also insert a specific custom date stamp as per your requirement. It supports JPG, BMP, and PNG images.
Click on the Get photo(s) button to import a batch of photos to this software. Now, you can enable the Auto-date option if you want this software to automatically fetch date information from images' metadata and add it to the photos. If you want to enter a date manually, uncheck the Auto-date option and then set a new date.
You can customize date stamp alignment, font size, and font color as per your preference. It shows a preview of the image with a date stamp. To start the batch photo date stamping process, click on the Run button.
3] reaConverter Lite
reaConverter Lite is a free batch image converter that comes with date stamping feature. It offers a few handy image adjustment features: Resize, Crop, Creative Retouch, Color Adjustment, and Watermark. Its Watermark tool can be used to add date stamps to multiple photos.
Firstly, import the source images using its add files function. Then, navigate to the Edit images tab where you will see an add action drop-down button. Click on it and then press the Watermarking > Text Watermarking option.
After that, enable the Place image info checkbox and from the drop-down menu next to this option, select the date tag. You can then set up stamp appearance like font, size, color, opacity, position, etc.
Finally, select an output image format and press the Start button.
It will add a date stamp to all imported images at once.
4] Picosmos
Picosmos is a batch photo date stamper software for Windows 10. It is primarily a set of image-related tools to view, design, edit, and convert photos in bulk. One of its many features includes batch photo date stamping.
Simply launch this software and from available tools, select the Batch tool. Then, browse and add all your input images to this software. In the Batch window, you will see a variety of functions in the left pane. Select the Watermark function to open up the watermark window. Here, press the Add Text button and then click on the Date and Month options to insert the present date to photos. You can add a custom date too.
Set up font type, font size, etc., and then press the OK button to start adding date stamps to multiple photos.
5] Exif wMarker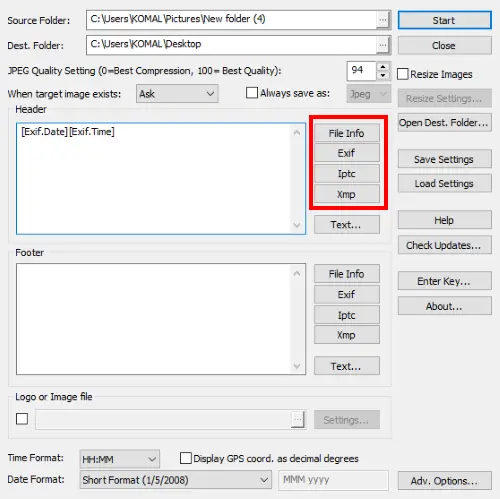 Exif wMarker is a batch photo watermarking software that lets you add date stamps too. It can fetch date tags from Exif, XMP, IPTC, or general file info tags and add them to your photos. You can enter input and output location and then click on the File Info, Exif, IPTC, or XMP button to select a date tag.
You can insert Date Created, Date Released, Date Acquired, Original Date, and more date stamps to your photos.
After selecting the date tag, customize the stamp appearance and then click the Start button to initiate the process.
You can download it here.
Try any of these freeware and add date stamps to a batch of photos on your Windows PC.
Related read: Batch Image Editor software for Windows.