In this article, we are going to show you how to batch convert HEIC to JPG using right-click context menu in Windows 11/10. A HEIC (High-Efficiency Image Container) file is a file used to store images and videos on Apple's devices. It is a name for HEIF (High-Efficiency Image Format) standard that stores high-quality images. It is now used as an alternative to the JPG file format on Apple devices. You can view HEIC images using the Photos app by installing the related file extensions.
Now, if you want to convert a set of multiple HEIC images to JPG at once, how to do that? And, what if you quickly want to perform the conversion directly from the context menu? Right-click menu provides you fast access to various functions on Windows 11/10. So, in that case, this article will help you.
JPG is a more widely used image format and is supported by all operating systems including Windows, iOS, Android, Mac, etc. While HEIC has no native support on Windows and Android platforms. So, to use or edit HEIC images on Windows, you might want to convert them to JPG format.
Here, we are going to show you step by step procedure to quickly batch convert HEIC to JPG from right-click menu of images in Windows 11/10. We are using free software to do so. Let us check out the freeware tool and steps now!
How to Batch Convert HEIC to JPG using right-click menu
We are using this software called CopyTrans that allows you to quickly batch convert HEIC images to JPG format from the context menu. As you install this software, it is added to the right-click menu of all the HEIC images stored on your PC. From the context menu, you can access this software and perform the conversion using it.
Here are the exact steps to perform batch HEIC to JPG conversion using the context menu:
Download and Install CopyTrans on Windows 11/10.
Open the folder where you have saved HEIC images.
Select all the HEIC images that you want to batch convert.
Right-click on the selected HEIC images.
Click on the Convert to JPEG with the CopyTrans option.
Let us check out these steps in detail!
Firstly, download CopyTrans software and then install it on your Windows 11/10 PC. This software is free for home and personal use. If you want to use commercial use only, you will have to obtain a business license.
After installing this software on your PC, navigate to the folder where you have kept all your input HEIC images that you need to convert. Simply select all the HEIC images using Shift key + left mouse click or drag and select method.
Now, right-click on all the selected images, and from the opened context menu, click on the option called Convert to JPEG with CopyTrans.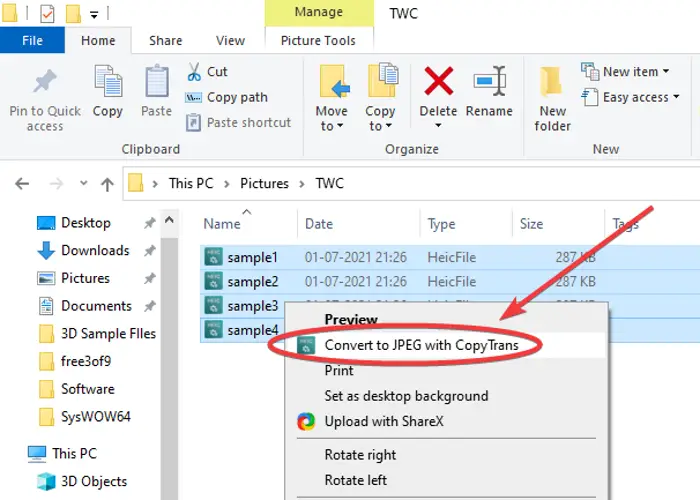 As you do that, all the selected HEIC images will be converted to JPG format in a few seconds. All the output JPG images will be saved in the same folder as the source folder.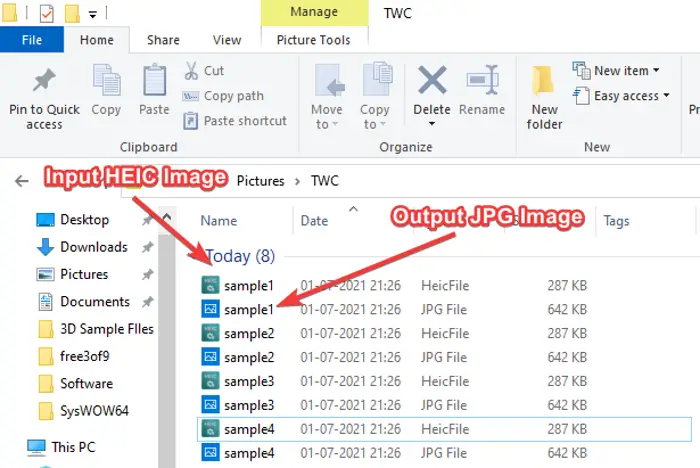 Wasn't that simple and fast?
Additionally, it enables you to view HEIC images in the default image viewer app for Windows 11/10 like the Photos app. You don't need to install HEIC or HEVC file extensions for that. Simply right-click on the HEIC image, and from the context menu, click on the Preview/ Open option.
So, this is how you can batch convert HEIC to JPG within few seconds from right-click context menu. All you have to do is install this handy and lightweight utility called CopyTrans that weighs less than 10Mb. To download it, head over to copytrans.net.
Now read: