If you spend most of your time working on the PC, you are constantly on the lookout for tools that improve your workflow or make routine tasks faster. If Chrome is your browser of choice, you should definitely look into Backtick.
Backtick for Chrome
The Website describes Backtik as:
A console for bookmarklets and scripts, packaged as a Chrome extension.
And I couldn't have said it better myself. We all use bookmarklets or scrips to improve our productivity in web browsers, but they are either scattered across our bookmarks bar or hidden inside folders. Going script hunting in Chrome isn't exactly productive. Backtick wants to streamline this experience for you. It is a collection of scripts that are bundled inside one extension. Simply hit the Backtick key  (`) on your keyboard and a dark console will show up on the top left corner of the screen. Start typing what you want to do and when you find what you are looking for, just hit Enter.
Keyboard Productivity
When you are working on your Windows PC, typing along on the Keyboard, switching over to the mouse and hunting for the right button to click is counterproductive. Keyboard shortcuts are a way out, but they are hard to remember and differ from app to app. Which is why Keyboard Launchers like Launchy are so popular on Windows. You can accomplish so much without ever lifting your fingers off of your keyboard and save time as well.
There are many tasks you can accomplish with Backtick. Here are some of my favorites. To see a list of all the things Backtick can do just launch it and hit the spacebar. You don't need to type in the whole command, just like auto complete Backtick will show all the relevant commands. Navigate to the one you want and press the Enter key.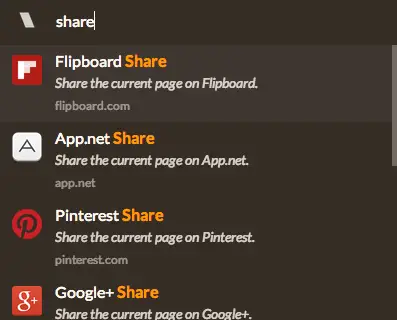 'Download Video' will let you download videos from YouTube, Vimeo, Facebook, and other sites.
'YouTube Skip Ad' will let you skip past the ads on YouTube videos.
You can share the current page to networks like Facebook, Twitter, App.net, Pinterest, Google+ and Buffer by typing in the name of the Network followed by 'share'.
You can also see the social share count for the page by using the 'Social Share Count' command.
If you are a Web Designer, commands like 'WhatFont' to identify fonts on the page, 'Subtle Patterns Preview' to preview patters from the Subtle Patterns website,
'Viewport Resizer' to enable the responsive design testing tool and 'Rulers & Guides' to enable Photoshop-like grids on the page will come in handy.
You can check if the page is just down for you or for everyone by using the 'Is it Down?' command.
You can also do a Google site search of the current page, save the page to Instapaper or Readability among other things. There are many other things Backtick can do. You should spend some time exploring all of its commands.
More?
Backtick comes with a preset of commands. But if you are familiar with the craft of code, you can make some yourself. Check out this tutorial on Github for more details.
Verdict
Backtick's default set of bookmarklets do offer a boost in productivity and decrease your dependence on the mouse. But it's only supported for Chrome right now, so if you use Internet Explorer, Firefox, or Opera, you are out of luck. A future version of Backtick should integrate a way to install bookmarklets created by other users easily.
If you spend a lot of time on the web, there is no reason not to check out Backtick. Go here to get it.