One of our readers asked me a question about whether it is possible to set up a playlist in the VLC player linked to a specific folder on his PC. Also, if any changes are made to this folder, like adding or removing files, will they be reflected instantly in the main VLC playlist when opened? The person was quite sure that a way did exist but couldn't seem to find the right way. The following guide will show you how to autoload music files from a folder to the VLC Playlist.
How to create Automatic Playlist from folder in VLC
To make things work, we'll first need to create a Desktop shortcut for the VLC player. Then, edit the VLC path in its 'Properties' to add the desired path of your folder with multimedia files. Here's how!
Auto-load music files from a folder to the VLC Playlist
Create a Desktop shortcut of the '.exe' file of VLC on your Desktop.
Assuming you have created a shortcut, right-click on that shortcut and from the context menu select 'Properties' and then select the 'Shortcut' tab.
In its 'Target' field add a string alongside the path as shown in the screenshot below. The part following the initials '-LZ' refers to the path of the folder you desire the VLC Player to work for. The location can differ but '-LZ' must remain unchanged.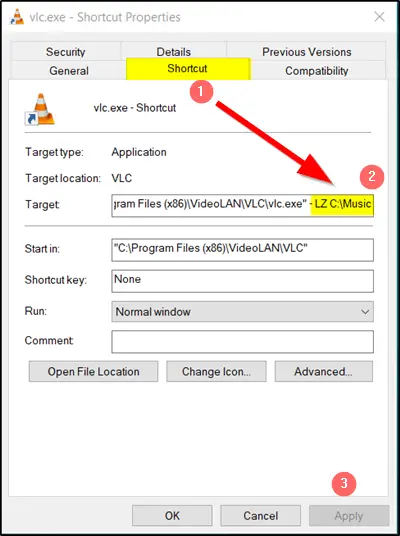 Once finished, simply hit the 'Apply' and open the shortcut you created moments ago to make things work and auto-load music files from a folder in the VLC Playlist.
Hereafter, whenever you wish to play your favorite songs or media files from a folder using VLC, simply open access the shortcut from your Desktop/PC screen.
Also, if you wish to download subtitles in the VLC media player, do not look for additional plug-ins. This guide will show you how to Add subtitles in VLC media player.