Most people do not use CDs and DVDs anymore due to the digital revolution. Folks want to have their music on their computer or mobile device, and a CD is no viable way for storing audio content in today's age. If, for some reason, you have multiple CDs or DVDs lying around with music or any other audio content on them, then maybe it's time to rip them to your Windows computer and throw the CDs into the trash.
Any Audio Grabber for Windows PC
You might be wondering if it's easy to rip audio files from physical media. To that question, we have to answer it with a resounding yes. Windows 10 makes it very easy to rip audio files from physical media, but today, we're not going to talk about Windows 10's built-in audio ripper software. Instead, we're going to focus on Any Audio Grabber, a decent CD ripper that works better than expected.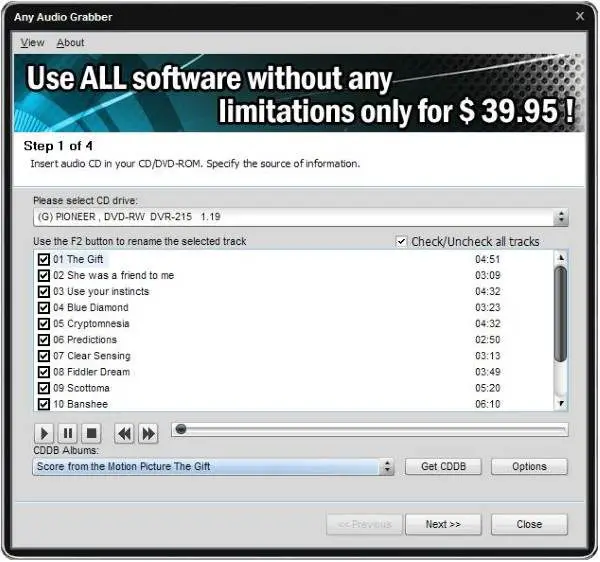 The user interface is simple
After installing Any Audio Grabber and launching it, users will come across a user interface with a modern look. The only things users are required to do when ripping CDs is to select the disc from the section that says "Please select CD drive, and from there, the software should do the rest.
Once all the tracks are listed, users can play them by using the available playback controls on the menu.
Different grabbing options
By pressing Next, you should see a box that supports more than one grabbing options. If a single grabbing option is not your thing, then you may find Any Audio Grabber as the next best thing. You see, it supports grabbing modes in the form of Burst: fast no error correction, Synch: correct jitter errors and Secure: double precision error correction.
Not only that, it supports file formats such as MP3, AAC, MP2, ADPCM, AMR, M4A, WAV, and OGG.
The advanced section has filtering and VBR support, so there's quite a lot to do here, but it doesn't overwhelm users.
Change media location and fire off to the end
Taking the third step bring users to where they can change the media location, and create artiste and album name folders. This section also tells the amount of space on the hard drive, and the space required to have the audio content saved.
The final step is to click on Start and just go ahead to wash the dishes or whatever else because the speed depends on the performance of your computer.
Overall, we like what Any Audio Grabber brings to the market. It's easy to use with little complications to get the job done. Just click next, choose your options, and click next again until the task is complete.
That's how folks should make a CD and DVD ripper, one that is designed for everybody. Download Any Audio Grabber here.