Amazon PrimeVideo is among the most popular online streaming channels. The fact that its subscription coincides with that of Amazon Prime, makes it worth a buy. However, Amazon PrimeVideo users encounter a lot of errors, one of which is Error 7031. If you are facing it, check this article for resolution.
Fix Amazon PrimeVideo Error Code 7031

The causes behind this error could be many including server problems, browser incompatibility, geo-locked content, corrupt cache or cookie files, etc.
Check the status of the Amazon server
Check the ping status
Log out and sign in again
Disable any proxy servers and VPN
Update your web browser
In such a situation try restarting the browser and then the computer and if it still doesn't help, proceed with the following troubleshooting steps sequentially:
1] Check the status of the Amazon server
If the Amazon server is down, PrimeVideo won't work no matter what you try. In this case, you would have to try opening PrimeVideo on a different system and check whether or not the service is working. If yes, proceed to further solutions.
2] Check the ping status
In this solution, the problem could be in two parts. The first is that the internet itself doesn't work. This could be checked by trying to open a website other than PrimeVideo. If the internet works fine otherwise, try the following procedure:
Press Win+R to open the Run window and type the command cmd. Hit Enter to open the Command Prompt window.
Type the command – ping primevideo.com and hit Enter.
Wait for the replies and if you receive 4 replies, everything is well and good. Else, proceed with further solutions.
3] Log out and sign in again
Log out of your Amazon account and sign in again, and then see if you can play the video.
4] Disable any proxy servers and VPN
A lot of content on Amazon PrimeVideo is location-specific. People try accessing the content in regions other than permitted using VPNs and Proxies. Amazon PrimeVideo doesn't allow it. Thus, if you wish to access content on the service, you will have to disable VPNs and proxies on your system. For disabling VPN, please contact the VPN provider. For disabling proxies on your system, the procedure is as follows:
Click on the Start button and go to Settings>>Network and Internet>>Proxy.
Under Manual proxy setup, disable the option associated with Use a proxy server.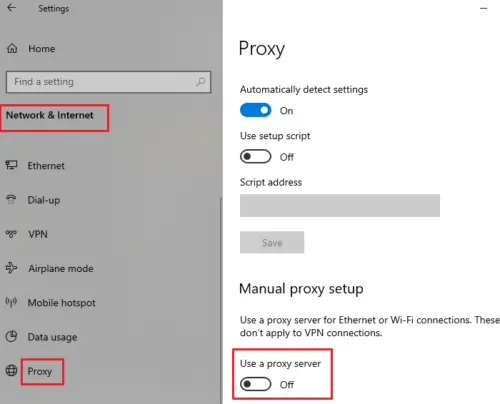 Restart your system and try accessing Amazon PrimeVideo.
5] Update your web browser
Any website checks for security certificates of a browser before you could access it. In case a web browser is obsolete, the Amazon PrimeVideo website would show the error in the discussion. Thus, it is advisable to update your web browsers from time to time.
We hope this helps you.