The Calculator is the most basic tool included in all devices these days, but computers were originally developed to perform complex calculations. In this post, we will talk about a tool that does nothing different. Alt1 is a lightweight, minimalist calculator application for Windows that can be used as an alternative to the inbuilt calculator. It is intuitive to use and has been designed to perform calculations quickly.
Alt1 Calculator for Windows PC
Once you've installed Alt1, you will be welcomed by a futuristic calculator. There are no conventional Numpad buttons or different modes. There is just one textbox and a little bit of space to show you the result and stored answers. The calculator takes input entirely from the keyboard, and you can type any solvable equation in the textbox to get your result.
The calculator here we are talking about is a scientific calculator and supports a wide variety of operations. You would never face an issue with your day-to-day calculations even if you plan to use this tool in school or college.
What makes this tool intuitive and useful is its design. Alt1 always remains open and is hidden inside the system tray. Whenever you want to calculate something, you can press Alt+1 to bring it back on screen. Now you can quickly type whatever you want to calculate, and it will show you the result as you type in. The tool does not require a mouse at all and can be entirely used from the keyboard, which makes it a quick and easy-to-use tool.
Alt1 can be dragged anywhere on the screen, and it will remember its position. So, if you minimize and start the tool again, it will start from the same place. Since Alt1 is never closed, it will always keep your saved results in memory and will start from wherever you left them at.
The calculations are done in real-time. There is no equal button; the results are displayed as you start typing inside the textbox. You can save all the computed answers in memory so that you can access them later. This feature is useful when you are trying to compute large equations, as now you can break them into different parts and calculate them separately.
There are a few customizations that Alt1 has to offer; you can switch between degrees and radians. Then you can also reset its location to default which is the bottom right corner of the screen. You can also resize the calculator window to whatever seems best to you.
All the operators have been assigned a key from the keyboard. So, you can right-click the system tray icon and then select Help to view the entire keyboard layout. The keyboard layout is essential before you start using this tool. It will tell you how you can use operators like sin, cos, log, square, etc.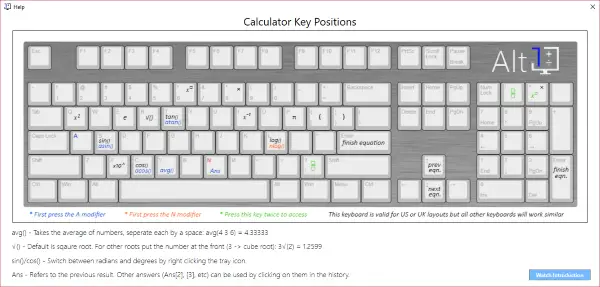 For example, you can evaluate a logarithmic value by simply pressing L and then typing in your equation. Or you can square any value using Q. Or you can take a Root using R. All the keyboard shortcuts have been are relatable to their corresponding operator, and it won't be difficult to remember them once you start using the application.
Alt1 is a great calculator. If you are looking for something that is fast and intuitive, then you must give this tool a try. Also, if you use a calculator quite a lot, then this tool is going to save you some time. Or if you are a keyboard-only person, you are going to love this tool. Alt1 is free and open source, so feel free to download and customize it. Click here to download Alt1.