Windows 11 has overs to set a metered connection for your network. The purpose is to make sure that data isn't overused especially for fixed data networks. However, this impacts connectivity to the VPN. The same happens while roaming. If you wish to allow VPN over metered connection and while roaming on your Windows 11 system, then please read through this article.
Allow VPN over metered connection and while roaming on Windows 11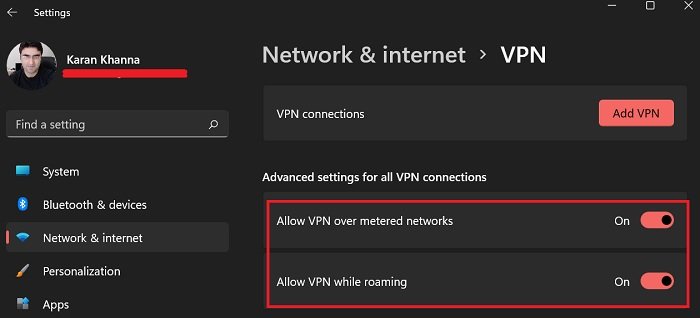 If you wish to allow VPN over metered connection and while roaming on your Windows 11 computer, then follow these steps:
Right-click on the Start button and select Settings.
In the Settings menu, go to Network & Internet on the list on the left-hand side.
In the right pane, click on VPN.
Here, under Advanced settings for all VPN connections, you will find 2 options.
Choose the one suitable for your purpose:

Allow VPN over metered connections
Allow VPN while roaming
Why do we need a VPN for Windows computers?
The many uses of VPN are as follows:
1] Anonymity
A lot of users wish to be anonymous, especially while reporting against other people or organizations. However, it is easy to trace a person once the IP address is revealed. A VPN masks the IP address thus protecting the identity of the user.
2] Safety
Cybercriminals can access your system if they find the path to it. Firewalls can be helpful, but it is still possible to get into your system. However, it isn't possible to hack what cannot be seen. Thus, VPN could be helpful in keeping you safe by hiding your online identity.
3] Surpassing geo-restrictions
A lot of apps and websites have country-specific content. While is it recommended not to use VPN connections to breach these company policies, many users are doing the same. All that needs to be done is change the location of the VPN to that of another country and you would have bypassed the geo-restriction associated with the country.
Do VPN service providers retain your data?
Depends! The VPN service providers in the 5 eyes countries will definitely record your data. In other countries, they might have to records. However, a lot of VPN service providers set their data server centers in countries where they have no liabilities to store data and thus claim that they don't save logs.
How do websites identify that you are using a VPN and how to overcome it?
Websites identify that you are using a VPN since they have noted the addresses of common datacenter IPs. Even though they might not know your exact identity, they would know a VPN is being used.
To overcome this, you could use residential IP addresses which are usually unique.