A new Bluetooth feature in Windows 10 and Windows 11 makes pairing third-party devices, including Airpod pairing, faster and more convenient. It significantly cuts short the time and effort required in digging through the settings menu to find and add a Bluetooth device item. However, not all wireless kinds of stuff that connect through Bluetooth are perfect. For example, Apple's AirPods, although the best wireless earbuds available, can have issues. From pairing issues to basic audio woes, there's a lot that can go wrong with this pair of true wireless earbuds.
AirPods keeps disconnecting and reconnecting on PC
AirPods not working on Windows 11/10 PC
The new Bluetooth feature displays a notification with a Connect button to kickstart the process of pairing the utility when placed near a Windows 11/10 machine.
If it is no longer in pairing mode or proximity, Windows removes the notification from the Action Centre menu.
For keeping AirPods connected indefinitely to a Windows 11/10 device, follow the instructions given below.
Go to Windows Device Manager via 'Control Panel' or simply typing 'Device Manager' in the Search bar and pressing the Enter key.
Choose the 'View' tab and select the 'devices by type' option.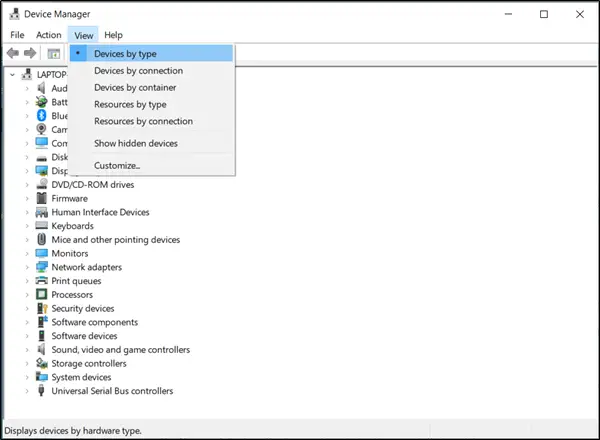 Once there, open the Human Interface Devices and locate for these 2 AirPods entries –
(Name) AirPods Audio/Video Remote Control HID
(Name) AirPods Hands-Free Call Control HID
For each of the above entries, right-click and select 'Properties'.
After that, go to the 'Power Management' tab and uncheck the 'Allow the computer to turn off this device to save power' box.
Also, repeat the last two steps for the "Bluetooth Low Energy GATT compliant HID device" as well.
Finally, press OK and exit.
It is a common issue experienced with Apple AirPods while connecting to a Windows 11/10 computer. When a song is paused, the auto on/off feature of the AirPods kicks in. Upon trying to resume the play option, the PC is unable to connect AirPods again. This forces a user to reconnect AirPods through the Bluetooth settings again, which appears quite bothersome.
NOTE:
Thomas in the comments offers the following suggestion: Open Device Manager > Bluetooth > Intel(R) Wireless Bluetooth (R) > Right-click this entry > Power Management tab > Uncheck Allow the computer to turn off this device to save power.
J offers the following suggestion: Search View Network Connection > It should pop out "Bluetooth Network" > Disable it > Restart PC.
I hope something here helps you.
Why does my AirPods mic sound muffle?
If it's happening after long use, you need to clear the Airpods as it has become dirty around the speakers. It is usually because of dust, ear wax, and other stuff. If that is also not the case, it could be interference, and you may want to reset it once.
Why Can't I use Airpod for Calls?
Like any other Microphone, you need to set the AirPods Hands-Free option as a playback device when using any Windows app. Open the application settings, and check if the AirPods are set as the microphone. There can be a conflict when you have multiple microphones, especially when your webcam has one. Applications such as Zoom, Microsoft Teams, Skype all have dedicated Microphone settings.
Why is no sound coming out of my AirPods?
You may have hit the low volume limit on the AirPod while using the onboard control. Click on the Sound icon on the System Tray, and check on the volume level. If it is low, increase it, and check again. If you have a multimedia keyboard, use the volume increase buttons to raise the volume.