Adobe CEF Helper.exe, a process that renders various components of the Creative Cloud applications, can cause high CPU or Memory usage issues on your Windows 11/10 computer, when not installed properly. Once you start the software, it will run in the background doing routine checks to verify if all your programs are up-to-date. This application is known to consume a high amount of CPU resources even when it is idle.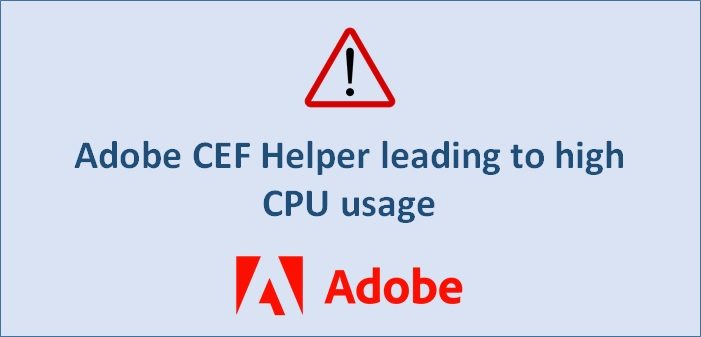 What is Adobe CEF Helper.exe?
Adobe CEF Helper (Adobe Chromium Embedded Framework Helper) is a processing service that is used to render various components by several Adobe creative cloud applications. When you use Creative Cloud applications, you will see separate and multiple processes with similar and same names are running in the background. The processes depend on the Adobe CEF Helper required during runtime and the complete rendering process.
The Creative Cloud desktop app has several individual components inside its user interface, such as the Apps tab, the Files tab, and the Discover tab. Adobe CEF Helper is a process that renders these components of the Creative Cloud desktop app. CEF helper is important to run the Creative Cloud desktop app.
The legit file is generally found here:
C\:\Program Files\Adobe Systems\Adobe Creative Cloud
C:\Program Files (x86)\Common Files\Adobe
Users have always claimed that the Adobe CEF helper application uses a high amount of CPU resources, resulting in device issues like screen freezes, lags, and glitches when the software is active on the computer. Hence, many times they believe it is a virus but that is not the case. Adobe CEF Helper is used by an application to render any project before its export, resulting in high consumption of the CPU and GPU of the device.
Fix Adobe CEF Helper High Memory or CPU usage
You can follow the next list of solutions to resolve this issue.
Restart your computer and see
Run SFC scan
Temporarily disable your antivirus program
Update Windows OS
Uninstall & reinstall Adobe CEF Helper
Let us look at these solutions in more detail.
1] Restart your computer and see
Restart your computer and see – maybe it will resolve the issue.
2] Run SFC scan
Press Windows + S and open the Search bar. Type cmd and then right-click on the most relevant result that runs it as an administrator.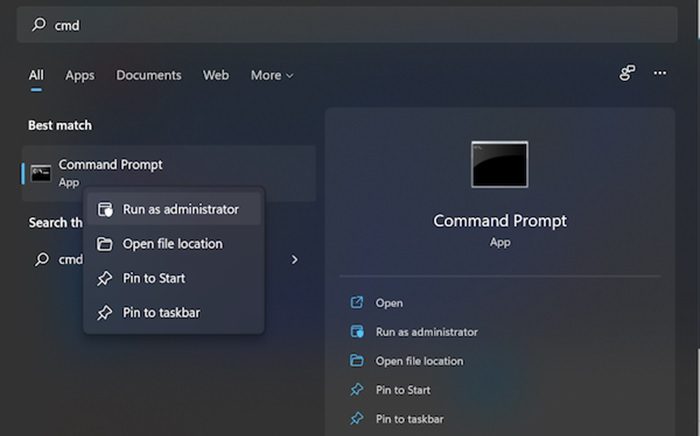 Type the following command and press Enter:
sfc/scannow
Once the process is complete, restart your PC and check if the changes are applied. SFC automatically detects and repairs corrupted files and directories on your PC.
3] Temporarily disable your antivirus program
Click on the expand arrow of your taskbar. Right-click on the antivirus icon, choose the McAfee antivirus and click the Disable for 10 minutes tab.
In case you have installed any other antivirus program, you can disable it using the above-mentioned steps or similar steps.
4] Update Windows OS
Press Windows + I and open the Settings App. Click on the Windows Update in the left panel.
In case you see any new updates, you can click on the Install now button and wait till the process completes. Click on the Check for updates button for updating Windows.
An older version of Windows can also be an issue and, it can be easily fixed by updating the operating system. The error will mostly be fixed in future iterations.
5] Uninstall & reinstall Adobe CEF Helper
If you are sure you do not need it you can uninstall the program via Settings or Control Panel. Look for Adobe Creative Cloud Desktop and uninstall it.
Restart your computer.
Next, we recommend that you visit the Adobe.com page and download the latest version of V and install it on your computer again.
We hope the above-mentioned instructions are useful in fixing the high CPU usage issues due to Adobe CEF Helper. Do let us know in case of any queries.
How to stop Adobe CEF Helper from running in the background?
Do the following to disable  from running at startup automatically:
Open Adobe Creative Cloud Desktop
Click on your Profile Picture.
Click on Preferences
Under General, toggle the switch against Launch Creative Cloud at login to the Off position
Click Done.
How to remove Creative Cloud from Windows?
You can uninstall Adobe Creative Cloud using the Windows 11/10 Settings panel:
Open Settings
Select Apps > Apps & features
Select Adobe Creative Cloud
Click on the Uninstall button that appears.
Hope this helps.