Microsoft has introduced two main new features in the Registry Editor in Windows – one, an Address Bar that allows you to quickly jump to any registry key, and two, the ability to change fonts. The Windows Registry is a directory that stores settings and options for the operating system for Microsoft Windows. It contains information and settings for all the hardware, operating system software, most non-operating system software, users, preferences of the PC, etc.
Jump to any Key using Address Bar in Registry Editor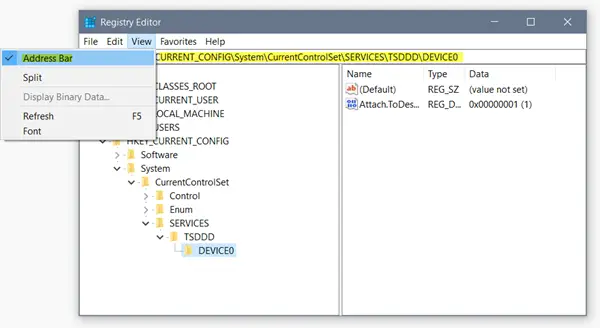 The new Address Bar allows a power user to easily see his current registry key path, and copy it if needed. It now also becomes easier to jump to any Registry Key. You no longer have to manually navigate to the key. You can simply copy-paste the known path in the address bar and hit Enter.
The address bar resembles the address bar found in File Explorer.  The main benefit of using obviously is that fact that it gives users easier navigation options when they want to search something relevant in registry settings and directly jump to it as it allows you to readily paste the address and navigate to it quickly. But you cannot use the address bar in the Registry editor to carry out keyword searches. You will have to use Ctrl+F or Edit > Find box still.
You also have the option to hide the address bar from view. To do so, click on the 'View' tab adjacent to 'Edit' under Registry Editor window and click on 'Address Bar' option to simply hide the bar from the view.
Rather than typing the full address HKEY_Classes_Root….. in full, you can also simply type HKCR. Below is the list of the available shortcuts:
HKEY_LOCAL_MACHINE: HKLM
HKEY_Classes_Root: HKCR
HKEY_USERS: HKU
HKEY_CURRENT_USER: HKCU
You can use CTRL+L or ALT+D keyboard shortcut to set focus on the address bar and quickly get to a location. You don't need to use any 3rd-party software now.
Windows users can also use these freeware, a VBScript or a Batch Script to jump directly to any Registry Key.
Change Font in Windows Registry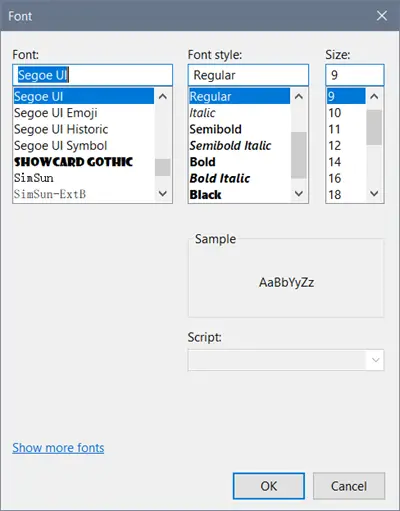 The Registry Editor is now also equipped with a new feature that allows you to change its font, font style, and size of the Registry Editor. Making changes is simple.
Choose the 'View' tab of the editor and select the 'Font' option. Make changes, as desired.
If you need more, check out this Windows Registry Editor Tips & Features post.