Adobe Reader features a link tool that can edit the text formatted with a link behind it. If the text is the URI, Universal Resource Indicator, you can directly edit the text with the text touch-up tool. This, however, must be done manually. So, if there are multiple links editing them individually can become quite a task. You must search, replace and then next, repeatedly. PDF Link Editor cuts short this tiresome process. PDF Link Editor can edit, replace, remove and extract PDF links in batch mode. Its layout is simple yet, quite intuitive.
PDF Link Editor for PC
PDF Link Editor is a free software for Windows PC designed to help you manage, add, edit, remove, replace links in PDF documents in batch mode. Installing and using PDF Link Editor is straightforward. Simply download the application from the link given at the end of the article and launch the application.
Add, remove or edit Hyperlinks in PDF
Now, to use it, add a PDF file with hyperlinks to it. The file will show all hyperlinks, and you can preview your PDF in the right-side panel. The document preview can prove to be quite helpful, as you can also click hyperlinks in the document to see where they lead. So, you do not need to open the PDF file with another program just to figure out which links need to be replaced, extracted or removed.
By default, PDF Link Editor features a built-in search capability. It automatically searches and lists all PDF links as soon as you upload a PDF file. All hyperlinks and anchors become clearly visible so that you can check each of them and replace links one at one time. Here, you can edit all the PDF links in a batch process, if required. Here's how!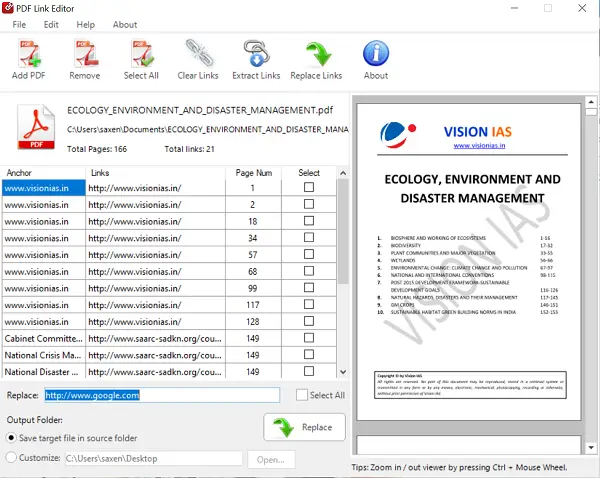 Select all links you would like to replace and then enter the link of your choice or the one you would like to change to.
Once done, select the target folder if it is required and then click "Replace" button.
Similarly, if you would like to clear and remove all PDF links, PDF Link Editor will come across as the best alternative way to achieve it. Follow the steps outlined below to get a clean PDF with no URL embedded.
Add, remove or edit links in PDF documents
First, add a PDF file by clicking "Add PDF" button.
After the PDF file has been uploaded successfully, click "Clear Links" button in the toolbar.
When done, a folder browser will pop up on your computer screen, and you will be requested to choose the destination folder to export the new PDF. Select the desired folder, and you're done!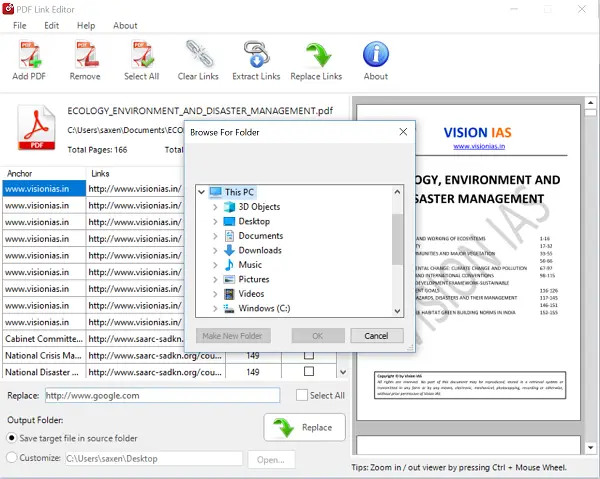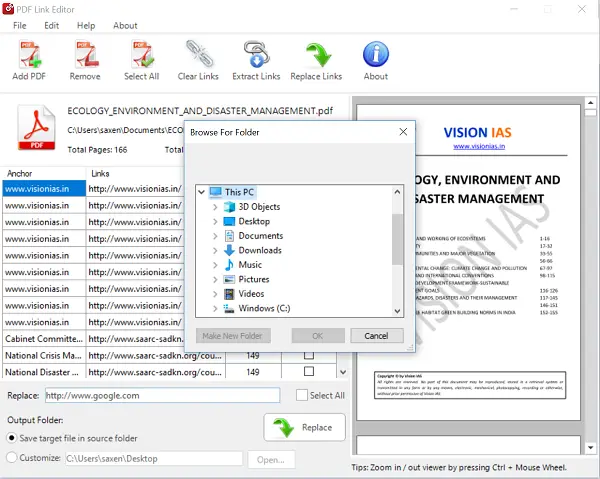 Finally, if you want to extract all PDF links do the following,
Launch the program and upload a PDF file.
Then, click "Extract Links" button in the toolbar.
Target the destination when the folder browser open. All PDF links will be saved in the text file
PDF Link Editor features in a nutshell:
All-In-One Application
Replaces Hundreds of PDF Links in a single click.
Clears or Extracts All Hyperlinks in One PDF in a few seconds time.
Run Smoothly and requires no Adobe Plugin.
Compatible with All Adobe PDF Versions.
Completely virus and malware free application.
To download PDF Link Editor, visit its homepage. It is compatible with Windows 11/10/8/7 and requires .NET 4.0.