Adding tags to media files can be a grueling process that no one wants to do. But at times, it must be done, so how can we do it without taking up a lot of our precious time? It's simple, really. Get a tool called Tag Complete that does it automatically.
Add Metadata to Music files on PC
Tag Complete is a free tool that is based on the technology known as MAFP – Mediapurge acoustic fingerprint. It listens to your content, then searches the community for metadata, and automatically add such information. We understand that the system requires all users to scan their music directory before taking any further steps.
Since the program must connect to its central database over the internet to download metadata, one might wonder if there are any privacy issues on the backend. Well, the developers say no personal data is collected, but that is not something we can guarantee so keep that in mind before using Tag Complete.
Download and install Tag Complete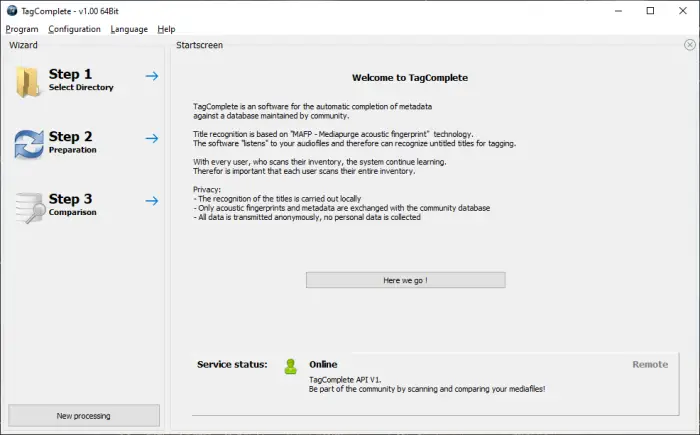 Install the software. The file size is just over 3MB; therefore, it shouldn't take long to download and install.
Select the Directory
From the Wizard, the tool will ask users to select the directory from where their important music files are stored. You can do this by clicking on the Step 1 button located at the top-left corner.
Read: How to edit Music Metadata on Windows 10.
Click on Add Directory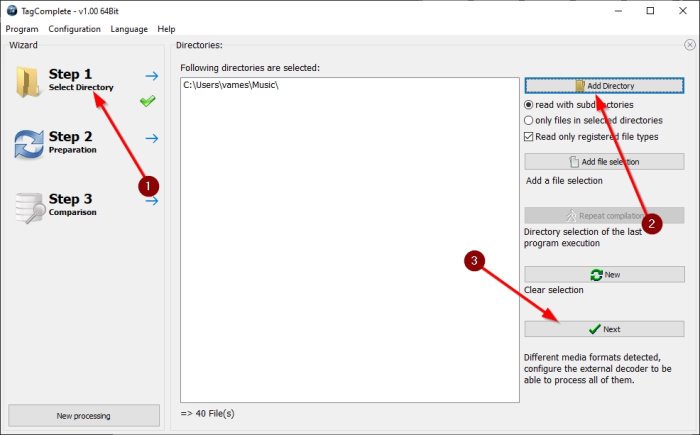 From the right-top corner, you should now see a button that reads, Add Directory. Please select it, then find the preferred directory via the Browse For Folder dialog box.
Once added, all directories will be listed in the middle of the app that is just a box of white space. Click Next to move on to the second step.
Local cache preparation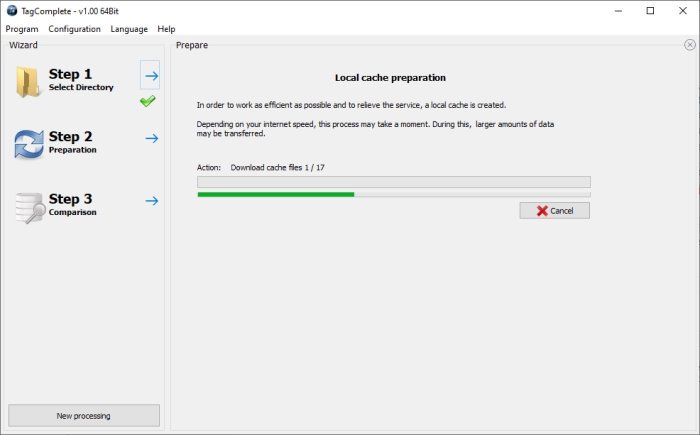 After clicking on Next, Tag Complete will begin to do something that is called local cache preparation. It automatically analyzes and updates the cache. It will also display matching tag information that has to do with your music.
While it's running, a progress bar will showcase the progress, and once it is over, you will be required to click Next.
View differences between local and database files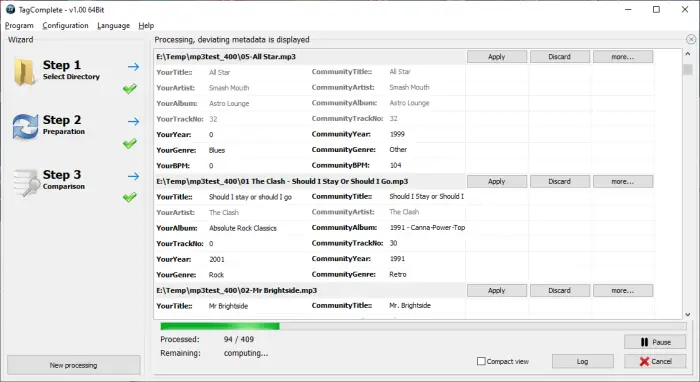 The third step is called Comparisons, and it is all about comparing metadata files with those from the online database. From what we've gathered, the processing runs in the background, therefore, you will be able to view differences in a single column.
Users will have the option to accept or discard any of the differences shown.
Select the Configuration tab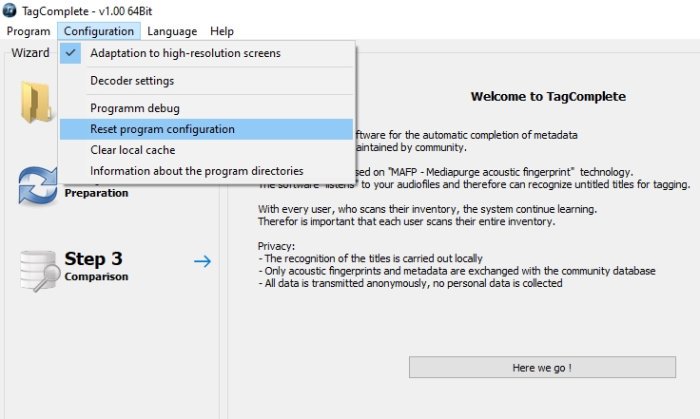 If you want to reset the tool to its default state, then this can be done by clicking on Configuration, then select Reset program configuration. That's not all; from this section, users have the option to clear local cache, adapt Tag Complete to work well with high-resolution screens, and more.
There is even a decoder setting if you want to play around with such features. We suggest leaving it as is, but if you know what you're doing, then take a look.
Overall, we can say for sure that Tag Complete was able to accomplish its primary objectives, and that's the most important thing. Visit the official website to download it.
Read next: How to edit or add Metadata to Photos & Video files.