A mobile phone or computer mockup is a great way to decorate your screenshot. No matter whether you have captured a screenshot from your mobile or PC, you can easily add a device frame to them. If you know Photoshop or Illustrator, this is very easy to download and add a device frame to the screen. However, if you don't know anything about those tools, this is also possible to include mobile or PC mockups using some websites. If you are looking for a device frame or mockup generator to add a device frame like Surface, Windows tablet, Android Phone, iPhone, iPad, etc. to your screenshot then this post is sure to interest you.
Add a Device frame to screenshot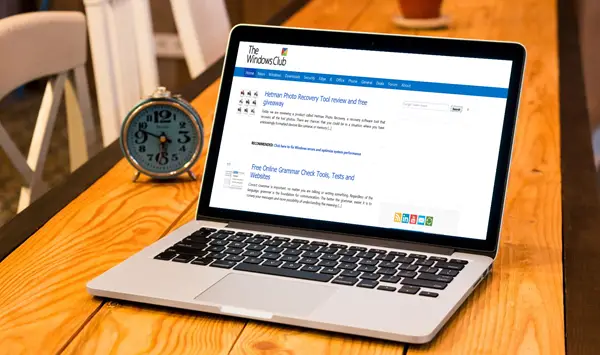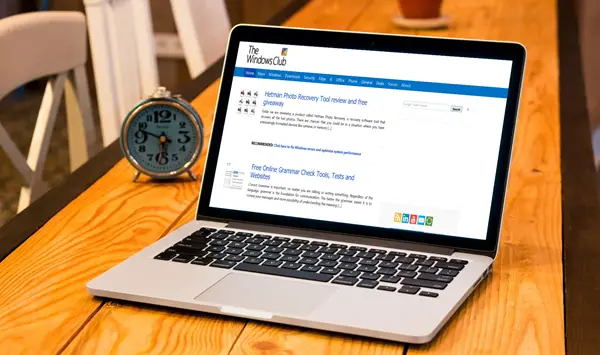 Here are some websites that can assist you to add a device frame to a screenshot. Whatever your image resolution is, you can easily use them to get things done.
1] PlaceIt
This is one of the best websites to frame your screenshot with beautiful devices. A huge number of device frames are available at Placeit website. You can choose any device like Windows Phone, desktop, Samsung mobiles, Mac, iPhone or ever smartwatch. The next big thing is that it is possible to add a screenshot of any website. You do not have to capture the screenshot. Instead, you can just enter the URL or any website, and it will automatically capture the screenshot and frame that accordingly. But, the downloadable image size is not too large (600 x 212px). This is free and very easy to use.
2] Magic Mockups
MagicMockups.com works as same as PlaceIt. This is a very interesting and useful website. If you are already familiar with PlaceIt, you should know that Magic Mockups looks exactly the same as PlaceIt's older version. Although the collection of device mockups is not too large, you can certainly get your required image on this website. Like PlaceIt, this is possible to upload an image according to the device frame, or you can also enter any website URL to let it capture the screenshot for you. Another interesting thing about this website is all the generated screenshots are available free of cost and the image resolution would be much higher than what PlaceIt provides.
3] Dunnnk
Dunnnk is yet another great website to add the device frame to the screenshot. The workflow of Dunnnk is quite similar to the aforementioned websites. However, it provides only one option. That means you will not get any option to add a captured screenshot automatically by this tool. You will have to upload your screenshot or anything manually and according to the device screen size. Dunnnk provides a lot of mockups of Android, Mac, etc. Unfortunately, there are no Windows Phone mockups. It is very easy to use Dunnnk. Just head over to the website, upload your screenshot, wait for a moment and download it after finalizing.
4] Frame
Frame is another simple website that will let customize your ordinary screenshot with professional device images. Frame also works like the other three above-mentioned websites. Unlike Dunnnk, you will get an option to add a website screenshot. The collection of mockups is not too large, but you will certainly get a Windows device mockup at Frame. Just visit Frame website, choose a category or mockup, select an image, and download it. Make sure that you are following the recommended image size if you are selecting your image manually. This is very important. Otherwise, the screenshot will not look good. All the images of Frame are licensed under CC 2.0. That means, you can share and adapt the image, but you will have to give the image credit. This is mandatory.
5] MockUPhone
MockUPhone can help you to add a device frame to the screenshot in two different ways. Unlike other web apps, you can use a device mockup in two different views i.e. landscape and portrait. It has a huge collection of devices. The most interesting thing is you will get some Windows Phone and SmartTV as well. On the other hand, you will have to upload your screenshot manually. Before uploading the screenshot, you should make sure that the image is matching with the required size. Every mockup requires a different image size. Be sure before uploading any screenshot or image. Alike Frame, all the MockUPhone's images are licensed under CC 2.0. That implies you will have to mention the original creator's name when using it.
6] Mockerie
Although it has a huge number of mockups, not all are free. However, you can access the image device mockups from Mockerie.io. Mockerie is very easy to use and you will have to start using it by entering your email ID and website name. Following that, you will be able to choose the device frame. The unique features of Mockerie are, you can add various color effects. Whichever mockup you have chosen, you can use the color filters all the time. At the same time, this is also possible to upload a screen (according to the given size) and capture any website screenshot by this tool.
7] Device Art Generator
Device Art Generator is mainly designed for adding nexus device frames to your screenshots. Therefore, it comes with a very small collection of devices. However, this is trustable, and you will have to upload the exact size of the image to use any mockup. The interesting thing is you can have an Android Wear device as well. Nevertheless, the only restriction is you must have to upload a PNG image. Other formats are not supported by Device Art Generator.
Download device mockups
If you have Photoshop or Illustrator on your Windows PC, you have an advantage. You can decorate your device frame according to your wish using those tools. However, here are some other websites, where you can download device mockups for free and without any restrictions.
1] Diverse Device Hands
Diverse Device Hands is a small yet very useful website hosted on GitHub, and it provides beautiful mobile mockups with hands. You can download all the mockups and use Photoshop or any other image-editing tool to include your mobile screenshots into them. As mentioned before – it provides only a mobile phone mockup. That means you will not get any PC mockup.
2] Behance
You know that Behance.net is a portfolio maker for graphic designers. Therefore, sometimes, you may get some beautiful device frames at Behance. Some designers often use Behance to spread their work. Therefore, you will have to search for mockups. There is no direct link to download mockups from this website.
3] TutsPlus
TutsPlus is being managed by Envato, which is a premium source of designers and other people. However, you can download device mockups from the Design section of TutsPlus at no cost. Although the collection is not too large, you will certainly get some good-looking device frames on this website.
4] Dribbble
Every graphic designer knows at least two websites for making a portfolio and learning to design. Those are Behance and Dribbble. Therefore, you can download a lot of photoshop files from Dribbble. Just like Behance, there is no direct link. You need to search for any mockup with the device name. However, before using it, you should know that you need to provide the credit whenever you will use the image.
These are some good and easy-to-use methods to add device frame to screenshot. Hope you will like them.