When you install apps on your Windows 10 PC, they would need access to your File System i.e. hard drive storage to save files on a regular basis.  However, giving them complete access to the storage is a problem. Starting with Windows 10, you can prevent installed apps access to the file system. This will make sure that apps will not able to access files from your Document, Image, OneDrive, etc, folders without asking you.
This is part of the Privacy enhancements Microsoft is bringing to Windows 10 letting you control every single permission. Let's get to learn how you can control it.
Disable access to the file system on this device
To allow or prevent the specific app from accessing the File system, follow these steps-
Press Win+I to open Windows Settings.
Go to Privacy > File system.
Head to Choose which apps can access your file system heading.
Toggle the respective button.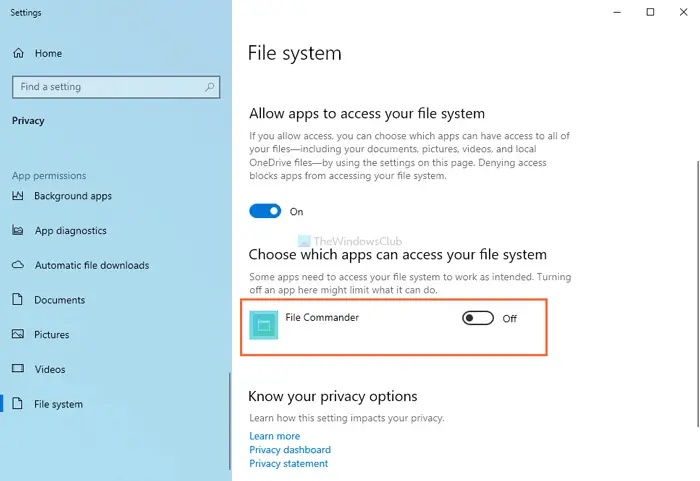 Lets first open Settings > Privacy > File System.  Here, you have two ways of doing this.
If you keep this enabled, people using this device will be able to choose if their apps have access to all of their files, including their documents, pictures, videos, and local OneDrive Files, by using their settings page. However, if you deny permission, it will prevent apps from access any person's file
This is useful if you don't have very smart users on your PC, and you can manage it for them. The default option is Allowed. If you want to disable it, click on the Change button, and then turn off the toggle.
Remember, when you choose to disable here, it will affect the whole operating system and every user.
Disable app access to File System in Windows 10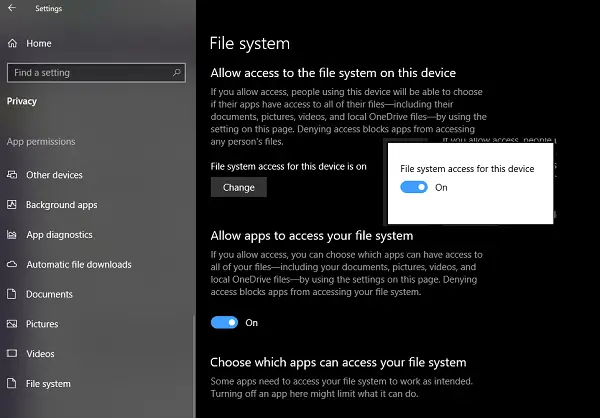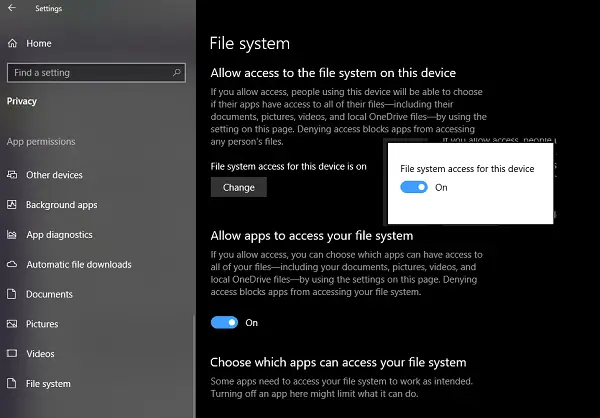 Assuming you have File System Access enabled for all, everyone can individually choose to disable app access to file system in Windows 10 i.e Document, Image, OneDrive, etc folders, as follows:
Go to Settings > Privacy > File System.
Disable the toggle switch under Allows apps to access your file system.
When you enable it, you can control file system access for certain apps individually. This is what I would recommend you to do with apps you do not trust. Every listed app has its own toggle, and you can enable or disable based on your choice.
It is possible that you may not see any apps listed, but it's a good idea to keep a tab on this section once in a file so your files are safe from apps which misuse this.
Disable Access to Pictures, Videos & Documents separately
You can also look at other settings for Picture, Document, and Videos, under Privacy. It will give you a list of apps which they can access, and you can choose to disable them. It is exactly the same as File System, but more granular. You can choose to disable globally or for each of the apps.

Always make smart choices when disabling access to either file system or individual apps. While they give you privacy protection, but sometimes they do need access to deliver the best experience.
Let us know how you find this feature!