We don't know what processes and executables are running on our computer if we don't check the list in the Task Manager. There might be some malware or programs that are not permitted generally running in the background. There are times when we wonder if there is any software to stop or block the unwanted executables from running, password protect executables, and give protection from ransomware. In this guide, we explain to you how A1RunGuard works and protects your PC from running unwanted executables, blocking ransomware, etc.
The inbuilt Windows Firewall is great – and just good enough for the regular home user who wants protection and who does not want to be bothered with setting it up. But if you are looking for more – check out A1Run Guard.
A1RunGuard Free Process Firewall for Windows 11/10
A1RunGuard is a program that blocks unwanted programs, adds password protection for executables, and provides safety from ransomware attacks. The following are the main features of A1RunGuard.
Prevent Ransomware attacks
Block an executable/process
Password protects an executable/process
Redirect Process to another Program
Let's get into the details of each feature.
1] Prevent Ransomware attacks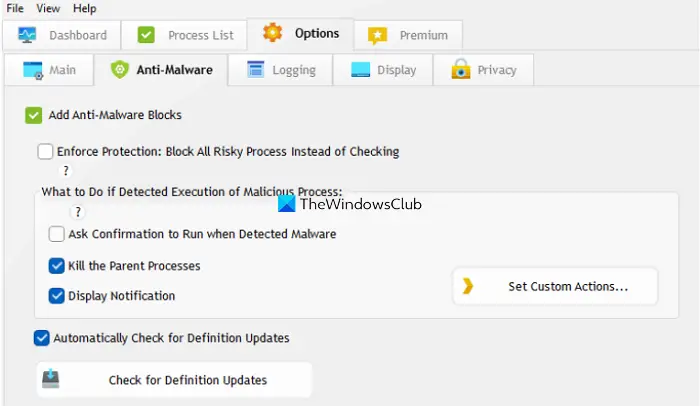 Ransomware attacks are very common nowadays. We need to be alert always to protect our devices from such attacks. Ransomware attacks don't happen from new or alien programs. They often happen through the legitimate software on our PC. Whenever a process is launched on your PC and if you have A1RunGuard installed, it will not block the process, instead, it reads and investigates the command lines of the process or program and flags if there is any dangerous combination. After finding the dangerous combination in its command lines, it blocks the process as well as the parent process that made the flagged process run, through the 'Kill the parent process' option in the A1RunGuard anti-malware settings.
2] Block an executable/process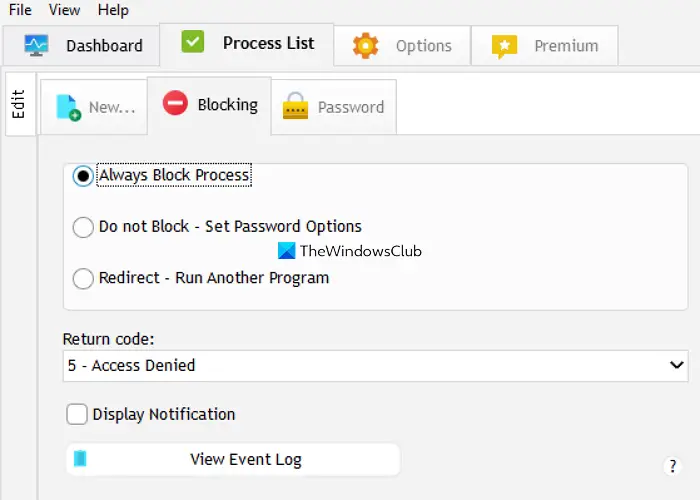 A1RunGuard has different options to block a process or an executable. You can choose to always block a process, or set a password to run the process. These options are available in the Process List tab of A1RunGuard where you can choose how you want to run or block a process.
3] Password protects an executable/process
There are many processes that start automatically on our PC. You can set a password to such processes and block them. If you do not specify the password options, the process will start as usual. You can choose to use the Main Password set in the A1RunGuard or set a new and unique password for the process. If you check the button beside 'Check Password One Time Per Session', you will have to enter the password every time, you open that particular program/process. Otherwise, it will crash.
4] Redirect Process to another Program

There is an option to set to run another program instead of the original process. If you set it, whenever a need to run that particular process arises, the program you set to redirect will launch and run.
These are the different features that are available on A1RunGuard which will help you protect your PC. The program is available to download at Greatis. It has both free and premium versions with a great deal of protection.
Read: Free Firewall software for Windows PC.
Does A1RunGuard affect the Windows processes?
No, A1RunGuard does not affect any Windows process unless it is affected by malware or ransomware and contains conflicting commands in the command line. It will not change any system files and does not hinder the performance of drivers, and executables. You can also easily undo a block if you have blocked a program by mistake.
Read: Ways to test your firewall software, for free, and find out how well it is protecting your computer.
How do I stop a process from running?
To stop a process from running on Windows, you can use the A1RunGuard program which is available for free. You can set the paths or file names of the process to block the completely or you can set a password to protect them. It also gives you complete protection from ransomware attacks that happen through processes or executables on your PC.
More firewall software: