Emulators are software that allows a computer to behave like some other device for a particular reason. If you want to emulate the functioning of the Intel 8086 microprocessor, you need an 8086 Emulator. There are not many 8086 Microprocessor Emulators available, however, in this article, we have accumulated some good 8086 Microprocessor Emulators for Windows 11/10.
8086 Microprocessor Emulators for Windows computers
These are some of the best free 8086 Microprocessor Emulators for Windows 11/10.
EMU8086
i8086emu
8086Tiny
Fake86
Let us talk about them in detail.
1] EMU8086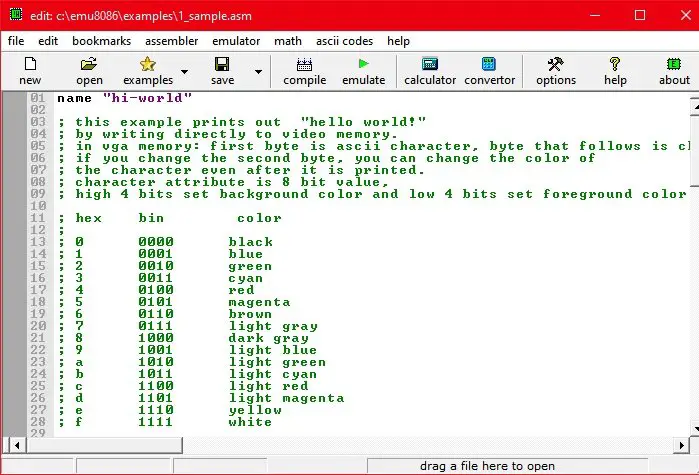 EMU8086 is arguable the most powerful and popular 8086 Emulator for Windows 10. It has a simple user interface and tons of example codes for a beginner. The only caveat here is that it doesn't emulate all the hardware functions but only the processor. Because of this, you will be able to write assembly code but will not be able to access some advanced hardware functionality.
If you are a student who just wants to compile codes, then try EMU8086. You can download the application from here.
2] i8086emu
i8086emu is a cross-platform 8086 Emulator that you can download on your Windows and Linux computers. It is one of the best in the business and has a simple UI.
It is quite feature-rich as well, as it supports an array of peripherals, LED, 8-segment display, etc. One of the things that go in its favor is its support for dynamically loadable plugins.
So, if you are a student and want a simple but reasonably powerful 8086 emulator, download i8086emu from here.
3] 8086Tiny
Next up, we have a cross-platform 8086 Emulator that will not only work on your Windows computer but will also work on iPhones. It is one of the most accurate 8086 Emulators out here and its power is no slouch as it supports peripherals such as XT Style Keyboard, Drives, etc.
It is open-source software and if you want to download it, you can do that from GitHub.
4] Fake86
No, we are not kidding, there is an 8086 Emulator with this name. Fake86 is a portable 8086 open-source Emulator for Windows users.
It is a powerhouse and can reach 35 to 50 million emulated instructions per sec. The only problem with Fake86 is that it doesn't have the friendliest UI, therefore, if you are a beginner, you may feel a bit overwhelmed while using this software. However, if you can understand it properly it can be a nice option for you. You can download YFake 86 from here.
Read Next: Best Free 8085 Simulator for Windows.