Microsoft Windows supports system-wide search functionality that enables users to quickly find files and other data via its Start Screen search. By default, this search option indexes certain common locations on your drive. But at times you may find that it behaves unexpectedly. For example, it may find files in home directories, but it may not find files from the Google Drive folder on C:\ drive. If you have been facing this problem, here's a solution you can try and fix the problem.
Windows 11/10 Search not indexing Google Drive folder
Well, the first thing you want to do is to make sure that Windows Search indexes your Google Drive folder and its contents. If that does not help, confirm that User Inheritance has been enabled.
Index Google Drive Folder in Windows Search
Launch the Control Panel and navigate to 'Indexing Options'. Once here, select 'Change how Windows searches' link and then hit the 'Modify' button visible at the bottom of 'Indexing Options' screen.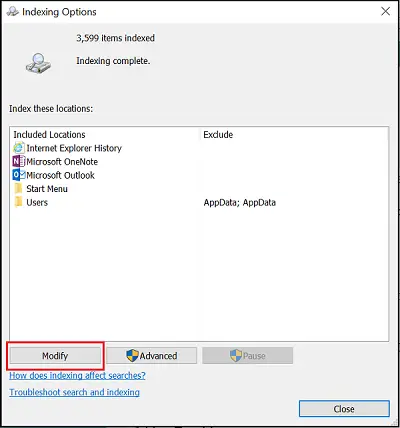 Then, under Change selected locations, click the drop-down arrow on Local C Disk or the drive where the desired directory is located.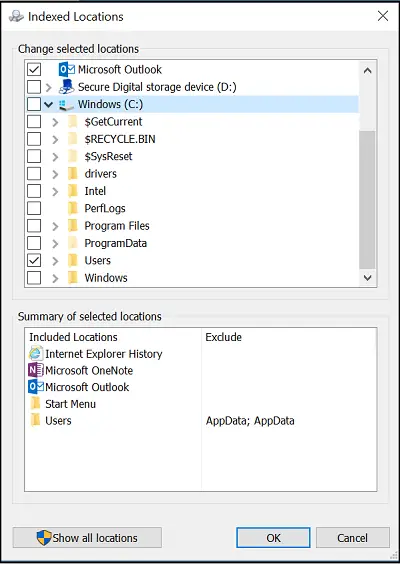 Make sure that the desired directory Google Drive folder is selected. Tick the
Select the check box, click OK and restart the PC.
Give Windows some time to index this new location and rebuild the Windows Search Index.

Ensure that User Inheritance is enabled
If the issue persists, then, it is advisable to verify if the User inheritance is enabled for this folder.
To do this, go to the location of the Google Drive Directory, right-click, and select Properties. Click on Security tab, and click 'Advanced'.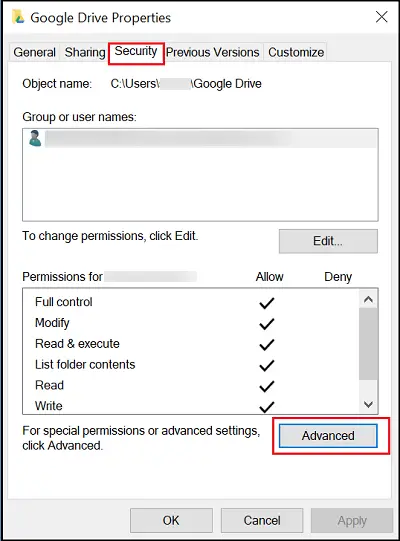 Select your Username.
Towards the lower end, you can find a button which will indicate if the Inheritance is enabled or disabled.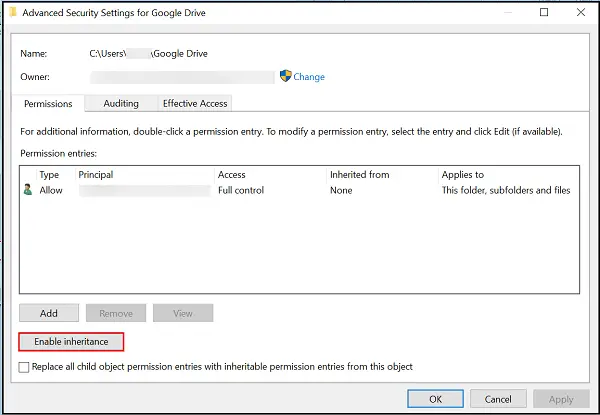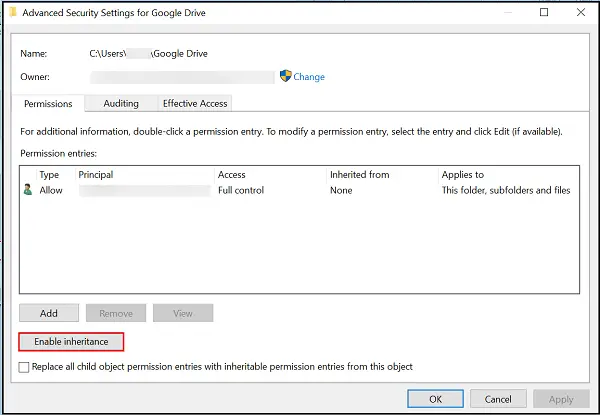 Click on Enable Inheritance and check "Replace all child object permissions entries with inheritable permission entries from this object" box, and click Apply > OK, then OK again.
Restart your Windows computer and see.
All the best!
See this post if Google Drive keeps crashing continuously.