Windows 11/10 Enterprise has added many more features to the operating system. However, some users using this version have reported facing two major issues with the Lock Screen.
Windows 11/10 Lock Screen is grayed out
Windows 11/10 Lock Screen displays a black background.
If you are one of those who are facing this issue, this post offers some workarounds.
Lock Screen is Black or Grayed out in Windows 11/10
There is a Group Policy setting, Force a specific default lock screen image under:
Computer Configuration\Administrative Templates\Control Panel\Personalization.
Many users are unable to modify the settings.
The reason is that possibly because of another Group Policy setting, Prevent changing lock screen and logon image is also enabled. When this policy is enabled, it grays out the controls under the Lock screen. One can see the lock screen and the image, but cannot make changes. Check the image shown below. 
If the Prevent changing the lock screen and logon image policy weren't enabled, the Lock screen would look like this.
A workaround would be to disable the group policy Prevent changing the lock screen and logon image and set updates to Force.
Windows Lock Screen displays a Black background
In this situation, the image of the Lock screen would be blacked out without any difference to other functionalities of the Lock screen. The time, text, controls, etc. would work as normal.
To verify and resolve the issue, search for and "Performance Options" in the Windows search bar and look for the Animate windows when minimizing and maximizing option.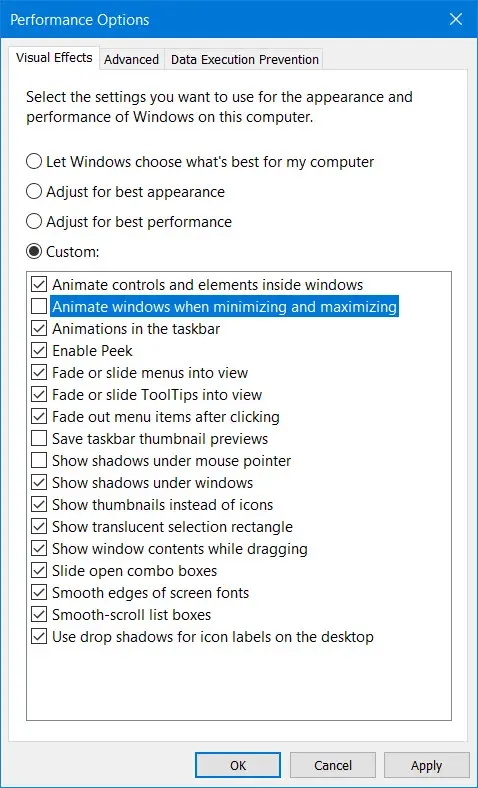 Make sure that this option is unchecked.
You could also Run gpedit.msc and navigate to the following setting:
Computer Configuration\Administrative Templates\Windows Components\Desktop Windows Manager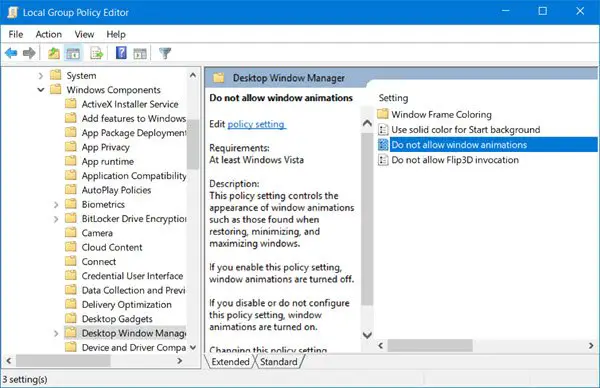 If the Do not allow Windows animations policy is Enabled, disable it.
Remove JPG images from the Lockscreen folder to remove Black Lock Screen issue
You may see a Black lockscreen if the Lockscreen Assets folder has JPG images. So navigate to the following folder and remove all JPG images if you see them.
%LOCALAPPDATA%\Packages\Microsoft.Windows.ContentDeliveryManager_cw5n1h2txyewy\LocalState\Assets
Hope this helps.
Microsoft has released an update to fix these issues, but some are still facing this issue.