Back in May 2015, Microsoft revealed that Windows 10 will be its last operating system thereby announcing Windows 10 as a Service. The Redmond Giant will henceforth will provide new features 2-3 times per year, instead releasing a new standalone operating system with after every few years. So basically, Windows 10 is actually the last version number and we won't really be seeing any higher number for Windows anymore.
Does your Windows 10 PC have the latest feature upgrades & servicing updates installed? Microsoft recently in an official blog post described the new servicing options available for Windows 10 and Windows 10 Mobile users.
In this post, we will touch upon the new service options and show you how to check if your Windows 10 computer is of the latest version & build, and has the latest feature upgrades & servicing updates installed.
Windows Servicing Options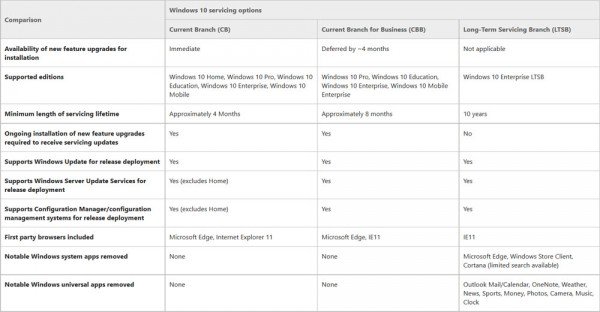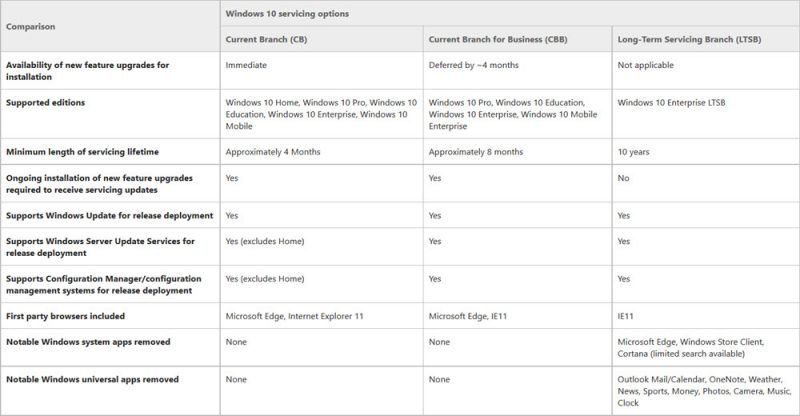 Windows 10 Servicing Branch Options include new feature upgrades published by Microsoft on a continual basis. It will also include installing the new features as they become available. Enterprise users and IT administrators can choose different options for different devices and decide what works best for them.
Users can configure their Windows device as follows:
Immediate feature upgrade installation with Current Branch Servicing – Get the upgrades immediately after they are available publicly to get access to new features and functionality improvements as soon as possible.
Deferred feature upgrade installation with Current Branch for Business (CBB) servicing – Get the upgrades around four months after Microsoft makes them available publicly so as to provide extra time to IT administrators for pre-deployment testing of new features.
Install servicing updates only by using Long-Term Servicing Branch (LTSB) servicing – Avoid number of non-essential changes on your device and get only servicing updates for the duration of Windows 10 deployment.
Check if your Windows 10 has the latest feature upgrades
Microsoft regularly publishes new feature upgrades for Windows 10 and to make it easy for individual and organizations. They have two dedicated web pages that are updated any time there are some changes. If you visit these pages, you will be able to check if you have the latest version installed on your computer.
Release Notes Page – Users can check about each new Windows 10 update on this page. It also includes details on security and non-security fixes in each cumulative update.
Release Information Page – This page includes details about current released and servicing options for each published update.
To check the version of your Windows 10, open Settings > System > About.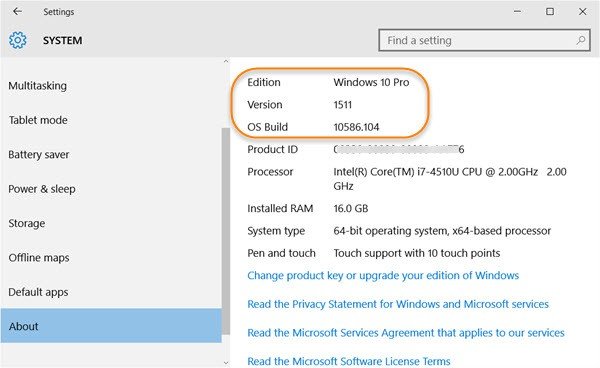 Here you will be able to see the version and build details.
Microsoft will now be bringing new Windows 10 features via the Current branch (CB) and Current Branch for Business (CBB) released. The Company will also release new Long-Term Servicing Branch release periodically.
Please note that the computer configured for Current Branch will get the Windows 10 feature upgrade, at least, four months before the computers configured for Current Branch for Business. Organizations that use tools to control the updates will get the new feature upgrades after a delay of at least eight months.
You can configure your PC for Current Branch for Business simply and can also Defer Upgrades if you want. When you defer upgrades on your Windows 10 PC, new features and upgrades won't download and install on your PC for several months, however, it won't affect the security updates. Learn more here about Windows 10 Servicing Branches and Delivery of Updates. 
Machines which are are not configured to defer upgrades will be upgraded right away with the initial Current Branch release whereas machines that are configured to defer upgrades will get the new upgrade features four months later.
With every Current Branch feature update release, your PC will get a new ISO image which you can use to upgrade your existing machine. Microsoft will also publish these feature upgrades with WSUS, helping you with simple deployment in your Windows 10 machines. The lifetime for CB or CBB is finite and you need to install new feature upgrades on your machines, to continue receiving the security updates released monthly.
For more information on Windows Servicing Options and feature upgrades, please visit Technet.