Although the process of data exchange has become simple than ever, caution is always advised. Sending data via links in the cloud (such as OneDrive, Google Drive, etc.) is super convenient, but it may have security and privacy concerns. So, careful handling of sensitive data has become essential. Whisply lets you transfer files via OneDrive, Google Drive and Dropbox, using end-to-end encryption directly in your browser or via Boxcryptor. It is a web application that allows users to directly send their files via a browser guarded by a state-of-the-art end-to-end encryption service using AES -256.
The only pre-requisite for facilitating the safe transfer of files between the sender and the recipient is the need for an internet connection. Also, you, as the sender, need to have a Dropbox, Google Drive, or OneDrive account.
Whisply offers secure encrypted file transfers
There are two basic options available for Whisply use.
1] Running browser via whisp.ly
You can upload the files you wish to send. A simple wizard walks you through the entire process intuitively. The sent data is completely encrypted, thereby keeping it safe.
To start using this service, choose your files. Next, drop your files in the empty space provided on the main screen.
Now, connect your cloud storage by selecting an option from below.
By default 3 options are given-
Dropbox
Google Drive
OneDrive
Select the option of your choice and sign-in to link it with Whisply. Allow Whisply to access your cloud storage service.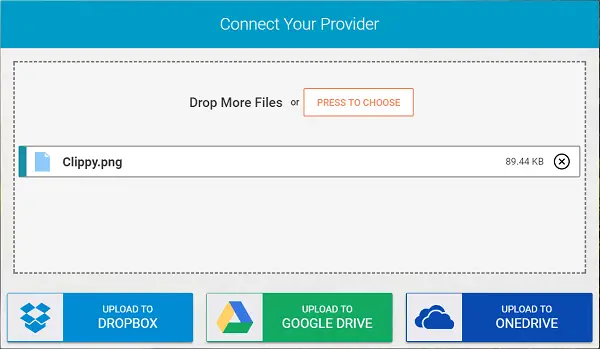 Wait for the upload process to complete. When done, set an option expiry date after which the file cannot be received. Hit the Proceed button.
 Select the Security level and send the link.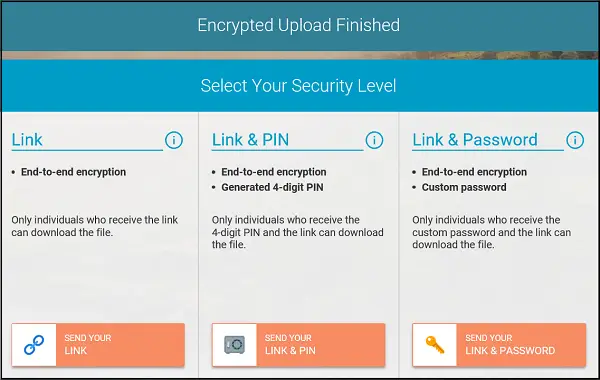 2] Running Whisply partner program Boxcryptor
This option helps securely encrypt data in the cloud. All you need to do is right-click on a file in your Boxcryptor drive to start Whisply and then send the desired file/files. This method is similar to sending links via Dropbox but differs in the way that data is securely encrypted before its transfer.
The second method has one big advantage over the former – the recipient always receives the most current version of the file so when you send a file via Boxcryptor and subsequently change it, the changes will be reflected in the recipient's file. However, if you only need to encrypt a few files and don't want to install an app, use of the first method is advisable.
Visit Whisply to get started. Currently, the file size limit is 250 MB.